GamBan Casinos: Guide & Favourite Picks
Most people can participate in the wide range of online gambling activities available all over the net and never have anything but an enjoyable experience. However, many people develop problematic gambling behaviour that can soon spiral out of control, leading to financial and emotional problems for themselves and those close to them too. 
It's estimated that there are over 400,000 problem gamblers in the UK, and everyone needs help and support to overcome their addictive behaviour. Luckily, gambling addicts can turn to plenty of places for help. One such resource that is a little different to the charitable setup of most other gambling support organisations is GamBan.
Created in 2015 by Jack Symons, GamBan is a software that users can download to their devices that prevents them from accessing and making transactions at more than 55,000 gambling sites worldwide.
Once installed, GamBan prevents access to sites, actively uninstalls existing gambling apps and blocks the installation of new ones. The software is free to that residents in the UK and available to buy for a nominal monthly or yearly amount for everyone else.  Check out our detailed article below on GamBan and the best GamBan casinos. Recap of the best GamBan casinos.
Best GamBan Casino Sites
Many offshore and UK online casinos are on GamBan's blocklist, with over 55,000 worldwide! Scouring through such a massive number of online casinos on your own to find one that is both safe and fun is virtually impossible. Luckily, you don't need to do all that hard work, as we've done everything for you!
We regularly review online casinos, old and new, to assess them on various factors, including the quantity and quality of their games, bonuses and promotions, licence status, reputation, history, and, of course, the measures they take to protect players and their data. Each of our reviews includes an overall score, making it easy for you to see which ones are most suitable for you at a glance.
Our research has resulted in the following list of the ten best GamBan casinos:
Grosvernor Casino
Casino.com
Paddy Power Casino
William Hill Casino
NY Spins Casino
Betway Casino
Barz Casino
Mansion Casino
Bet365 Casino
LeoVegas Casino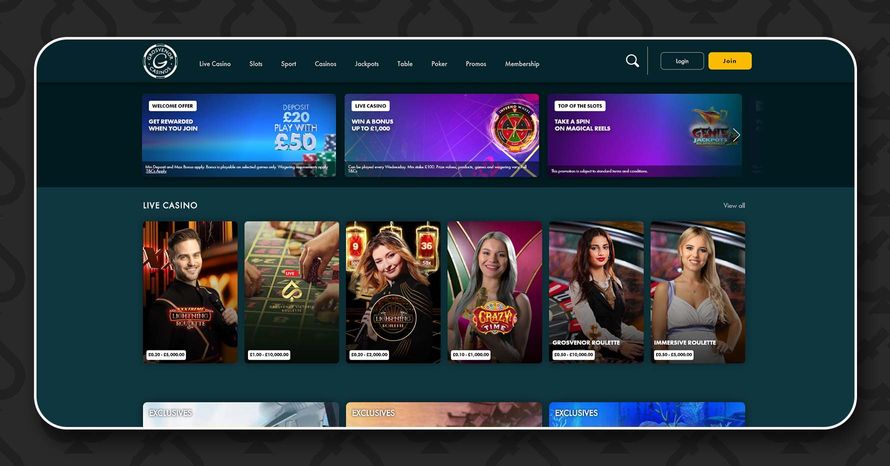 1. Grosvenor Casino
Though the Grosvenor Casino site came online in 2007, the brand is well-known in the industry, dating back to the 1970s when it started operating land-based casinos in the UK and further afield in Belgium and Spain. Owned and operated by gambling giant the Rank Group, the Grosvenor Casino online site benefited greatly from the brand's already solid reputation, quickly gathering a substantial number of loyal players.
Members are treated to an impressive array of slots, table games, live dealer games, jackpots, player v player poker and sports betting markets. Also offered are plenty of player promotions plus Grosvenor Casinos Membership, allowing players to enjoy a range of additional perks, both online and offline, at one of the brand's many land-based venues.
The first indication that Grosvenor Casino is a trustworthy place to play is the operator's licence status, with the company holding a licence from the Gibraltar Gambling Commission and the UK Gambling Commission, two of the most respected authorities in the industry.
The brand's commitment to player protection is also illustrated by the display of linked logos for GamCare, GamStop and Be Gamble Aware in the site footer. The Responsible Gambling link leads to a separate website called Keep It Fun, where players can learn about the Rank Group's tools and resources for maintaining safe play.
Available tools include reality checks, deposit limits, account locks for up to 6 weeks and self-exclusion from 6 months to 5 years. 24/7 support is also available via a dedicated Safer Gambling team.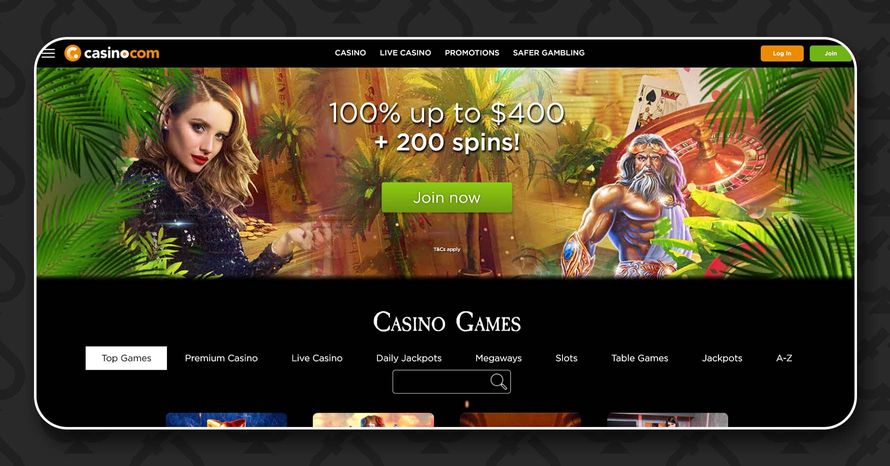 2. Casino.com
Mansion Europe Holdings Ltd. took hold of this much sought-after URL and launched in 2007, with the brand operating under licence by the Gibraltar Gambling Commission and the UK Gambling Commission, so you can rest assured that your experience here will be safe and secure.
Players at Casino.com benefit from more than just the brand's attractive web address and sturdy reputation, with more than 1,000 slots, table games, live dealer games, jackpots and video poker all part of the site's attractions.
The online casino has won numerous awards recently, including Most Responsible Online Gambling Operator in 2018 and Best Customer Service Company in 2020, both of which attest to the brand's dedication to player protection.
About halfway down the homepage, you'll find GamCare, GamStop and Gambling Therapy links, but this is not the end of the brand's efforts to keep players safe. The Safer Gambling link at the top of the website opens up a wealth of information about how to maintain control of gambling activities, including its ten rules for safer gambling, a short self-assessment and a section on how to protect those under 18.
Those searching for helpful tools will find reality checks, timeouts, limits, transaction history and self-exclusion options. Casino.com also points out that players can implement blocks on transactions to gambling sites via their bank or financial institution, many of which offer blocking facilities.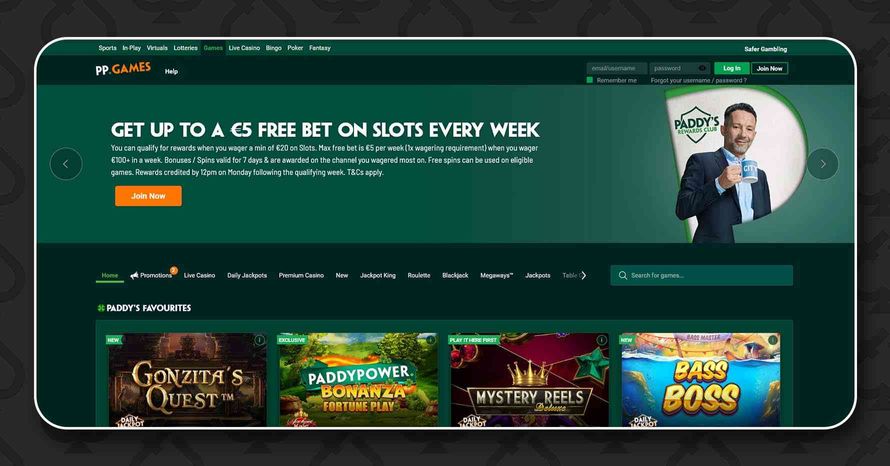 3. Paddy Power Casino 
Paddy Power Casino launched around 2004 and has always been regarded as an industry wild child due to the tongue-in-cheek humour reflected in its comedic TV adverts and throughout the site's text.
Operating under licences issued by the Malta Gaming Authority and the UK Gambling Commission, Paddy Power Casino is a highly respected and very popular GamBan casino that benefits from both longevity in the industry and a unique style. Players also praise the brand for its extensive array of slots, live casino games, daily jackpots, bingo, poker and lotteries. Competitive odds on various traditional and fantasy sports also make up many of Paddy Power's attractive offerings.
Paddy Power Casino's commitment to responsible gambling can be seen in the display of links to Gambling Therapy, GamStop, Gamble Aware and GamCare. The brand's operating company, PPB Counterparty Services Ltd., is a Safer Gambling Standard Advanced Level 2 assured business, which means the site's safer gambling measures go above and beyond what the licensing authorities require.
The site's Safer Gambling link leads to a separate site which presents players with a range of information and useful tools, including a definition of responsible gambling, tips for betting sensibly, spotting the signs of harmful gambling behaviour and protecting minors.
Helpful tools include deposit limits, loss limits, a self-assessment, a budget calculator, reality checks, take a break and self-exclusion. In addition, Paddy Power Casino includes GamBan in the Blocking Gambling Sites section and offers all members a free six-month subscription to the service.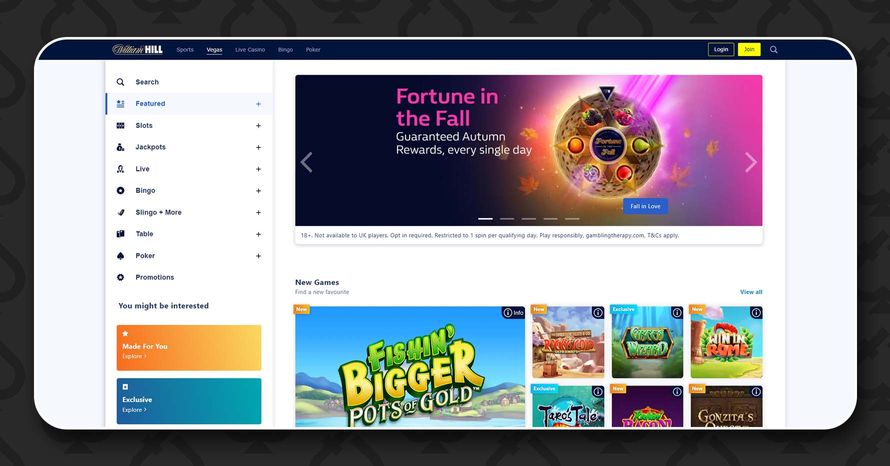 4. William Hill Casino
William Hill is a well-known brand in the UK due to the prevalence of the many sports betting shops operating throughout the country. Still, the operator offers more than just sports betting to its many loyal fans.
One of the best GamBan casinos on the net, William Hill Casino came online in 1998, making it one of the oldest online casinos in the industry. The site offers a healthy collection of slots, poker, RNG and live table games and the ability to enjoy online bingo gambling.
Holder of licences issued by the Malta Gaming Authority, the Gibraltar Gambling Commission and the UK Gambling Commission, William Hill Casino's reputation stems from more than just its longevity, with many eyes overseeing the brand's operations, particularly when it comes to player protection.
The display of linked logos illustrates the site's commitment to responsible gambling to Gamblers Anonymous, Gambling Therapy, Gamble Aware, GamCare, GamStop and the TalkBanStop campaign.
However, the brand also offers a range of supportive tools and resources, most of which can be found on the site's help pages. These include session time reminders, timeouts, deposit limits, product blocks, self-exclusion and account closure. Players can get started by taking the brand's anonymous self-assessment, which is useful for determining if you risk developing harmful gambling behaviour.
Extra help is on standby for UK-based players, who will find a wealth of information on maintaining healthy habits and guides on implementing each site's available tools.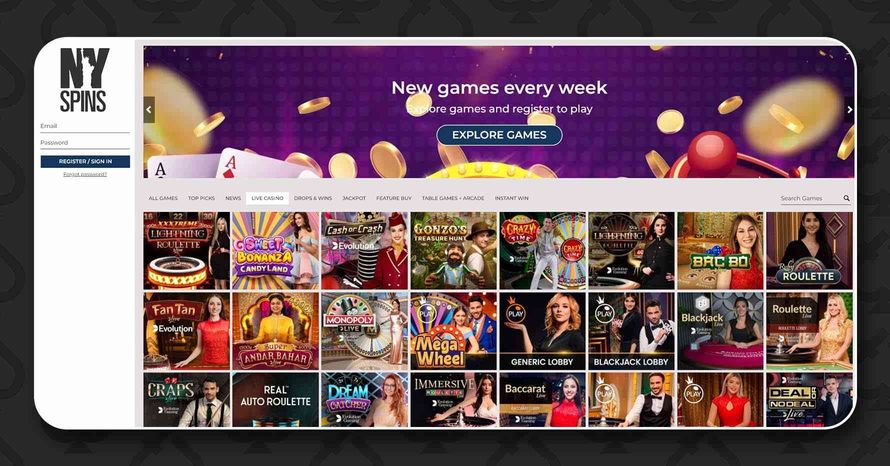 5. NY Spins Casino
With a name like NYspins Casino, it's no surprise that the brand plays heavily on the New York theme, from the site's basic design, which features the city skyline, to the loyalty programme, which offers unlockable bonuses named after popular New York attractions.
The brand wows players with an extensive collection of slots, arcade games, table games, jackpots and live dealer titles from some of the finest developers in the industry.
Owned and operated by SuprPlay Ltd. and launched in 2018, NYspins Casino is licensed by both the Malta Gaming Authority and the UK Gambling Commission, so you can be sure the site complies with strict player protection rules.
The site's footer displays support for industry organisations, including Gambling Therapy, Gamblers Anonymous, GamCare, Gamble Aware and GamStop, with the various logos linking to their respective sites. However, the brand does more than that in promoting responsible gambling.
Various tools and resources for controlling your gambling can be found on the Responsible Gambling page, including a self-assessment, timers, reality checks, timeouts, time and money limits, self-exclusion and account closure.
There's additional information on parental controls to prevent underage gambling, how to use software like GamBan to block sites and linked descriptions of supportive organisations.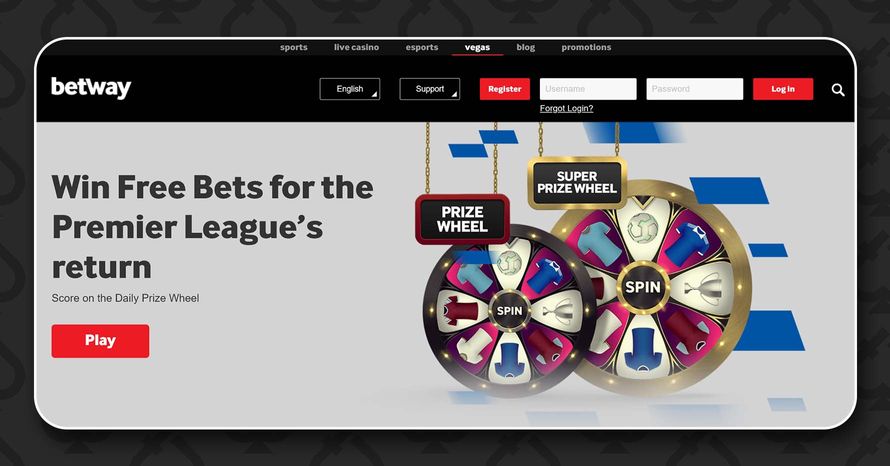 6. Betway Casino
Launched in 2002 and holding a UK Gambling Commission-issued licence, Betway Casino has been wowing players for many years. The brand offers a wide range of casino games at its site, including slots, table games, jackpots, video poker and live dealer games, but members can also enjoy sports and esports betting there.
Betway's reputation isn't just limited to its online presence, with many already familiar with the brand through its sponsorship of English Premier League team West Ham, plus various sporting events such as the Cheltenham Festival.
Betway Casino looks after its players on several levels, with several independent organisations overseeing the brand's operations in terms of fairness and security, including the Independent Betting and Arbitration Service (IBAS), the International Betting Integrity Association and eCOGRA.
Links to Gambling Therapy, Gamble Aware, Bet Blocker, GamStop and GamCare feature on the Betway Casino website. This popular GamBan casino also offers a plentiful supply of information and tools on its Safer Gambling popup titled Bet The Responsible Way.
Players can learn about the various tools at their disposal within this popup, which includes session reminders, a self-assessment, take breaks, deposit limits, self-exclusion and account closure.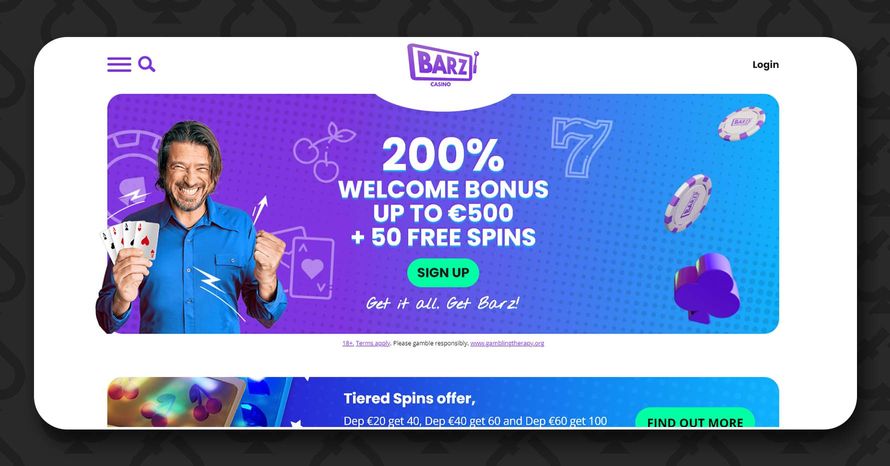 7. Barz Casino
Barz Casino is a relative newcomer to the industry, having just launched in 2021. Still, it holds licences from the Malta Gaming Authority and the UK Gambling Commission, which allows you to overlook the brand's somewhat cheap name, which is, of course, a modern reference to the familiar BAR symbol found on most classic slots.
Despite its youth, the brand has attracted an impressive following, most likely because of its numerous online casino slots and live dealer games. Still, many play at Barz Casino to participate in the many ongoing promotions that dish out cash prizes, gadgets and even holidays.
Spoiling players isn't Barz Casino's only priority, with the brand's commitment to responsible play evident from the display of GamCare, GamStop, Bet Blocker, and Gamble Aware linked logos at the bottom of the homepage. However, the popular GamBan casino does more than that.
The site's Responsible Gambling Policy page is a mine of useful information for maintaining control. Players can consult a handy checklist that covers what healthy gambling looks like, with a short questionnaire allowing you to consider your gambling habits to see if you might be at risk of developing harmful behaviour.
As for tools players can implement at the site, Barz Casino offers game time reminders, timeouts, transaction tracking, deposit limits, self-exclusion and account closure.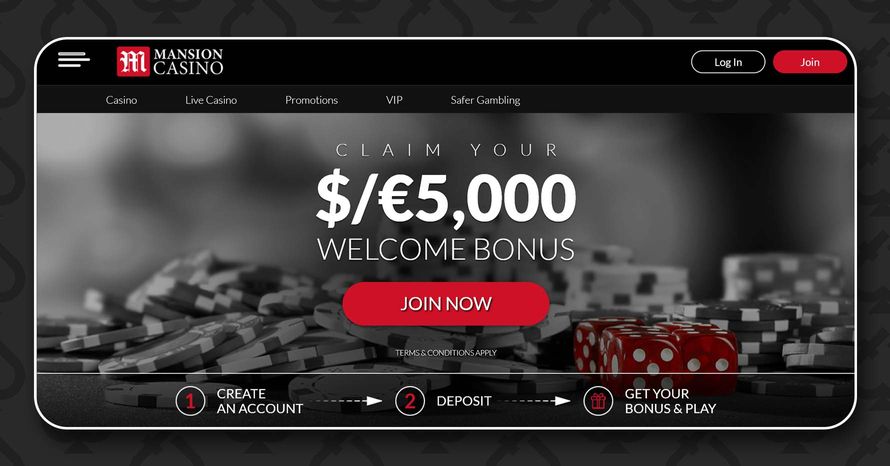 8. Mansion Casino 
Launched in 2019 and licensed by the UK Gambling Commission, Mansion Casino presents players with a modern site design with both light and dark modes for easier on-the-eyes gameplay in low-light conditions. Of course, the site's main draw is its wide range of betting activities, which cover slots, RNG and live table games, pre-match and live sports betting and virtual sports.
Owned and operated by STech Technology UK Limited, this UK-facing top GamBan casino includes a link to their so-called Safety Manifesto, which gives a brief overview of the numerous safety measures they implement to protect players.
The brand's commitment to responsible gambling is evident by the display of links to GamStop, GamCare and Be Gamble Aware, with the footer's Responsible Gambling link leading to further information.
There you'll find lots of helpful info, such as useful tips on when and when not to gamble and descriptions of several organisations that can help. Visitors can also take the Test Your Gambling Profile test to see if they risk developing problematic gambling behaviour.
Available tools are categorised under How Do I Keep It Fun?, How Do I Limit My Play? And How Do I Take A Break? Include a Track Your Spend tool, reality checks, deposit, wager and loss limits, take a break, self-exclusion and the option to close your account.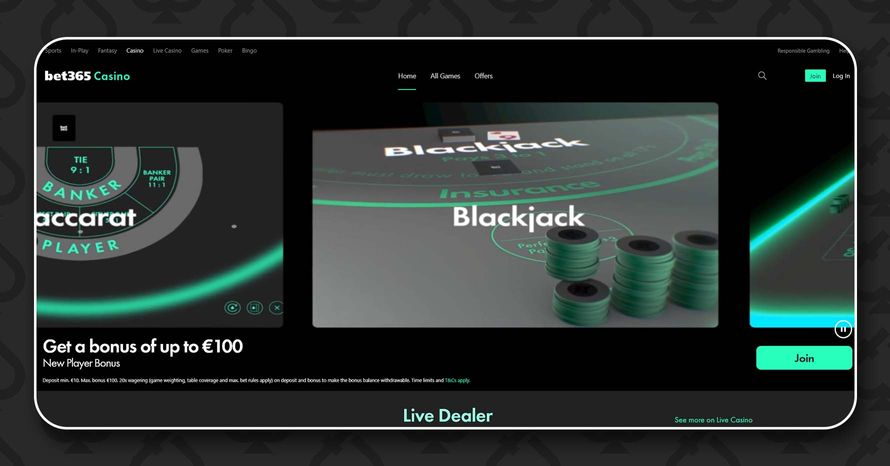 9. Bet365 Casino
Another top GamBan casino is Bet365 Casino, which has been operating since 2000. The brand initially launched as a sports betting site before including online casino games as part of its offering, with the Bet365 logo on the shirts of four English Premier League teams. Aside from the sport betting opportunities, Bet365 Casino offers members many slots, live dealer games, poker, bingo and fantasy sports betting.
Licensed by both the Malta Gaming Authority and the UK Gambling Commission, Bet365 Casino is held to high standards regarding player protection. The brand lives up to its expectations by displaying linked logos for various support organisations and services, including GamCare and the National Gambling Helpline, GamStop, Gambling Therapy, Gamble Aware and the TalkBanStop campaign.
Bet365's tools and resources can be found on an entirely different website, which you can reach by clicking any of the Safer Gambling links. You'll find a handy budget calculator detailing the site's timeouts, reality checks, deposit limits and self-exclusion options.
Bet365 Casino aims to educate on the nature of gambling addiction to help players overcome it, something they achieve with articles covering how gambling works, identifying problematic gambling behaviour and busting common myths, which players may find useful.
The brand is also committed to preventing underage gambling, a topic which is also covered on the pages of the Safer Gambling site. You can also find support if you have been affected by the harmful gambling behaviour of others.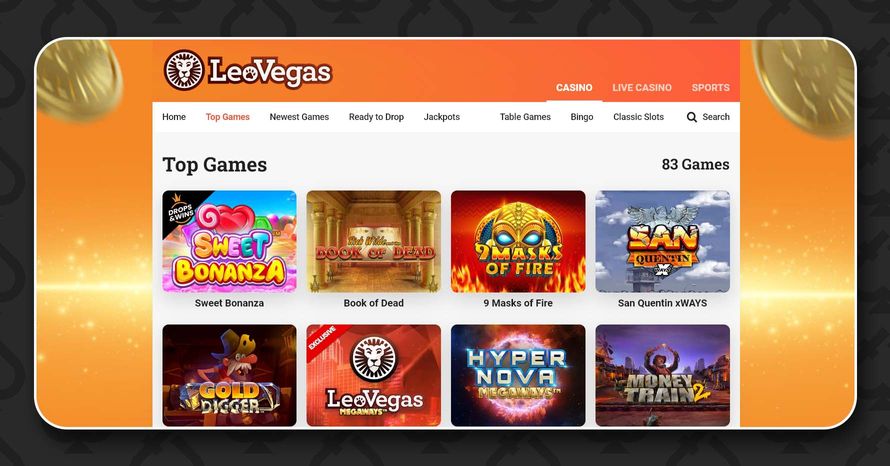 10. LeoVegas Casino
Appearing regularly in TV adverts, LeoVegas Casino is a popular GamBan casino launched in 2012 and is very recognisable by its lion design. Players flock to the site to enjoy its wide range of table games, slots, live casino games, jackpots, bingo games and sports betting markets.
Holding licences issued by the Malta Gaming Authority and the UK Gambling Commission, LeoVegas Casino is known for its player guides, not only in terms of how the site works and how to play the many available games on offer but also on how to maintain healthy habits, making this a very player-centric brand.
So high is the quality of the games and services at LeoVegas Casino that the brand has been the recipient of numerous industry awards. Still, the company is extremely dedicated to responsible gambling, with all available tools and resources presented on an entirely different site at LeoSafeplay.com.
There you'll be invited to complete a self-assessment to determine if you are at risk of developing harmful gambling behaviours. Players can also access information on the available tools offered at the site, such as deposit, loss, session and wagering limits, time alerts, deposit and withdrawal history and self-exclusion.
Links to the various supportive organisations are featured at the bottom of the LeoVegas Casino website, with pride of place given to Gamble Aware, GamStop, Gambling Therapy, GamCare and Bet Blocker.

How Does GamBan Work?
GamBan works as a barrier between problem gamblers and the websites and apps they use to gamble. GamBan effectively prevents users from accessing a wide range of gambling sites and carrying out transactions on such blocked sites, thus stopping the user from being able to gamble.
GamBan is compatible with many devices, including Windows and macOS operating systems and Android and iOS smartphones and tablets. The idea is for the user to install the GamBan app across all their devices, which immediately implements the blocking functionality, preventing the user from accessing gambling sites.
The GamBan software comes in three pricing options. The simplest package is the monthly option, which costs £2.49 per month. For those interested in using GamBan for a longer time or on a permanent, ongoing basis, the yearly plan works out at £2.08 per month, allowing users to save 15% on the rolling monthly price. In both cases, users can take advantage of a 7-day free trial to see how the GamBan app works.
However, there is also a free plan option for that resident in the UK thanks to the three-pronged advertising campaign TalkBanStop, which allows users to download, install and use the GamBan software free. Access to GamBan for free is granted by first contacting GamCare via the National Gambling Helpline.
GamBan Registration
Those interested in using GamBan must first register an account with the organisation. For those eligible to take advantage of the free option, this can be done by first contacting GamCare, who will verify your eligibility and grant access to the software. The registration process for those purchasing the GamBan app takes place on the GamBan website.
During the registration process, you'll be asked to create a username and password for your account, which you'll need to log in to the GamBan app, so be sure to keep a note of what they are.
Once you've entered all the relevant details to register at GamBan, you'll be able to download and install the app across all your devices. The GamBan website features full and detailed instructions on installing the GamBan app on Windows, macOS, Android and iOS devices, with specific instructions for those using certain devices.
Installation of the GamBan app takes a couple of minutes and may involve granting permission on your device for GamBan's services to run. You should also be aware that GamBan may trigger a response from antivirus software due to how the service operates. This issue is usually resolved by telling your antivirus to 'allow' the software to run.
What Happens Following Registration
Once you've registered for GamBan and downloaded and installed the software on all your devices, you'll find that you can no longer access online gambling sites. GamBan works on two levels, first, by blocking access to known gambling sites entirely, and second by preventing any real money transactions on these sites.
The gambling sites you'll be blocked from accessing include all poker, casino, sports betting and esports betting sites operating anywhere in the world. Hence, it's not just limited to UK-licensed operators. You might not expect that GamBan also prevents access to various other sites, which they deem to be promoting harmful gambling activities.
Skin gambling is an increasingly popular pastime amongst children and young people that involves gambling with virtual items of perceived value on sporting events, gaming matches or other games of chance. Sites that allow GamBan blocks this activity.
Loot boxes contain these items of perceived value that can be won randomly. Many social games feature loot boxes, with options to get them for free or to pay to receive them. GamBan blocks both types of sites.
While social casinos, i.e. sites that offer casino gameplay but use fake chips, don't use real money, those that offer the ability to buy these fake chips with real money are also gambling sites by GamBan.
GamBan has also deemed certain trading options gambling, specifically cryptocurrency exchange websites, so you can expect those to be blocked on your devices too. Finally, any website that works to promote gambling, such as the many affiliate websites out there, is also blocked by GamBan.
Who is Behind GamBan?
Unlike other gambling support organisations, which operate as charitable entities, GamBan is a private business based in the UK and owned and operated by Beanstalk HPS Ltd. GamBan was founded and the app was launched in 2015 by founder Jack Symons.
The team behind the name consists of several executives, under which operatives undertake the usual tasks involved in running a business, such as a strategy development, marketing and customer support. Maintaining balance is an advisory board consisting of four members with backgrounds in psychology and gambling.
The GamBan software was offered free to anyone who wanted to use it for the first two years after launch, after which the company adopted a subscription-based mechanism. However, thanks to support from GamCare, GamBan is now offered free to anyone in the UK.
In early 2020, Lloyds Banking Group announced a partnership with GamBan, which resulted in several banks offering their customers free access to the GamBan software.
GamBan was given the Software Rising Star Award at the eGR B2B Awards in 2018. The software was also recognised as the most effective gambling software by independent research commissioned by Gamble Aware. In 2019, GamBan won RegTech Provider of the Year at the Gambling Compliance Global Regulatory Awards.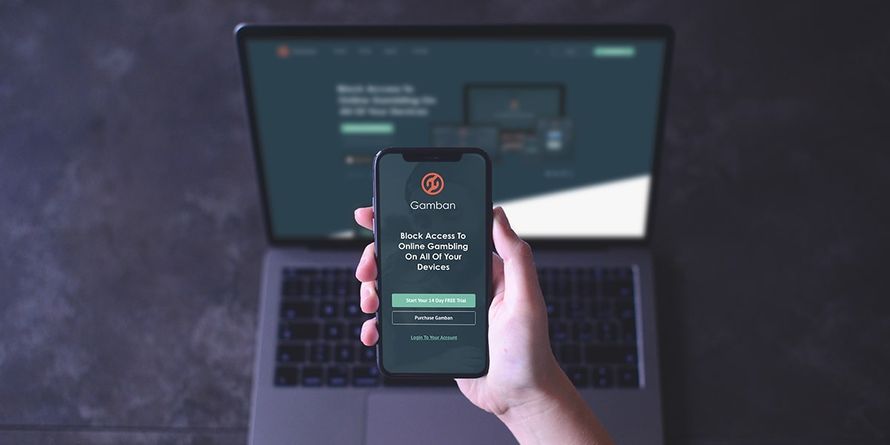 The Benefits and Drawbacks of GamBan
While GamBan is an impressive piece of software that thousands of users have praised for its effectiveness in preventing online gambling, the tool doesn't come without drawbacks. Here's a look at the pros and cons of GamBan:
If you're based in the UK, you can get access to Gamban for free via GamCare.
Gamban comes in Windows, macOS, Android and iOS compatible forms, allowing you to use it on your desktops, laptops, smartphones and tablets.
Gamban's website provides simple instructions for successfully installing the app on all of your devices.
Some 55,000+ gambling sites are prevented from showing or being installed on Gamban-protected devices.
Gamban also blocks skin gambling, the worryingly popular trend of gambling with virtual items of perceived value among children.
Gamban also prevents various risky trading sites (particularly cryptocurrency exchanges) and social casinos.
Due to the way the blocking app works, some antivirus software may flag Gamban as a threat.
Gamban offers users no control over which sites are blocked, which may be a drawback for those who still want to play casino games for free or trade in cryptocurrencies.
The Worst GamBan Casinos
Just because GamBan includes an online casino on its blocklist doesn't mean that site is automatically bad, but it also doesn't necessarily mean the site is good. Knowing that a site is blockable via GamBan indicates that you would be prevented from gambling there if you decide to use GamBan's services, but it tells you nothing about the reputation or practices of that site.
The worst GamBan casinos may appear legitimate, but many of them are. However, players can still find themselves on the wrong side of the justice scale when it comes to deposits, withdrawals and personal information simply by choosing the wrong site.
The best way to ensure a safe and more protected experience is to join an online casino that has been thoroughly scrutinised, such as those featured on our site. Here we analyse online casinos based on their licence status, history, player feedback, terms and conditions, bonuses and promotions, games quantity and quality, mobile compatibility, player protection measures and much more, ranking them on each to provide you with an overall score.
Most players don't have the time to research the industry's online casinos to find the best place to play, which is exactly why we're here. We do all the leg work for you, so you must check out the scores and pick the site you like the best.
Choosing a high-ranking online casino ensures you'll have lots of fun and that you and your money will be completely safe and secure.
Knowing that GamBan will block access to a specific online casino isn't enough to find a safe place to play. Play with complete confidence by choosing a site that has come under intense scrutiny and emerged as a recommended and trustworthy option.
Non-GamBan Casinos: Should You Avoid Them?
As mentioned above, there are 55,000+ gambling sites currently blocked by the GamBan software, which is massive. However, since new casinos and betting sites launch all the time, it's hard work for the company to keep up and add these new sites to their block list. As a result, there is often a delay in some sites being added to GamBan's block list, and in a small minority of cases, some online gambling sites may slip through the net altogether. These are all deemed non-GamBan casinos.
If a site is deemed a non-GamBan casino, this isn't necessarily a reflection on the online casino itself, as they have no input in whether or not they are added to GamBan's block list. It is, however, an indication that if you decided to use GamBan's software, that site would still be available to you. 
Anyone serious about stopping problem gambling would want to avoid this potentially damaging situation. Generally speaking, you should avoid non-GamBan casinos for the following reasons:
That site will not be blocked: Any casino not currently included on GamBan's blocklist will still be accessible after installing GamBan
The site may be using unethical practices: In some cases, a gambling site may be using shady practices to avoid being detected, which means it won't get picked up by GamBan.
The site may still offer gambling services: Some sites may not be classed as gambling services by GamBan but may still offer similar activities that could be perceived as gambling and, therefore, harmful.
Our View on GamBan
GamBan has been proven the most effective preventative measure for ensuring vulnerable users cannot physically access or transact at many online gambling sites.
Available free to all UK residents, GamBan works to actively prevent you from visiting and making monetary transactions on 55,000+ known gambling sites, which include casino, poker, sports betting and esports betting sites, as well as social casinos and cryptocurrency exchanges, which may also trigger those with problematic gambling behaviour.
Even those outside the UK can take advantage of GamBan's services by choosing one of the two relatively attractive price packages.
Concerned parents are also using GamBan in light of the recent trend that's seeing children and young people betting using virtual items of perceived value, a form of underage gambling that's become more prevalent in recent years.
Easily installed and compatible across multiple operating systems and devices, GamBan is an excellent choice for quickly and effectively implementing a barrier between problem gamblers and the sites they frequent, giving these individuals the time they need to overcome their addiction and change their damaging behaviour.
FAQs on GamBan Casinos
Want to learn more about GamBan casinos? Check our FAQs below.
Gamban is a downloadable tool that blocks access to and transactions on more than 55,000 gambling sites.
What is the purpose of Gamban?
Gamban was designed to be a barrier between problem gamblers and the sites at which they gamble, preventing users from being able to gamble, so they have the time to get hold of their addictive behaviour.
Gamban works by preventing users from accessing and making transactions at 55,000+ gambling sites listed in their database. Once downloaded to their devices, users will find that any existing gambling site apps will be blocked and uninstalled, installing new gambling apps will be blocked and visiting gambling sites will be impossible.
What are the benefits of using Gamban?
There are several benefits to using Gamban. The software is free to use by anyone in the UK, it works as a physical barrier preventing access to gambling sites, and there are currently more than 55,000 sites on the Gamban blocklist. In addition, the Gamban software is easily installed, works on multiple platforms and devices, and can even be used to prevent that underage from participating in the worrying new trend of skin gambling.
Are there any drawbacks to using Gamban?
Gamban doesn't just block online casinos and sports betting sites. The app also blocks many social casinos. The company recently decided to include cryptocurrency trading and exchange sites on its blocklist, which some users may feel isn't necessary. Another potential drawback of Gamban is that you can't change the blocked sites.
How do I sign up for Gamban?
If you're a resident of the UK, you can get access to the Gamban software for free by contacting GamCare's National Gambling Helpline and registering for it that way. If you prefer, or if you're located outside of the UK, you can choose one of the two price packages. All options involve opening an account with Gamban.
How do I cancel my Gamban membership?
Part of Gamban's services includes the inability to remove the software from your device before the expiry date to prevent relapse.
What happens if I forget my Gamban password?
If you forget your Gamban password, click the 'Forgotten your password link at the bottom of the login page on the Gamban website, and you'll be asked to provide your email address to which instructions on how to reset your password will be sent.
How do I change my Gamban settings?
Any changes to your Gamban settings can be made by logging into your Gamban account.
What if I have a problem with Gamban?
If you have a problem with the Gamban software or service, you can find help on the Support pages on the Gamban website. If you'd prefer to contact the company, you can fill in the form on the Contact page, and someone will be in touch.
Jack Symons created Gamban in 2015.
Gamban is owned and operated by Beanstalk HPS Ltd. The company is a private business headed up by several executives, with a strategy executed by a team of industry professionals. A board of advisors with psychology and gambling backgrounds oversees the company's operations.
Who is eligible to use Gamban?
Anyone can use Gamban. That Residents in the UK can get free access to Gamban by contacting GamCare's National Gambling Helpline. For that outside of the UK, Gamban can be downloaded and installed by buying one of the two available price packages, one monthly, the other yearly, from just £2.08 per month.