Hi! I'm Giuseppe Faraone - Senior Content Team Lead & Author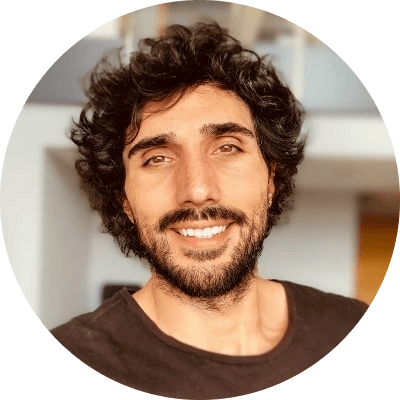 I joined CasinoTopsOnline in March 2018 as a Site Manager and I'm currently based in Valencia, Spain, and originally from the beautiful city of Milan, Italy.
About Me
I decided to give Milan up for sunny shores, and Valencia called to me. I had many years of experience as a copywriter before I joined the CasinoTopsOnline team in 2018. I was always close to the action in the gambling industry and being on top of any new developments the minute they come through the door, made it the perfect opportunity for me to join CTO and bring my expertise to the table. 
Here at CasinoTopsOnline, I focus my passion on doing my best in testing out and rating casinos and other aspects of the gambling industry. I thoroughly review the latest online casino sites and other platforms in the industry to deliver updates and information transparently to you. By signing up for new online casinos, testing all the casino features and playing the latest game releases, I can give you a complete player experience on everything I write about in my comprehensive casino reviews.
How to Reach Me
Whether you're looking for sales, marketing, or for general enquiries, you can find all the information you need on our site on our dedicated contact page. One of our expert team members will get back to you within 24 hours.
If you want to get in touch directly with me, you can contact me via email. I'm also available on my LinkedIn or Medium where I share all the relevant updates within the gaming industry.
More About Me
Since I internally moved to the position of Senior Content Team Lead, I was challenged with an array of new responsibilities. I focused on streamlining and updating CasnoTopsOnline with all the relevant and latest information about the industry, to make our readers' experience a positive one where they can read honest and real reviews. When I joined CasinoTopsOnline, I saw an opportunity to grow my knowledge base and passion for the iGaming industry while giving my share of expertise. The best part of working with CasinoTopsOnline for me has been getting to explore and evaluate all the new and exciting platforms that constantly flood the gaming scene. I would say my area of expertise is definitely Online Casino sites, I have an eye for picking the crème de la crème of the market.
But work isn't everything, luckily the beautiful city of Valencia gives me beautiful beaches and seas to unwind on hot summer days, and cosy delicious restaurants for the cold winter nights. My passion for writing has led me to publish my first book in October 2022 and you can find my book titled The Untold Story of Online Gambling on Amazon.
My Top Picks
Wow, that's a difficult one! There are so many great online casinos out there, and some casinos are stronger in some areas than others, but right now Ice Casino is definitely a favourite for me because it checks all the boxes! Not only does it have a fantastic welcome package for new users and ongoing promotions for regular players as well, but its games library is stuffed with some of the best titles, by the strongest providers in the industry. To top it all off they offer superb customer service and received great feedback from other players online. If anyone is looking for a new casino to join, Ice Casino definitely deserves a chance.
My Journey at CasinoTopsOnline
Jun 2021 - Present  ▶ Senior Content Team Lead 
(Full-time - Spain)
Mar 2020 - Jun 2021  ▶ Content Team Lead 
(Full-time - Spain)
Mar 2019 - Mar 2021  ▶ Senior Site Manager 
(Full-time - Malta)
Mar 2018 - Mar 2019  ▶ Site Manager 
(Full-time - Malta)
Disclaimer
Have you received any contact or strange email from us? Please read carefully the disclaimer below.
It has come to our attention that certain individuals not associated with CasinoTopsOnline have been contacting companies and requesting payments for positions on our site. Please note that we do not work with payments in cryptocurrencies. If you are contacted by these individuals, do not send any money to them and please reach out to accounts-cto@gig.com. For listing queries on our site, please only make contact with the sales team listed here.