Play Video Poker for Real Money or for Free
Whether you're looking to play online video poker for real money or just practice by playing for free, our team of experts have broken down everything you need to know in this comprehensive Video Poker Guide. We cover the top online video poker casinos to play at, a guide on how to play this incredibly popular game and fantastic casino bonuses that you can take advantage of to elevate your casino experience.
If you're ready to start playing and looking for the best online video poker casinos in your country, then take a look at our recommended list of online casinos below:
Best Online Video Poker Sites in 2023
Affiliate Disclosure
CasinoTopsOnline makes use of affiliate links, meaning if you click on the toplists or the visit button to go to a casino and make a deposit, we receive a commission without additional cost to you. This does not affect the bonus offer or the quality of the information we provide on our site. We take pride in making sure we write unbiased reviews and provide you with accurate information about gambling online.
Created back in 1979 by William Redd, who founded the company Sircoma (Si Redd's Coin Machines), which later became IGT, the game of video poker presents players with a unique poker gaming experience. In contrast to the traditional table game of poker that involves other players, video poker is a one-player game, but this isn't the only aspect that gives it an edge over the traditional forms of poker.
There are few games in the casino industry with a lower house edge than video poker. Using some strategy, you can also increase your chances of beating the video poker machine. Video poker is an excellent casino game for players who enjoy skill-based gaming.
We consider many factors when choosing the best online video poker sites. We look for sites that offer a variety of games, including classic games like Jacks or Better and Deuces Wild, as well as newer games like Joker Poker and All American Poker. We also determine whether they provide bonuses and progressive jackpots, which can payout huge sums of money to lucky winners.
Whether you're a seasoned pro or a first-time player, there's a video poker casino that suits you.
How to Choose the Best Online Video Poker Casino Sites
Step 1: Choose a Reputable Online Casino

The first step is ensuring you play at a well-regulated, licensed casino. You can easily see which license the casino holds by looking at their website. All the casinos we recommend are fully licensed, so you can rest assured it's safe and secure to use.
Step 2: Video Poker Game Variety

Check their library of casino table games to see whether they have your favourite video poker variations, e.g. Draw Poker, Deuces Wild, Jacks or Better, Double Bonus Poker, etc. It is also important to check that they offer games from the top casino game providers such as Netent, Playtech, and others. Most video poker casinos will have both real money and free play options. Try out their free play demos to get a feel for the casino.
Step 3: Video Poker Bonuses and Promotions

Bonuses and promotions set most online casinos apart. They can greatly impact your casino experience, so make sure they have competitive bonuses on offer with fair wagering requirements. You can learn more about their requirements on their website's terms and conditions.
Step 4: Payment Methods and Payout Speed
One of the most important criteria when choosing an online video poker casino is which payment options they provide and how fast they process withdrawals. This will depend on your preferred payment method and can vary from instant to 7 days or more, so check what banking options they support and their withdrawal policies.
Fortunately, at casinotopsonline.com, we do all the heavy lifting for you so that you don't need to read through terms and conditions and find out which casino is licensed in your region or has the best bonuses or the fastest payouts. Our casino reviews provide up-to-date and detailed information on the best online casinos that offer video poker. Our team consistently checks to ensure that all the casino providers we recommend are up to standard and offer you the best value for money.
Online Video Poker Explained - How to Play, Bonus Strategy and More
Play Video Poker for Free
Video poker is an easy game to learn, but that doesn't mean you should jump right in and start playing for real! Instead, it's a smart idea to play video poker for free for a while so you can familiarise yourself with the gameplay, the hand values and the payouts.
This is particularly important when it comes to the basics of the game but also applies to the many variants of video poker.
So how can you play video poker for free? There are two main ways you can do so: using Demo Mode or claiming a free Sign-Up Bonus. Let's take a look at what each of these options involves.
Free Play Option 1: Video Poker Demo Mode
Most online casinos feature games from various providers, and almost all of those games, except most live dealer games, can be explored in demo mode. But what does that mean, and how do you access games in demo mode?
Demo mode, often called free play mode or just try free, is just like playing the game for real. The only difference is that you're playing with play chips rather than real money. When you've decided on a game you want to play, you can access it in demo mode simply by hovering over the game image and clicking the free play option.
The game will then open, and you'll be given a set balance in play chips that you can use to make bets, just like you would in real money mode. Just remember that any winnings will also be in play chips!
Free Play Option 2: Get Free Credits for Online Videopoker
Another way of playing video poker for free is by claiming a sign-up bonus, which is a set amount of bonus funds offered just for joining an online casino, so there's no need to deposit to use them.
Sign-up bonuses are great for playing without risking your own money, but they also come with the potential benefit that you could withdraw your winnings as free cash, making it a step up from playing demo mode.
It's important to realise that sign-up bonuses tend to carry wagering requirements, so to withdraw any winnings, you'll need to fulfil those first. Always check the T&Cs for details before claiming. Here are some tips for playing Video Poker:

Play Video Poker for Real Money
So you've explored a few video poker games in demo mode to learn the basics and learn about the game's different variants. Maybe you've managed to get a sign-up bonus and had a shot of video poker with bonus funds to get a bit closer to the feel of winning for real. What's next?
Exploring the game for free is a great first step as it gives you a taste of what the winning experience is like. But at some point, you'll want to see those winnings hitting your balance in real money. That's when you'll know it's time to start playing for real!
The most obvious way to start playing with real money is by depositing, but that's not the only way. Next, we'll look at depositing and bonuses as methods of playing with real funds.
1. Top-up Your Balance
Depositing is the most common way of playing video poker with real money, but many players are hesitant to do so. Rest assured that, as long as you choose a reputable and trustworthy online casino, such as those listed on our site here, the depositing process is just as safe and secure as it is when you shop online. You have full control over how much you deposit, when, and what method.
Depositing is a simple process. Once you've joined the online casino you're going to play at, you'll usually be prompted to make your first deposit. If not, you can always click on any of the site's Deposit buttons or access the Cashier.
Then simply choose your preferred deposit method, enter your details and how much you want to deposit, and click the button to complete the deposit process. Your deposited funds will usually appear in your balance, depending on your chosen payment method. Then you can start playing video poker for real!
Find more information about the top payment methods used to play video poker.
2. Bonuses Available for Video Poker
As mentioned above, there are numerous bonuses available that you can use to play video poker. This is a great way to get started and can help build up your bankroll so that you can keep playing for longer. We'll explore all these bonus options in more detail below.
Remember that while bonuses are great for boosting your bankroll and giving you more funds to play with, you'll usually need to fulfil the wagering requirements before making any withdrawals. Check the T&Cs before claiming any bonuses.
Video Poker No-Deposit Bonuses
No-deposit bonuses are a nice little perk that can come in several forms. In some cases, you may find no-deposit bonuses offered as part of a welcome bonus package that you can use to try out the casino's video poker games without risking any of your own money. This is a great way to get a feel for the casino and see if it's the right fit for you.
Existing players can also be offered a no-deposit bonus, often as a loyalty or VIP reward. These are usually delivered via email, so make sure you're on the list to receive promotional emails when joining an online casino so you don't miss out on any offers!
In both cases, no-deposit bonuses are unique because you don't need to deposit to claim them.
Welcome Bonuses to Play Video Poker
As the name suggests, welcome bonuses are offered to new video poker players for making their first deposit at an online casino. Almost all online casinos offer a welcome bonus of some kind.
It's common to find welcome bonuses that will match your initial deposit amount by a certain percentage. For example, you may see an online casino offering a casino sign up bonus of 100% up to $200. So a deposit of $100 would give you a bonus of $100, adding up to $200 to play with in total. You are also likely to find welcome offers that will match your first few deposits, in some cases, up to 4 or 5 of your initial deposits
There are many combination welcome offers, including a deposit match, free bonus spins, or even cashback. Always check the bonus terms and conditions for any wagering requirements.
Get Reload Bonuses
Reload bonuses are perfect for video poker. Reload rewards boost your video poker bankroll, but in this case, it's for any deposit that isn't your first. These are usually offered to existing players to encourage regular gameplay, making them great if you like to get in a video poker gaming session every so often. So, if you're looking to give your account a little extra padding, this is a great way to do it.
Reload bonuses can come as daily, weekly or monthly bonuses, and it's common to find that only those players who have deposited a certain amount in the previous day/week/month are eligible to claim it. You will usually be notified when logging in to the casino lobby or via email, so be sure to keep an eye out.
Video Poker Cashback
Cashback is a little different to the bonuses we've looked at so far in that it's usually credited after the relevant gameplay rather than before. Video poker cashback tends to be offered as a percentage of your net losses over a certain period.
For example, if you play video poker and lose $100 over the course of a week, and the casino has a 5% cashback offer, you would receive $5 back from the casino.
It is also not unheard of to get cashback on your gameplay rather than your losses, though this is less common.
One thing to note in the case of cashback bonuses is that it's not cash that you will get back and be able to withdraw immediately, despite what the name may imply. Cashback is usually classed as a bonus, which means it's subject to fulfilling wagering requirements before you can cash out.
Video Poker Online Tournaments
Another way of landing extra funds to play with is by participating in tournaments.
Many top online casinos run regular tournaments that you can join just by playing as you normally would. Tournaments can be for various casino games like slots, table games and live dealer games, but you'll also find tournaments for video poker gameplay.
The way video poker tournaments work is you'll play over a certain period as defined by the game's rules, and your gameplay will earn you points based on how much you've played (e.g. 1 point for every €10 played). These points will be displayed on a leaderboard, with the top positions paying out a bonus at the end of the tournament.
While tournaments are a great way to get something extra just for doing something you'd normally be doing anyway (i.e. playing video poker), remember that the awarded funds tend to be in the form of a bonus, which will be subject to wagering requirements. However, it is possible to find prizes of straight cash too!

How to Play and Win Online Video Poker
Video poker is an easy game to learn. You start by choosing and placing your bet, after which your first five cards get dealt. You can then hold onto any of those five cards, from zero to all five, by clicking on the ones you want to keep. Once you've decided, click the Deal/Draw button, and new cards will replace any that weren't held. This is one round. Your aim in the game is to get the best poker hand per round; in return, you'll get a payout based on your winning hand and the value of your bet.
That might seem a little complicated, especially if you don't know any poker hands, but don't worry. We'll take you through all the basics so that by the end of this article, you'll know the game inside out and be ready to play at the best online casinos. Let's start with the different parts of a typical video poker game layout.
Poker Hands
It's important to know what the various video poker hands are, particularly how they relate to each other, as this will help you determine what makes a winning hand and what kind of payout you can expect. Let's look at the main winning video poker hands in order of value, starting from the lowest to the highest:
| Poker Hand | Description |
| --- | --- |
| Jacks or Better | A pair of Jacks, Queens, Kings or Aces |
| Kings or Better | A pair of Kings or Aces |
| Two Pair | Two pairs of cards, e.g. 2x 4 and 2x 7 |
| Three of a Kind | Two pairs of cards, e.g. 2x 4 and 2x 7 |
| Straight | Three cards of the same value, e.g. 3x 10 |
| Flush | Five cards of consecutive value, e.g. 2, 3, 4, 5 and 6 |
| Full House | Five cards of the same suit, e.g. 2♥️, 4♥️, 7♥️, J♥️ and Q♥️ |
| Four of a Kind | Four cards of the same value, e.g. 4 Kings |
| Straight Flush | Five cards of consecutive value and the same suit, e.g. 2♦️, 3♦️, 4♦️, 5♦️ and 6♦️ |
| Five of a Kind | Five cards of the same value, e.g. 5 Jacks. (Only possible in wild variants such as Joker Poker or Deuces Wild, where the wild card substitutes for one of the cards.) |
| Royal Flush  | The five highest value consecutive and suited cards, i.e. 10♠️, J♠️, Q♠️, K♠️ and A♠️ (note that there is also a Royal Flush with the wild hand that's valued between a Straight Flush and a Five of a Kind invariants such as Joker Poker and Deuces Wild) |
*Suits refer to Hearts (♥️), Diamonds (♦️), Spades (♠️) & Clubs (♣️)
The Video Poker Machine Layout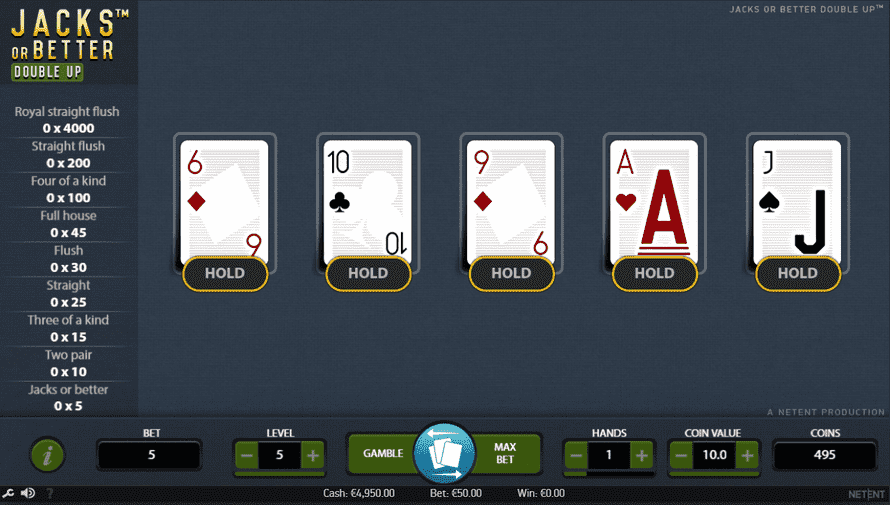 The video poker screen is generally made up of three different sections, with the cards in the centre of the screen and the paytable on the left. The bottom of the screen is where you'll find your buttons, such as your Bet One, Bet Max and Deal buttons and your Bet Value, Coin Value and total Coins.
After you've chosen your bet and clicked the Deal button, you'll see five cards appearing in a row along the centre of the screen. This is your hand, and your job is to decide which cards you want to keep and which you'd like to discard and have replaced to get a better hand than the one you've been dealt.
You click on the card you want to hold to hold cards. The word Held should then show above the card. Any cards you don't want to keep should be left. Then you can click on Draw to have the cards you didn't hold replaced. Your hand at the end of the drawings is your final hand for that round and will determine if you have won or not, based on its poker hand value and the amount you bet.
Understanding Paytables of Video Poker
At the top of the screen, you'll see the paytable. The poker hands' payout list is on the left side of the paytable. These may vary slightly depending on the game you're playing but usually include Two Pair, Three of a Kind, Straight, Flush, Full House, Four of a Kind, Straight Flush, and Royal Flush. Other variants may also include Jacks or Better and Five of a Kind.
To the right of the column of poker hands is a list of payouts. Depending on your game, there can be several or more of these payout columns, but these all show how much you stand to win if you get the corresponding hand in a round. The payouts displayed are arranged according to the bet amount, with the smallest bet on the left, with increasing bet amount payouts as you move right. When you choose a new bet value, the corresponding payout column in the paytable will usually be highlighted to see at a glance which payouts are relevant to your game.
When you win a hand, the corresponding payout will be highlighted in the paytable before adding to your balance.
The Payouts
How much you stand to win depends on the video poker hand you have and the payout value of that hand. As shown on the game's paytable, the payouts vary depending on your bet amount, but they are all based on the same payout odds. Let's take a look at each of the video poker hands again, but this time with their corresponding payout odds as you'll find them in the most popular Jacks or Better variant of the game:
Jacks or Better: The lowest paying hand, this one pays 1x your bet
Two Pair: This pays 2x your bet
Three of a Kind: Pays 3x your bet
Straight: Pays 4x your bet
Flush: Pays 5x your bet
Full House: Pays 9x your bet
Four of a Kind: Pays 25x your bet
Straight Flush: Pays 50x your bet
Royal Flush: Pays 800x your bet
Video Poker Variants
You should be aware of a few different versions of the game. These differ very slightly in the rules and how they payout. Let's take a closer look at a few of the most popular video poker variants:
Jacks or Better: In some video poker games, the smallest value hand is two pairs, which is two pairs, but in Jacks or Better, the smallest value hand is a pair of Jacks or better (i.e., Jacks, Queens, Kings or Aces). This game also tends to have slightly better odds than other variants, making it a great place to start.
Joker Poker: A joker is added to the deck in this game, which serves as a wild card, substituting for any other card to help make up a winning poker hand. This game usually plays with Kings or Better rules.
Deuces Wild: In this variant, all the 2s are wild, which means they can stand in for any other card to help you make up a winning poker hand.
Bonus Poker: This game variant splits Four of a Kind into three different types: 4x 5s to Ks, 4x 2s, 3s and 4s, and 4x Aces, with each paying out more.
Double Bonus Poker: The same as Bonus Poker, but Four a Kind pays is even higher.
Double Double Bonus Poker: This game plays very similarly to Double Bonus Poker, but here the kicker (or card outside of the hand) influences your Four of Kind payout too.
Aces & Eights:The game is based on a standard deck of 52 cards, with the addition of two jokers. The object of the game is to make the best possible five-card hand. The jokers can be used as wild cards, which can substitute for any in the deck. This makes it possible to create some very strong hands, such as a royal flush.

Tips and Strategies to Win Video Poker
Now that you have a better idea of the winning hands and how your bet and the poker hand value affect how much your winning hand pays, you are in a much better position to win at playing video poker. While certain games like Roulette are entirely down to chance, video poker is a little different because it involves some element of skill. This makes the game so appealing, with many players following certain strategies to try and improve their skill level and gain an edge. So what kind of strategies can you use to boost your chances of winning playing video poker? Here we'll take a closer look at a few approaches you can take.
Practise With Free Video Poker
One of the most fundamental things you can do to improve your chances of winning playing video poker is to learn the basics, then practise, practise, practise! The more you play, the more you'll become familiar with the game and how it works. It's a good idea to play in demo mode until you feel comfortable with the rules.
Know Your Hands
It's crucial that you know the different poker hands and how they are valued against each other. But looking a bit deeper than that, you also need to think about the chances of certain cards coming up on the draw, which will help you decide which cards to hold and which to discard. For example, you have a better chance of completing a four-hold straight hand than a three-hold straight hand. Another example is when you are dealt three of a kind on the initial deal. This is known as a "Triple Play". This is a very rare occurrence, so if you are dealt three of a kind, you have a very strong hand and should bet accordingly.
Try Different Variants
Some video poker variants are more attractive than others. Jacks or Better tends to be a popular variant due to the slightly higher payouts and the payout for the smaller value hand of Jacks or Better. Deuces Wild is popular because of the four additional wild cards added, boosting your chances of getting winning hands. Try a few variants and see which one suits you best.
Check the Payouts
Different games offer different payouts for the various winning hands, influencing the game's RTP (Return to Player) and house edge. Decide if you want better payout odds overall, such as with Jacks or Better, or a range of improved payouts for certain hands, such as Bonus Poker, and go for the one that works for you.
10 Interesting Facts About Video Poker
Fact 1: Video poker first became commercially viable when it became economical to combine a television-like monitor with a solid state central processing unit.

Fact 2: The earliest models appeared at the same time as the first personal computers were produced, in the mid-1970s.

Fact 3: It was originally played on a computerized console similar in size to a slot machine.

Fact 4: Video poker was very popular in the Las Vegas casinos in the 1980s.

Fact 5: There are an estimated 3 million American online video poker players

Fact 6: There are over 100 different online video poker games available

Fact 7: The most popular online video poker game is Jacks or Better

Fact 8: The average online video poker player plays for 2 hours per day

Fact 9: Online video poker has a house edge of 0.46%

Fact 10: The average online video poker player has a return to player (RTP) of 96.54%

Ready to Play Online Video Poker for Free or Real Money?
In conclusion, video poker is a great game for anyone looking for a challenge with a bit of skill infused with some luck. There are many variations of the game, so there is something for everyone. With the right strategy and practice, you can minimize your losses, maximize your chances of winning, and perhaps more importantly, just have fun with it!
Video Poker Games FAQs
How to play online video poker with real money?
The first thing you need to do is find a reputable online casino that offers video poker.
Once you have found a casino, you need to create an account 
Choose your preferred banking option and deposit money into your casino account. 
Once you have deposited money, you can choose your favourite online video poker game and start playing video poker for real money.
Browse the best online casinos in Canada, US, UK, South Africa, Germany, Norway, Sweden, Australia, India, and many more countries right here at casinotopsonline.com
Can I play online video poker for free?
Yes, most online casinos offer free play versions of the game to try before playing with real money. In fact, we recommend trying out their free games before deciding to register at a new casino and wagering real money.
How much can I win playing video poker with real money?
There's not a limit you can win; it's all about the maximum stake the casinos allow. Familiarise yourself with each casino's terms and conditions regarding wagering requirements, and maximum withdrawal amounts etc. 
Can you play real money video poker online?
There are hundreds of online casinos offering real money video poker. Make sure that the video poker casino site you choose is licensed to offer video poker in your country. You can find a list of our most highly rated casinos in your country at the top of this page.
Is online video poker rigged?
There are a few risks associated with playing online video poker. First, you may not be playing at a reputable and regulated online casino. In this case, you have no idea whether their gaming software has been rigged or follows strict gaming regulations. This means the odds may be stacked against you, and you could lose money. Additionally, you may unintentionally expose your personal information or simply have a bad experience at the online video poker site. 
All the casino sites we recommend on this site have been thoroughly researched and vetted. We have compiled detailed reviews outlining the pros and cons of choosing to play at these online video poker casinos. Always ensure the casino you choose has games from well-established game providers such as Netent, Playtech, Microgaming, etc. These games are 100% legitimate with transparent payout and RTP rates.
Can you make a living playing video poker?
It's unlikely to be able to support a living based on playing casino games based mostly on luck. Although there are some poker strategies you can use to increase your chances of winning there are just too many factors influencing the outcome.
How can I win at video poker?
There is no definitive answer to this question. However, some general tips can help you increase your chances of winning at online video poker.
First, choosing a game that you are familiar with and comfortable playing is important. This will help you to make better decisions and minimize mistakes.
Secondly, understand the winning hands and their corresponding payout tables for the video poker variant you choose to play.
Most importantly, always play within your bankroll. This means only betting an amount that you can afford to lose.
Is it possible to get an edge on video poker machines?
The short answer is no. You can however improve your skills and chances of winning at online video poker. Depending on your goals, skills, and style of play there are a few general tips that may help improve your online video poker game:
1. Practice, practice, practice! The more you play, the better you'll become at making the right decisions in difficult situations. 
2. Study the game. Learn all you can about the different variants of video poker and the optimal strategies for each.
What are the odds of winning at online video poker
That depends on several factors, including the type of video poker game being played, the player's skill level, and the house edge. However, we have provided some general guidelines in this article.
The odds of winning at online video poker will vary depending on the game being played.
What is the house edge at online video poker?
Assuming you are playing a standard game of video poker, the house edge will depend on the paytable of the game you are playing. For example, a Jacks or Better game with a paytable of 9/6 will have a house edge of 0.54%. However, a Deuces Wild game with a paytable of 9/5 will have a house edge of 2.01%. So it really varies depending on the game you are playing.
What are the most popular online video poker games?
There are a few different types of online video poker games that are popular among players. Jacks or Better, Deuces Wild, and Joker Poker are the most common. Each of these games has its own unique rules and payout structures, so players will need to choose the game that best suits their playing style. Jacks or Better is the most basic form of video poker and is a good choice for players who are just starting out.
What are the best strategies for playing online video poker?
Here are some tips and strategies for playing online video poker in general:
Start by finding a good online casino that offers video poker games. Make sure the casino is reputable and has a good selection of games.
Choose the game you want to play and ensure you understand the rules. Video poker games can vary slightly in terms of rules and payouts, so choosing a game you are familiar with is important.
Know your winning hands. This can vary greatly from one game variant to the next.
Get familiar with the payouts for each winning hand depending on the poker game variant you are playing.
What are the most common mistakes made by online video poker players?
Online video poker players make several common mistakes. One of the most common is playing too many hands. Many players get impatient and play too many hands, which can lead to losing money. Another common mistake is playing too fast. Many players try to play as fast as possible, leading them to make mistakes and lose money. Another mistake is playing without a strategy and not knowing the winning hands and their corresponding payouts.