Sports betting is a monumental part of online gambling and it's the only product where luck doesn't play a significant role in boosting your bankroll.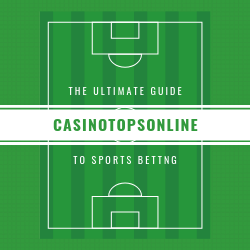 Luck is always going to be a factor, but if you're equipped with the right knowledge and follow the sports you bet on, there is potential to make more than a pretty penny.
If you're new to sports betting or looking to discover betting strategies, you've definitely come to the right place because on this page, you'll find in-depth knowledge covering a range of topics, including the different types of bets to place in an array of different sports, sports bonuses, detailed betting guides, and bankroll management, to name a few.
Whether you're into football, basketball, boxing or tennis, we'll be covering all the important elements you should be considering when betting on sports and with the right mindset and self-discipline, you could transform yourself from the average punter to a wise guy. 
 
On this page you will find:
Odds can be displayed in three different ways; Decimal, fractional and American but the latter is not very popular outside North America and for this reason, we'll focus solely on decimal and fractional odds. 
Decimal Odds
Decimal odds are pretty straightforward and a favourite amongst many punters. For instance, if Manchester United are playing against Chelsea at Old Trafford, decimal odds would look like the following:
Home: 2.20       Draw: 3.50       Away: 3.80
The odds simply mean that if you bet a tenner on Manchester to win, your winning potential would be £22. A draw would yield £35 and an away win for Chelsea would see you pocket £38. 
Fractional Odds
Fractional odds are an older way of calculating odds and very popular in the UK and Ireland.  Needless to say, the odds will be expressed in fractions and regardless of which option you choose, the winning potential remains unchanged. The following is an example of fractional odds, using the same odds as the example above:
Home: 6/5       Draw: 5/2       Away: 14/5
The main difference between fractional odds and decimal odds is that fractional odds calculate the potential profit while decimal odds displays the total potential return. The simplest way to convert fractional odds to decimal odds is by adding the numerator and the denominator together and divide the total with the denominator. For instance, in the example above, the conversion would look like this: 
6+5=11       11/5=2.20
Each sport has a plethora of bets available to be placed and it's pertinent to know each and every bet to be able to leverage the situation and place the right ones in order to make a profit. In the sections below, we'll be covering all the bets available to place and when it's the most advantageous to use them. 
**All the bets discussed in the section below are all pre-match bets**
Straight Bet / Final Result
This is the most straightforward and the most common bet used in a wide range of sports. Essentially, the straight bet is choosing the outcome of a particular match. For instance, placing a tenner on Manchester to beat Chelsea is a straight bet and the bet will only be successful if Manchester come out on top. 
Double Chance
This is very similar to the straight bet but instead of choosing one outcome, you'll need to pick two and any outcome chosen will qualify as a successful bet. The odds for double chance are always going to be lower than those of a straight bet because you have double the chance of winning the bet but it also gives you a little insurance should an unexpected turn of events happen.

Many punters bet on double chance on the away team because more often than not, the away team is the underdog and double chance gives a little extra security. Ways in which double chance can be used effectively:
Teams are of the same quality
The weaker side is playing at home against a stronger team
Historical statistics show that a certain outcome is highly unlikely
Under/Over
This bet is incredibly popular amongst punters and it relates directly to goals or points. When picking the under bet, which is displayed 'under 2.5 goals', it simply means that for the bet to be a winning one, the game must finish with a maximum of two goals. A goalless draw will also be a winning one.
This bet comes in many sizes. 2.5 goals is one of the many options that are available and some sportsbook operators present the option up to under/over 5.5 goals. The under/over bet uses the same principles in different sports. For instance, in tennis, you're able to place the under/over bet on the total number of games, such as under 20.5 games. This means that for the bet to be a successful one, the match must end with 20 or less games played. 

The over option is the opposite of the under bet. If you bet on over 3.5 goals for instance, the match must end with 4 or more goals. Anything less than four goals will be a losing bet. 
Statistics to study before placing the under/over bet:
Average number of goals scored per game
Performance at home vs performance on the road
Any significant absences from the match
The quality of the opponent
Whether the opposing team is desperate for points
The under/over bet is very versatile and can be played on a number of markets, not just goals. A smart punter will only place wagers on markets that make sense and if there's a particular area of expertise that you're passionate about, go with that. For example, certain teams have powerful wingers and tend to use the width of the pitch to their advantage, making full use of the flanks.
These teams tend to have a higher number of corners awarded in their favour and in this case, it makes sense to place an under/over bet on corners. Before placing any sort of wager, be sure to analyze historical statistics to get a better understanding of trends and there's no better way to gather information than watching matches, highlights and following the sport altogether. 
Both Teams to Score
As the name suggests, both teams need to score for the bet to be successful. This bet is a pretty popular one amongst punters and can be used strategically when betting on a league with a high average of goals per game. It's always wise to check the teams' scoring habits before placing this bet and how teams perform when playing at home or on the road. It's also pertinent to discover whether any players are injured before placing the bet, as this may have a significant impact on the outcome of the game. 

For instance, if the main forward and an attacking midfielder are absent due to injury, the team could find it troublesome to find the net, especially if the team in question depends greatly on the services of the absent men. 
The bet options will be displayed as 'Yes' or 'No' and when choosing 'No', the bet will be a successful one if only one team scores or when it finishes goalless. For instance, Manchester City conceded just one goal in their last five Premier League season of 2018/2019 at the Etihad, which makes 'No' a sensible bet when playing on home soil. 

Correct Score
This bet always has incredibly high odds because of its sheer difficulty of winning. The score needs to be predicted to cash in on the winnings and it's difficulty is a huge deterrent from players looking for long term success. Some bookmakers also present the option for the multiples correct score, where punters can pick from three different correct score option which are predetermined by the bookmakers. For instance, a multiples correct score would be displayed as:
'1-0, 2-0, 2-1'
The multiples correct score bet will always have lower odds than the standard correct score bet, since punters will have a higher possibility of hitting one of the options. 
Half Time Betting 
Half-time betting presents all the bet opportunities as it's full time counterpart but since the bets settle in a shorter period, odds for certain bets tend to be lower. Punters have the option to bet on a multitude of outcomes in the first half, including under/over, correct score, double chance and both teams to score, to name a few. Before placing a wager, it's of utmost importance to check statistical data to get a better understanding of how teams perform in the first half.
For example, the Italian Serie B league gets off to a slow start and most of the action tends to happen in the second and with that in mind, betting on under 1.5 goals in the first half could prove to be a smart bet. 
This is why it's important to know about the bets available to place. Once you have statistics and valuable information on the teams you're betting on, you can tailor your bets and have a better chance of boosting your bankroll. 
Draw No Bet
In football, there are certain teams which finish the season with a very low number of draws. These are teams that tend to be in the top and bottom three of the table. For instance, Manchester City only drew twice throughout the entire 2018/2019 season, which makes 'Draw No Bet' a viable option. 
Goalscorers
This is a fun bet to place, particularly if you're very aware of players' capabilities. Punters have the option to bet on players to score:
At anytime
First
Last
Two or more
First and last
First or Last
For example, Cristiano Ronaldo bagged 21 goals from 31 appearances in the 2018/2019 season for Juventus and when considering the fact that almost all free kicks and penalty kicks are taken by the Portuguese skipper, betting on Ronaldo to score at anytime makes it all the most attractive. 
Match Handicap / Three Way Handicap
Many newbies tend to find this bet a little confusing but it has potential for punters to make a pretty penny due to its high odds on certain matches. 
The following image is how the handicap bet will be displayed:
The first bet, 'Tottenham +1' essentially means that Tottenham will hypothetically start the match a goal up and if the Spurs emerge victorious, the bet will be a successful one. 
The 'Tie' bet, priced at 4.50 means that once again, Tottenham start a goal up but the game ends up in a draw. (although in reality, for the bet to be successful, Manchester United need to win the game by exactly one goal.
The last bet, 'Manchester United -1 Goal' implies that they will start the match a goal down, hence the '-1' and for the bet to be a winning one, the Red Devils need to win the match with a minimum of a two goal advantage. This bet is advantageous to use when one team is much stronger and a clear favourite. 
The hypothetical advantage in handicap betting is not limited to one goal, but can even be a two or three goal advantage. Needless to say, the more difficult it is, the higher the odds. 

Doubles Bet 
The doubles bet simply means that you're able to bet on two matches and both bets need to come through for the bet to be a winning one. The doubles bet can be different ones. For instance, you can choose to bet on under 2.5 goals on one match and draw no bet on another. The odds of the doubles bet will be multiplied against each other and the total odds will be the final odds which will be multiplied by your stake. So if you have odds of 1.50 on one match and 1.80 on the other, the total odds would be:
1.50 x 1.80 = 2.70
2.70 x £10 = £27
The doubles bet has one condition: You're only able to place doubles bets on different matches and not on the same event. 
Multiples Bet / Accumulator Bet
This bet is very popular amongst punters. The multiples or accumulator bet allows players to bet on a number of matches (four or more - three is a triples bet), ranging through a variety of sports and the same principles as the doubles bet applies, where all the odds of all matches will be multiplied against each other to give you the total odds. It's very easy for punters to get fooled by the odds, even though all the favourites might be picked in the accumulator bet, but again, the higher the odds, the more difficult the bet comes. 
Outright Betting
Outright bets are season long bets which will need to be placed before a competition starts, be it a football league, tennis tournament or otherwise. In football for instance, bettors can place an outright bet on league winners, top four teams and teams relegated, to name a few. Smart punters will be aware of any transfers, new management and investors, all factors that could have a direct impact on the forthcoming season. 
Special Bets
Bookmakers are always striving to come up with new bets to keep players entertained. Some bookmakers create special bets which essentially are a number of bets combined together and usually tend to have pretty high odds. For example, in football, a special bet could be 'Under 10 corners, between 4-6 cards and both teams to score' These are fast and easy bets with high odds and a simple tenner could potentially return over £100. 
Ever since live betting was introduced, it changed sports betting forever. Live betting allows players to bet on matches and events in real time, as the action is unfolding. Many players prefer to bet in-play, as it gives them the opportunity to get a feel of the game before placing a wager and there are a multitude of betting options to be placed. 
Live betting can be used strategically to offset any pre-match bets that won't be going according to plan. For instance, if you placed a bet on Man Utd to win and they're losing a goal to nil but performing very well, a sensible bet would be to bet on 'Man Utd to score next'.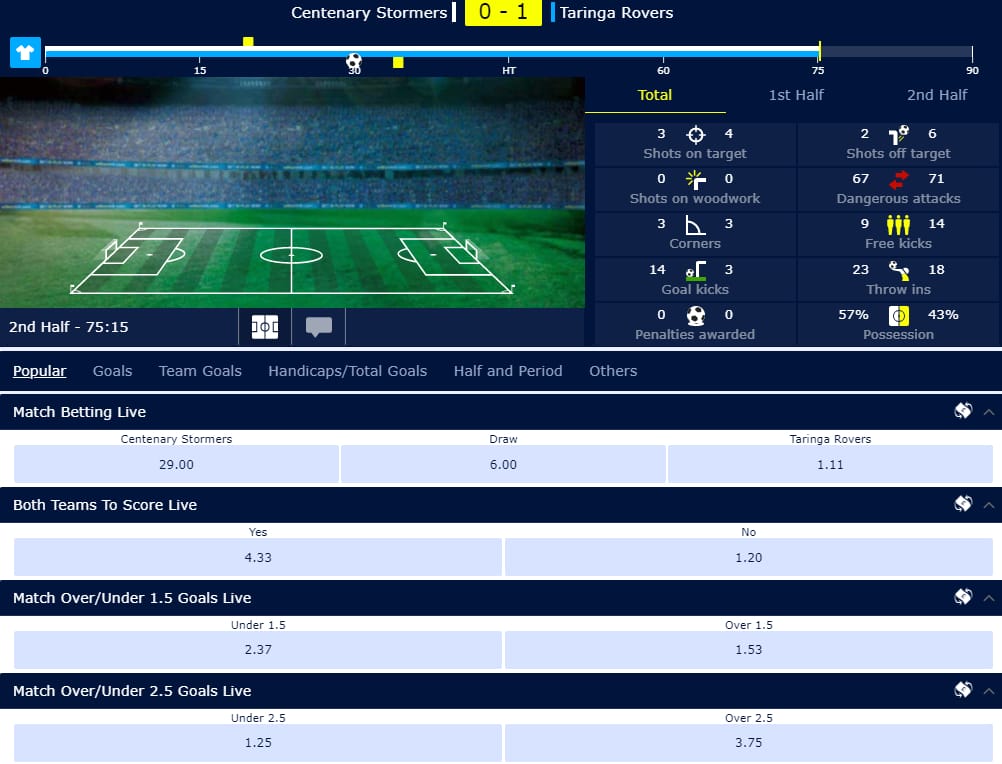 Live betting could be used in all sorts of ways to leverage certain situations. Most pre-match bets are available in-play, such as match betting, correct score and under/over but there are a couple of live betting options that kick up the entertainment levels a couple of notches, like next goal betting and 'To happen in the next two / five minutes': Corner, foul, throw in, card shown and a penalty, amongst others. 
One of the main benefits of betting in-play is that the odds fluctuate as the match progresses and punters have been taking advantage of this with great success. There are many situations where live betting could save the day. For instance, if a defender gets red carded in the last 20 minutes of the match when the team is already struggling to hold on to their lead, it would be sensible to place a wager on the opposing team to score next. Betting in-play while watching the action unfolding is a great way to make more informed betting decisions. 
Advantages of Live Betting
Can make better and more informed betting decisions
Can take advantage of fluctuating odds
The potential to offset losing bets
Bets settle much quicker
More entertaining
Tennis is one of the most popular sports for punters to bet on and it has a particular set of bets that are exclusive to the sport. Apart from the standard, under/over and correct score, some other bets include:
A player to win a set
A player not to win a set
Both players to win a set
Game Betting
Set Betting
Number of Tie Breaks
Whether total games will finish in an odd or even number
When betting on tennis in-play, you could use your knowledge of the match and the players to your advantage and when coupled with the information gathered while watching the match, you could potentially make a good profit. For instance, Roger Federer is known to have a killer serve and betting on him to win the game when serving is a pretty safe bet, although the odds might not be the most lucrative.
To win tennis matches, players will need to break their opponents (winning the games where the opponent is serving) and the odds of winning on the break will be significantly higher than the odds of winning the serve. This information is only valid if you're aware of happenings in the sports and if the match is being watched. 
When you join a sports betting site, most times you will be greeted with a welcome bonus which will include a free bet or a combination of bets to get you started on the right track. Sports betting bonuses come in many forms and in the section below, we'll delve a little deeper into each one to make sure you're aware of what each one entails. 
Risk Free Bet
Risk free bets are very common amongst bookmakers and adored by punters because of the fact that any bet could be placed and if the bet loses, their money will be refunded in the form of a free bet. One thing to note about risk free bets is that the stake is not returned in the free bet, meaning that should your free bet be a successful one, you will only rake in the profits of the free bet, not the full amount. For example, if you free bet of £20 with odds of 3.00 and it's a winning one, you will have a return of £40 (£20 x 3.00 = £60, less your stake £20, which will return £40). Risk free bets have no rollover requirements. 
Deposit Bonuses
When bookmakers reward players with a deposit bonus, players will benefit from additional funds when making a deposit, depending on the percentage. For instance, a 100% deposit bonus of up to £50 simply means that the bookmaker will match your deposit up to a maximum of £50, giving you a total of £100 to play with. The main difference between sports deposit bonuses and casino deposit bonuses is the rollover requirements, which are minimal in sports betting. Most terms indicate that the bonus money needs to be used on odds higher than 1.50, for instance or need to be rolled over three times. 
Free Bets
Some bookmakers reward players with free bets when an accumulator bet is lost by a single match, when the accumulator number was over four or five. These bets use the same notion as risk free bets, where your stake is not returned. Sometimes, free bets are also given away simply for signing up but these free bets tend to be much lower than those awarded after making a deposit
Cashbacks
Cashbacks give players a portion of their net losses in cash or as a free bet, simply for going through a cold streak. Most cashbacks don't come with rollover requirements in sports betting and punters are free to bet on any event that they wish. 
Most well established online bookmakers develop mobile apps in order for their punters to have the best experience when betting online. While all sports betting sites work perfectly on any mobile device, sports betting apps are much faster and all the action will never be more than three taps away. 
When downloading a sports betting app on a mobile device, you would first need to go to your phone setting and make you have the 'Allow unknown sources' activated. Most sports betting apps will need to be downloaded directly from the betting site itself, since Google Play prohibits betting sites from being listed on the market. 
Mobile betting adds a new dimension to sports betting and most mobile apps even send users notifications before a certain event is about to start. 
Most online bookmakers will have live streaming services for some of the events but to be able to access them, you would need to place a wager on it. The main advantage of mobile betting is the sheer convenience that it creates for players. Betting on the go has never been easier and it's a must when betting in-play. 
Bookmakers are now presenting the early cash out option which allows punters to cash out early on winning bets for a lesser amount than the total return on the betslip. For instance, you have a doubles bet with a total return of £75. 
The first match settled in your favour and the second match is also promising, with 30 minutes left to play. Most bookmakers will give you the option of cashing out on your bet but will only give offer you £50.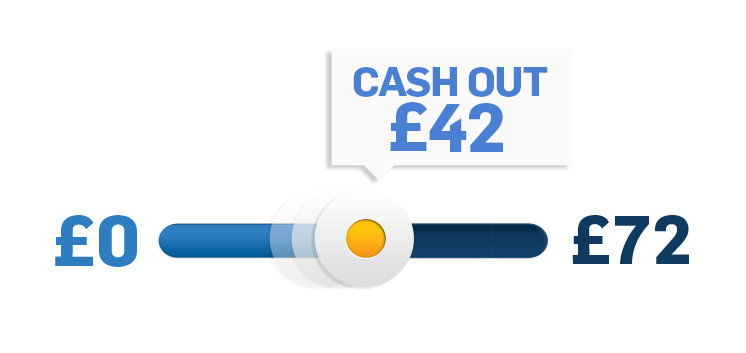 This is a psychological powerplay used by bookmakers and many punters are happy to cash out early and lose on a portion of the profits. Bookmakers also give bettors the option to cash out a portion of the bet, which is pretty handy if you're looking to cash out your stake of the bet. 
The value of your bet and the amount being offered will increase and the event comes closer to a close and your decision should be a purely financial one. There's no point in dwelling over lost profits if the bet came through in the end. Making a profit is always a desired outcome and you should be satisfied that it's a positive contribution towards your bankroll. 
Never use emotion when betting, otherwise you run the risk of losing your head and chase losing bets to cover your losses, which is the last thing you want to be doing. 
Bankroll management is equally important as having successful and a huge part of bankroll management is self discipline. You always have to remember why you started betting on sports in the first place and need to keep in mind that reckless bets will get you in trouble. 
Tracking your bets
You should always be aware of the number of bets you placed and keep a record of all the winning and losing ones to establish a win to lose ratio. When you're keeping a record of all your bets, you'll have a better understanding of where you went wrong and how to rectify it with future bets. 
Once you've placed enough bets to make an analysis, you could discover that betting on away teams is not working so well or that live bets work far better than pre-match betting. However, the most important element is the profit or loss made through a series of bets and the totals you've achieved per week, month or year. 
Bet Sizes
Many punters tend to make the mistake to increase their bet sizes drastically as the profits come rolling in. While increasing bet sizes is natural as you move higher in the green, it always has to be a small percentage increase in relation to the profit you're making. Needless to say, the bigger the bets, the riskier betting becomes and the last thing you want to do stall your winnings. 
Each time you lose a bet, both your bankroll and your confidence will take a hit and it's paramount to stick to your winning system, even if it means placing the same sized bets your were placing before. A smaller profit is still a profit and that's what you should always keep in mind, as it's the main reason why punters start betting on sports in the first place. 

Having a betting system will work wonders in the long run and having a systematic approach will ensure you stay level headed. If you have a £1000 budget to spend on sports betting throughout the year, you'll need a solid plan on how to bet. Using percentages to place bets is advantageous because whether you win or lose, you'll be using your bankroll in direct proportion with your betting performance.
Let's say you placed a £10 wager, which amounts to 1% of your total yearly betting budget, at odds of 1.75 and the bet came through. The win will give you a total bankroll of £1017.50 and you should continue making these 1% bets until you reach a milestone or target. For instance, a realistic target would be to make a £50 or £100 profit per month. Once you've achieved your target profit, you can proceed with increasing your stake with another percentage point.
You should also keep the same principle when your bets are losing ones and adapt your stake to reflect your bankroll. One of the main advantages of having a system is that it eliminates the need of placing impulsive and random bets, giving you more control while improving self discipline when it comes to sports betting. 
Have a reasonable betting budget
Use a system to track your bets
Study the sport you're betting on
Your bet sizes should be in direct proportion to your budget / bankroll
Avoid impulse bets
Avoid huge accumulator bets 
Use live betting / betting in-play to your advantage
Never use emotion when betting 
Successful bets instill confidence, regardless of the profit made