NJ Division of Gaming Enforcement and Best NJDGE Casinos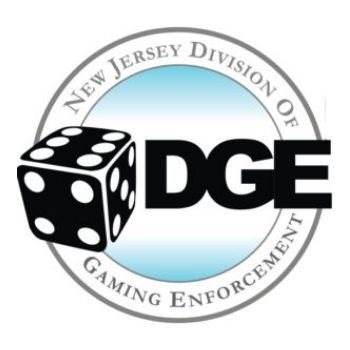 There aren't many US states associated with gambling for legal reasons, but New Jersey is an exception, with some of the most relaxed gambling laws in the country. Alongside Pennsylvania and Michigan, New Jersey is one of the only states that licence online casinos. So how does that work exactly? That's one of the questions we're here to answer today.
Check below to find all the websites with an NJDGE casino license, mandatory for online casinos to accept gamblers from New Jersey. Remember: we only publish online casinos holding a valid gambling license within the United States.
Online Casinos With NJDGE License in 2022
The New Jersey Division of Gaming Enforcement
Set up in 1977, the New Jersey Division of Gaming Enforcement (or NJDGE for short) is one of the oldest bodies for gambling legislation in the US. Any casinos licensed in New Jersey will need to answer to this body, and any casino hoping to obtain a licence in the state will need to go through them as well.
It's part of the New Jersey Attorney General's office, so it is the real deal! You won't be able to get away with breaking the rules if you have a casino licence from New Jersey. They consider themselves a 'law enforcement agency, so you do not want to get on the wrong side.
The team comprises many attorneys, accountants and investigators, and they're tight-knit as an organization. So let's find out more about how that works.

How the NJDGE Works
When it comes to online casino licensing, a site can only apply in New Jersey if they are affiliated with one of the land-based casinos in the state. But each land-based casino can have many affiliations.
For example, Resorts Casino Hotel Atlantic City has five different online casino sites. As a result, there are now several online casino sites with a New Jersey licence. So, there's a lot of dealing between the land-based casinos of NJ and online casinos looking to do business.
Even then, there are several criteria that these organizations will need to meet. The NJDGE has set up many rules that many New Jersey casinos must abide by to obtain and keep hold of their casino licence.
Protecting the Players' Funds
One of those rules is protecting the players' funds. Each casino with a New Jersey licence will need to protect all the money that players deposit to their site with the utmost care. 
A few ways they have to do this are by keeping the money in a separate account, never participating in money laundering and not holding onto the players' money for too long after they request to withdraw. 
Applying for a New Jersey Licence
Do you like the idea of licensing a casino site in New Jersey? If that's the case, the first thing you will need to do is find a land-based casino willing to do business with you.
This could be easier said than done. The casinos themselves don't want to tarnish their reputation, so they're probably only likely to do business with a well-established casino site. If you're not well-established yet, you might want to come back and try again in a few years!
The fees are a little bit steep for this licence. Firstly, the application fee is $100,000, and you won't get that back if your application is declined! If accepted, you'll need to pay a further $400,000 to get the licence. But you can save some money on tax here. The tax rate is only 15%, and that's a lot slower than the likes of Pennsylvania and Michigan.
How to Make a Complaint via the New Jersey Gambling Commission
Suppose you're a player enjoying gambling at a New Jersey online casino. In that case, you can be safe knowing that the casino will be operating legitimately as the NJDGE takes its work very seriously.
However, in the unlikely case that you feel something is wrong, you might wish to make a complaint. These things happen from time to time! If you want to complain, you'll need to make it to the New Jersey Attorney General's office. The process is carried out through an online form that you can find here. There is no email address or phone number to reach out to at this stage in time.

Finding a Safe NJDGE Casino Online
You can reduce the risk of having to make a complaint by finding a safe casino to sign up for in the first place. The good news is that all New Jersey online casinos should be pretty safe because of the extensive scrutinisation that each of them gets from the NJDGE.
There are a few extra things you can do to make 100% sure the casino you are about to sign up for is safe. These include reading reviews from other players and checking out the terms and conditions for any bonus offered. Here's a look at how to do both of those things.
Read the Player Reviews
You're never going to get a more honest opinion about a casino site than from the people who have already used that site. Neutral players are unlikely to have some bias unless they have some personal vendetta or affiliation with the New Jersey casino site.
To find the reviews from the players, search online for the name of the casino followed by 'player review'. There will probably be several comment threads and discussion boards about the big casinos that you can read to get an idea of what people tend to think of it. Here are the top casinos with this review:
| Ranking | Online Casino | NJDGE License | Our Score |
| --- | --- | --- | --- |
| 1 | Sugarhouse Casino | Yes | 9/10 |
| 2 | BetMGM Casino | Yes | 10/10 |
| 3 | Golden Nugget Casino | Yes | 6/10 |
| 4 | Borgata Casino | Yes | 8/10 |
| 5 | Tropicana Casino | Yes | 8/10 |
| 6 | Virgin Casino | Yes | 7/10 |
| 7 | Harrah's Casino | Yes | 10/10 |
| 8 | Caesars Casino | Yes | 7/10 |
Check the Terms and Conditions
Casino bonuses can be a great way to get a bit of free cash or some free spins to play with. They exist to bring in new players or sometimes to keep hold of the players who already play there.
Sometimes, casino bonuses are really easy to use and withdrawing your winnings is no problem. But other times, they can be a real pain as they can force you to jump through hoops to get your hands on your cash. These hoops can come in the form of wagering requirements and time limits, so always keep an eye on the terms and conditions to look out for those things.
Responsible Gambling Under the New Jersey Casino Licence
Perhaps the most important thing for a casino site to do is to enforce responsible gambling. New Jersey recognises this. Each year, they produce a reliable gaming report on their website, and several sub organisations exist to help out players.
These consist of the Council on Compulsive Gambling in NJ, the National Center for Responsible Gaming and Gamblers Anonymous. You can reach out to any of these if you feel like you have a problem or are concerned for a friend or family member.
New Jersey casinos are also required to ensure that each player who signs up for the site is 21 years or older. If a casino is found to be allowing underage gambling, they'll find themselves in some serious legal trouble.

Our Opinion on the NJDGE Licence
Of all the casino licensing bodies globally, we think it's fair to say that the NJDGE takes itself the most seriously. And that's a good thing for the players because they know that they can play safely at any New Jersey licensed casino available to play online.
It's good for the casinos, too. But only the ones that make a lot of money. Because the fees are so high and the tax is low, you'd need to make sure that you would bring in a lot of cash to justify signing up here.
NJDGE Casinos FAQ
Compared to casino licensing bodies in Europe and other parts of the world, things are confusing in New Jersey. So, check out the most commonly asked questions about how it all works (and their answers) below.
Is online gambling legal in New Jersey?
While New Jersey state has a rich history of gambling, online casino gaming didn't come into the equation until pretty late. The law changed in 2013 and at that point, everybody in the state was free to gamble online to their hearts' content!
How many casinos are there in New Jersey?
There are currently eight land-based casinos in the state of New Jersey and each of those has a handful of online casino sites affiliated with it, ranging from three to 10 in number. As a result, there are 31 online casino sites with an NJ licence.
What is the New Jersey Division of Gaming Enforcement?
The body that regulates all casino and sports betting activity in the state of New Jersey is called the New Jersey Division of Gaming Enforcement or NJDGE for short. They regulate both the online and land-based casinos of the state.
Where can a New Jersey gambling licence be used?
Anywhere! That's the beauty of it. Well, not absolutely anywhere. You still can't do business in countries where casino gaming and sports betting is banned, of course. Countries like Japan are off the radar for this.
Is sports gambling legal in New Jersey?
Yes! The same company that licences the casinos also takes care of the bookmakers. So, if you ever need to complain about a sportsbook, you can follow the same steps we mentioned earlier on.
Is there gambling in New Jersey?
Oh yes, plenty of it. Land-based casino gaming has been going on in the state of New Jersey for many, many years. But things changed recently to allow for online gambling to take place as well. Now, people can gamble on casino games or sports betting from the comfort of their own homes.
What are the drawbacks of a New Jersey gaming licence?
The cost. That's the main thing here. The licence fees are pretty high so you'll need to be able to justify paying that if you're looking to sign up for a New Jersey casino licence. And there's also the little matter of the fact that you have to be tied to a land-based casino if you want to do business online.
How do I tell if a New Jersey gaming licence is fake?
It's really simple, actually. If the site isn't on the list, they're a fake! If you ever see a casino site that's claiming to be licensed by the NJDGE that isn't on this list then we recommend reporting them to that body as soon as possible.