NJ Division of Gaming Enforcement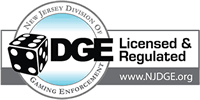 There are a number of gambling authorities around the world that work to make the industry a safer place for players but none is quite as unique as the New Jersey Division of Gaming Enforcement (NJDGE). The first regulatory authority established in the US, the NJDGE is well known for its exclusive and stringent application process, resulting in only a small number of online casinos currently operating in the state.
Read on to learn more about the NJDGE, including how they started, the licenses they offer, the license application process itself, and a list of the top NJDGE-licensed online casinos.
NJ Casinos Online for January 2022
Rank
Casino Name
Rating
Bonus Offer
Secure Link

Top Features

Highroller
Jackpot slots
Super-secure

Payment Methods

Top Features

24/7 Support
Live Casino
Sportsbook

Payment Methods

Top Features

Live Casino
24/7 Support
Jackpot slots

Payment Methods

Top Features

Easy registration
Live Casino
Player's Choice

Payment Methods

Top Features

Sportsbook
24/7 Support
Live Casino

Payment Methods

Top Features

Classic slots
Easy registration
Internal Casino jackpot

Payment Methods

Top Features

Cashback
Bingo
Internal Casino jackpot

Payment Methods

Top Features

Easy registration
Sportsbook
VIP

Payment Methods
NJ Division of Gaming Enforcement Story
The New Jersey Division of Gaming Enforcement (NJDGE) was formed in 1977, making it one of the oldest existing licensing bodies globally. Part of the New Jersey Department of Law and Public Safety under the remit of the New Jersey Attorney General, the NJDGE was established to regulate all gambling activities, both offline and online, according to the state's Casino Control Act.
Historically, online gambling was prohibited in the United States, with the state of New Jersey being the first to pass a bill in 2010 legalizing it in certain forms, namely, online poker games, online casino games and online slots, though notably not online sports betting, which is still being debated.
Certain conditions restrict the ability of entities to set up and operate an online casino within and for the residents of New Jersey. The main one is that it must collaborate with an existing land-based casino in the state. This has resulted in relatively few approved online gaming sites - only 39 at present - operating in the state compared to those licensed by other regulatory authorities.
The NJDGE has numerous powers and duties assigned to it, including:
Enforcement
Application investigation
Reporting
Application processing
Issue and revocation of licenses
Decide and impose legal actions such as sanctions and fines
Initiate, prosecute and defend appeals
Conduct continuing reviews of casino operations
Carry out audits of casino operations
Dealing with customer complaints
Create and maintain a list of excluded players
The NJDGE is also tasked, in collaboration with the Casino Control Commission, with creating a public awareness campaign on the issues of internet gambling to highlight the risks and dangers.

Licenses Issued by the NJDGE
There are three types of casino licenses issued by the New Jersey Division of Gaming Enforcement's Service Industry Licensing Bureau (SILB) under Section 92 of the Casino Control Act, with only two of them applicable to online casino gaming operations:
Gaming Related Casino Service Industry Enterprise: About Section 92a (1) and (2), holders of this license include those that provide goods and/or services directly related to the operation of the casino. Since the law states that online casinos can only operate in conjunction with an existing land-based casino within the state, the online casino arm must obtain this type of license to operate legally.
Ancillary Casino Service Industry Enterprise: Relating to Section 92s (3) of the Casino Control Act, this license is required by those providing goods and services on an ancillary basis, such as licensors of authorized games.
Vendor Registrants: About Section 92c (1), this type of license is required by those providing services unrelated to gaming operations, such as shopkeepers, construction workers and food purveyors (applies only to land-based casinos).
NJDGE Casino License Process
The NJDGE assigns the responsibility of assessing and processing license applications to the Service Industry Licensing Bureau (SILB). This body aims for compliance of all applicants in line with the standards of honesty, good character and integrity, and conducts in-depth background checks on all involved personnel to this end.
Applicants for the Casino Service Industry Enterprise license (i.e. online casinos or new sweepstakes casinos in some cases) must submit a range of forms requesting information on all involved entities and personnel. Here are the three main required forms and what each one requests:
Business Entity Disclosure Form: This form requests basic information about the applicant business, including current and previous operating addresses, a description of the business, details of non-voting shareholders, details of all current and previous involved persons, compensation details, debt details, current and previous financial institutions used by the business, criminal history, previous license details and more.
Multi-Jurisdictional Personal History Disclosure Form and New Jersey Supplemental Form: The first of these forms have been designed to be used across multiple jurisdictions and ask for the personal details of all involved applicants. The New Jersey Supplemental Form seeks further information specifically related to operations within New Jersey regarding the applicants' legal standing and background.
Equal Opportunity and Affirmative Action Obligations Form: This form requests that applicants agree to comply with the laws regarding equal opportunities within the workplace.
Once completed, these forms must be signed and notarized, then submitted to the NJDGE's Service Industry Licensing Bureau, Intake Unit by regular mail, along with the minimum application fee of $5,000.
The SILB will then process the application, carrying out all relevant background checks to ensure the applicants meet the standards as set out by the Casino Control Commission.
If the applicant is successful, they will be issued a certificate and a New Jersey Division of Gaming Enforcement logo for use on their online casino website. The license is valid for five years, at which point the online casino must complete and file a resubmission form for renewal of the license.
Reasons to Get an NJDGE License
The New Jersey Division of Gaming Enforcement is a respected regulatory authority that operates differently from that of most online gaming regulatory authorities because online gambling is handled rather uniquely by each state within the United States. New Jersey's setup requires that all online casinos offering their services to New Jersey residents collaborate with an existing land-based online casino. This may seem like an inconvenience to operators. Still, in actual fact, it imparts a level of trust from the public that is much desired by online casinos as it all but guarantees good uptake by partnering with an already popular and trusted brand within the state.
Online casinos stand to benefit from the unique New Jersey licensing set up in other ways, too, with existing land-based casinos often approaching the best online casinos to discuss potential collaboration to penetrate the online market and expand their customer base beyond the walls of their establishment.
The NJDGE license application process is strict and rather exclusive, which results in a lot of trust from the public that online casinos are often keen to benefit from.

NJDGE & Player Protection
The New Jersey Division of Gaming Enforcement requires all casino license holders to comply with specific regulations regarding the protection of online gamblers. Article 6 of the Casino Control Act includes various sections related to player protection as follows; Bets are only allowed to be accepted under the following conditions:
The casino has verified that the player is physically present within the state of New Jersey
The player has successfully logged in to their account via secure authentication
Bets cannot exceed the value of the account balance
All casino license holders are required to take the following actions about gambling problems:
Display the words "If you or someone you know has a gambling problem and wants help, call 1-800 GAMBLER" or comparable language in a prominent place on their website
Allow players to place limits on their betting activity in the form of deposit limits within a specified period of time and the option to exclude themselves from their own account for any number of hours or days.
If the self-exclusion is for a period of at least 72 hours, the online casino is not allowed to send marketing emails to the account holder.
In addition, the NJDGE runs its own Self-Exclusion Program that allows players to put themselves on the organization's Exclusion List for a period of one to five years. This program applies to both land-based and online casinos operating in the state, with all operators required to ensure that players on the Exclusion List cannot place real money bets or, in the case of online casinos, sign up for a new account or access an existing one.
Pros & Cons of NJDGE Licensed Casinos
So is an online casino holding a New Jersey Division of Gaming Enforcement issued license worth playing at? To help you decide, here are the pros and cons of NJDGE licensed online casinos so you can make up your own mind:
Players must be able to play in a safe and secure environment
Games must be verifiably fair
NJDGE approved online casinos are exclusively for use by players residing in New Jersey
The licence application process for online casinos is very stringent, making license holders trustworthy
There are very few New Jersey DGE approved online casinos
Contacting the NJDGE
One of the NJDGE's responsibilities is to "receive complaints from the public relating to the conduct of gaming [...] operations", which are handled by the organization's Regulatory Enforcement and Regulatory Prosecutions bureaus. 
Players are always encouraged to contact the online casino in question to try to sort out the issue first. If that fails, players can get in touch with the NJDGE to escalate the matter, which will trigger an investigation into the possibility of violation of the Casino Control Act and related regulations.
The inquiries and complaints page of the NJDGE website details the actions you are expected to take to resolve your issue. Escalating the issue to the NJDGE must be done in a specific way or it will not be addressed. This involves filling in the site's Internet Gaming Dispute Form and including the original complaint filed with the online casino along with their response.
Should I Play at NJDGE Casinos?
The New Jersey Division of Gaming Enforcement is tasked with the licensing of online casinos, ensuring licensees comply with the regulations, and protecting the players of games at licensee sites. As you can see, the license application process is lengthy and stringent and requires that all prospective online casinos collaborate with an existing land-based casino in the state in order to operate.
Online casinos wishing to offer their services to New Jersey residents must undergo detailed background checks to ensure their integrity and honesty, with the regulatory activity continuing for the duration of the operator's license period to ensure compliance. If violations are found, the in-house bureau deals with prosecution and license revocation swiftly, putting player safety first.
These measures together mean that although there are only a few licensed online casinos in New Jersey, they are very safe and trustworthy places to play.
NJDGE Casinos FAQs
Looking for more information? Check our FAQs.
The New Jersey Division of Gaming Enforcement is the state agency responsible for ensuring that casinos and casino operators follow the state's laws. They are also responsible for the issuance of licences to casino operators who want to offer their services in the state.
Is online gambling legal in New Jersey?
Yes, New Jersey has legalised online gambling when it's carried out within the state itself, with an operator that is within Atlantic City. The NJDGE is the authority responsible for ensuring that the operators work within the rules and regulations in the state.
How do you obtain a gambling license in New Jersey?
Casino operators have to obtain a license from the NJDGE. They need to submit a large amount of documentation as well as pay for fees and deposits. The licensing deposit is $100,000, and an additional issuance fee of $300,000 is due when the licence is given. Renewals cost $250,000 per year, as well as additional fees for employee licences and responsible gaming levies.
References