New Online Slots
Play new online slots games, including the latest Megaways, Megaclusters, Power Reels, and Infinity Reels slots. Discover new casino game features with unique game mechanics, RNG-powered features, Wheel of Fortune rounds, Free Spins, and huge Jackpot potential. Experience the best video slots technology with feature-rich animation, Wilds, Scatters, Multipliers, and player-friendly wagering requirements. All of this is available from January 2023 onwards.

New Slots to Play October 2023
We have compiled a list of the top 10 new and upcoming slots for this month. See below for new releases from providers like Red Tiger and Booming Games.
| New Slot | Game Provider | Release Date |
| --- | --- | --- |
| Nightmares vs GigaBlox | Yggdrasil | 1st August 2023 |
| Luck & Magic | BGaming | 3rd August 2023 |
| Here Kitty Kitty | Red Tiger Gaming | 3rd August 2023 |
| Torii Tumble | Relax Gaming | 8th August 2023 |
| 10000BC DoubleMax | 4ThePlayer | 10th August 2023 |
| Bigger Money bass | RAW Gaming | 10th August 2023 |
| 16 Coins | Wazdan | 10th August 2023 |
| Bounty Raid 2 | Red Tiger Gaming | 17th August 2023 |
| Dice Million | BGaming | 24th August 2023 |
| Mighty Symbols: Crowns | Wazdan | 24th August 2023 |
Now that you know the top 10 upcoming slot games, we will take a closer look at our top 5 picks:
Nightmares vs GigaBlox - Yggdrasil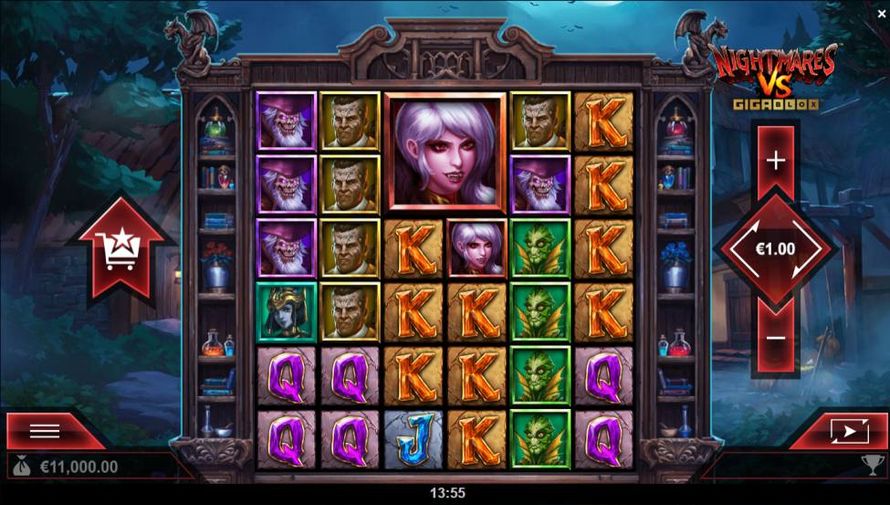 Yggdrassil's upcoming release, set to hit casinos on the 1st of August 2023, Nightmares vs GiggBlox sees the creatures of the night battle! This video slot plays on a 6x6 grid and offers a great RTP of 96.1%. Once it's available, you can take this game for a spin with a chance to win up to x7,353 of your stake.
Try Nightmares vs GigaBlox at our favourite Yggdrasil Casino - Duelz Casino ▶
10000BC DoubleMax - 4ThePlayer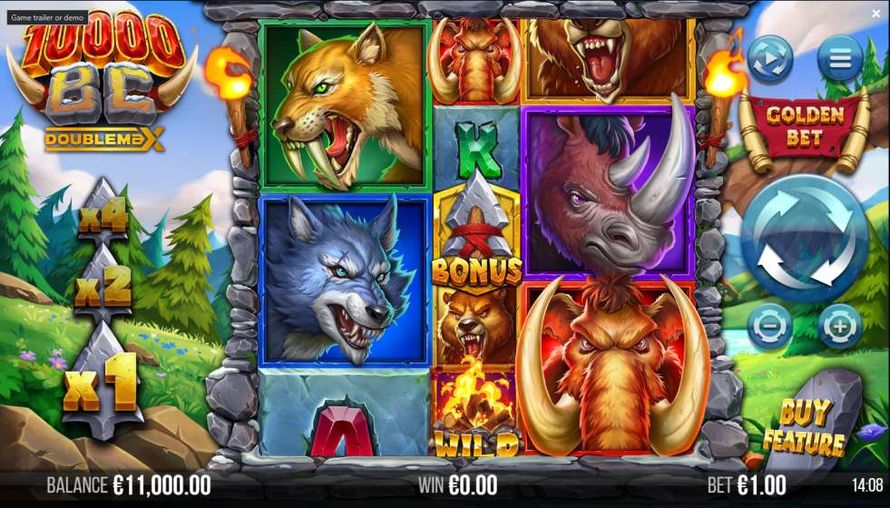 You don't need a time machine to visit the Neolithic period! 10000BC DoubleMax by 4ThePlayer transports you to a land full of woolly mammoths and sabre-tooth predators. This online slot plays on a 5-reel by 5-row layout and offers 50 paylines and a ranging RTP maximum 96.00%. So take a leap back in time for a chance to win up to X10,000 of your original stake!
Try 10000BC DoubleMax at our favourite 4ThePlayer Casino - VideoSlots Casino ▶
16 Coins - Wazdan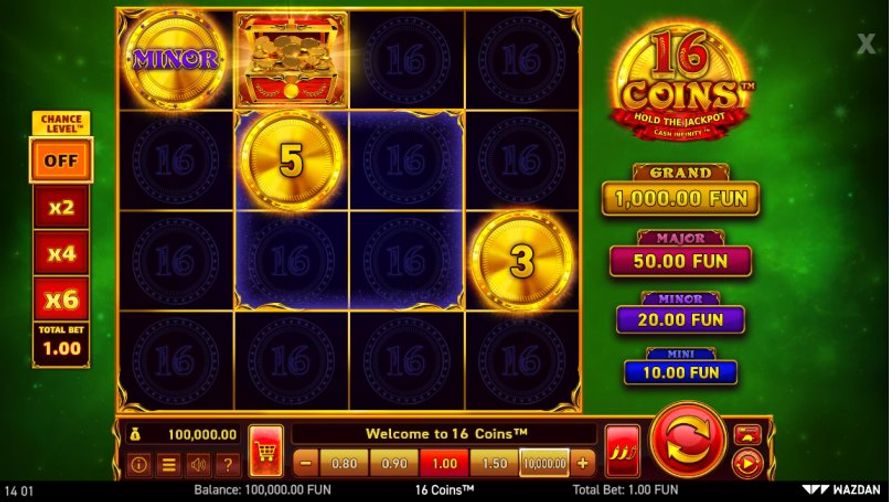 Wazdan's 16 Coins promises high-quality visuals and unique sound effects. The game has an RTP of 96.18% and a max win potential of x1000 your original stake. This slot joins the 9 Coin series and has some really cool features including a Hold the Jackpot features. Try this pirate treasure-themed game which guarantees fun gameplay!
Try 16 Coins at our favourite Wazdan Casino - Jackpot Village Casino ▶
Bounty Raid 2 - Red Tiger Gaming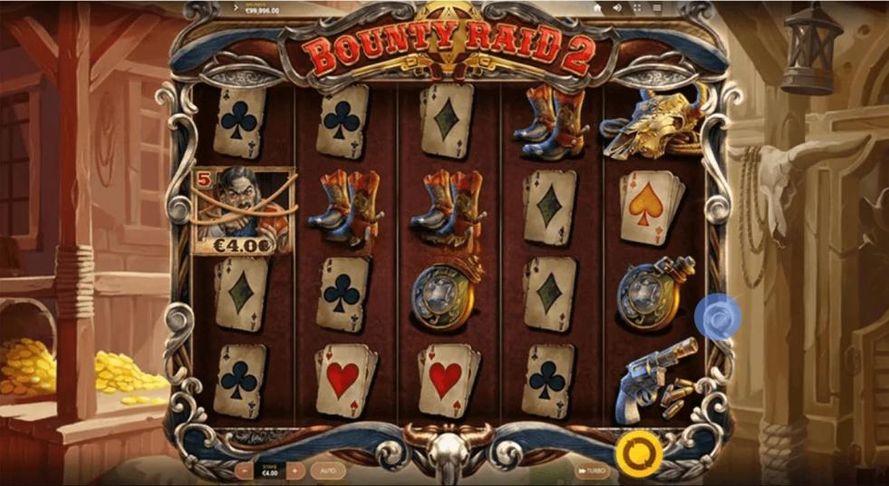 Time to join the Sherif and the Bounty Hunter's mission to put the mischievous bandits behind bars. This western-themed slot plays on a 5-reel 4-row layout, and 20 paylines. Being released on the 17th of August 2023, you can get a max win of x2300 in this high-volatility video slot. So load your virtual pistols and get ready to chase some bad bandits!
Try Bounty Raid 2 at our favourite Red Tiger Casino - Vulkan Vegas Casino ▶
Dice Million - BGaming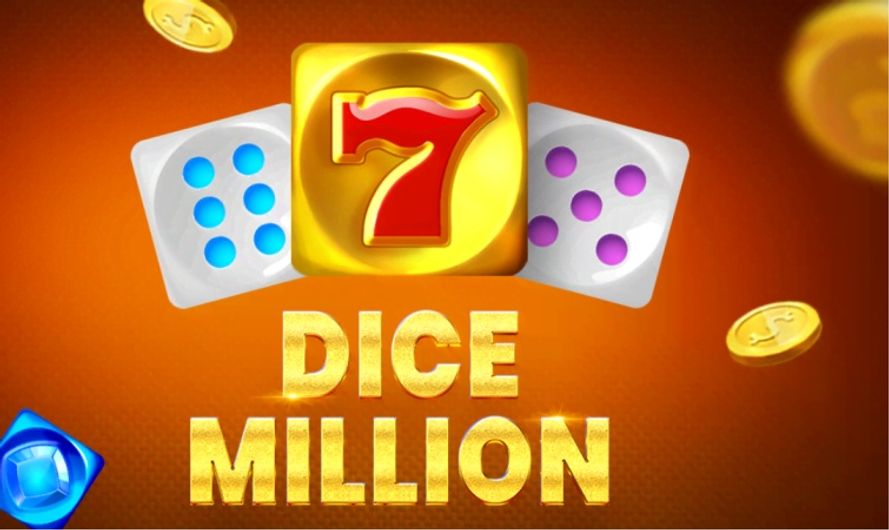 If you're a fan of dice games, this online slot is what you're looking for! With an impressive RTP of 97.1%, this medium-high volatility game comes with a max win of €150,000. Mark your calendars for August 24th for a brilliant slot stuffed with fantastic features and really entertaining gameplay!
Try Dice Million at our favourite BGaming Casino - Mr.Vegas Casino ▶ 
Play the Latest Slots for Free

2023 Trends in Online Slots
Online slots, also known as video slots, have become an increasingly popular category of online casino games in recent years. With the advent of new technology, these virtual machines have undergone significant advancements, resulting in an even more immersive and interactive gaming experience.
Mobile-optimized content continues to drive growth in the online slots sector, with growing numbers of players taking to smartphones and tablets. Many of the best mobile casinos have apps available in the Google Play and App Stores. These deliver feature-rich slot games packed with wilds, scatters, bonus rounds, free spins, and engaging elements. 
One of the most exciting developments in recent years is the introduction of progressive jackpots. With every real money bet placed on slot games, these progressive jackpots increase in value. Moreover, the appeal of progressive jackpots makes them a coveted prize for players. Another popular feature in online slots is Megaways, which offers players many ways to win, courtesy of RNG-generated dynamic reels and unique combinations of symbols.
In addition to Megaways, another recent innovation in online slots is Megaclusters, which allows players to cluster symbols together to trigger even more wins. And let's not forget about Power Reels, which offer expanded reels and enhanced gameplay for a more dynamic and exciting experience.
Now we turn our attention to the latest trends in online slots.
Blockchain Tech in Online Slots 
Blockchain technology has revolutionized the online gaming industry, particularly in online casinos. One of the main benefits of using blockchain is the increased trust it brings to the table for players and casino owners. By using blockchain as a record-keeping tool and a way to monitor the fairness of games and bets, players can have confidence that they are playing on a fair and secure platform.
Mobile Optimised Slots Games
Mobile gaming has exploded in popularity, with many players opting to use their smartphones and other mobile devices (tablets and phablets) to access online casino games. This trend has been fueled by advances in hardware and software technology, making it possible for game developers to create high-quality mobile games that can be accessed from any device with an internet connection.
Exclusive Slot Machine Games
Branded and licensed slot games are a unique category of online slot games that have gained popularity in recent years. These games feature popular brands and franchises and often offer exclusive and appealing consumer deals to attract players. In addition to the exciting themes and branding, these slot games also often feature updated gameplay with more engaging spins and bonus rounds that involve the player in new ways.
Virtual Reality & Augmented Reality Casino Games
Virtual Reality (VR) & Augmented Reality (AR) are two technologies changing how we interact with our surroundings and experience the world around us. While they are similar in many ways, they differ in terms of the hardware required and how much they alter our perception of Reality. Both VR and AR have the potential to revolutionize the world of gaming, offering players new and exciting ways to interact with the virtual world. You can read more about the pros and cons of VR and AR here.
Hold & Respin Functionality
Hold & respin features have become a staple in many online slot games, offering players the chance to potentially land big wins through an exciting and interactive gameplay mechanic. In these games, players are allowed to hold onto certain symbols or reels and respin the others in the hopes of landing a winning combination. This feature can be found in various online slot games, from simple bonus rounds to more complex games with the potential for huge jackpots.
Arcade Games Style Slot Machines

If you're a fan of arcade games, you'll be happy to know that they are now available as online slot games. These virtual versions of your favorite arcade games, like Street Fighter 2, offer the same excitement and enjoyment as the physical machines, but with the bonus of being able to play for real money prizes. With the advances in technology, playing online arcade games on your smartphone is now possible, allowing you to relive those fond memories and enjoy your favorite games from the comfort of your home.
Game Mechanics on New Slots
Megaways
Megaways slots are an online slot game that offers incredible ways to win. Developed by Big Time Gaming (BTG), Megaways games use dynamic reels and symbols to offer up to 117,649 ways to win (or more) on each spin. The reel modifier can randomly generate up to 7 symbols per reel across six reels. For example, 7 x 7 x 7 x 7 x 7 x 7 = 117,649 ways to win.
Megaclusters
Developed by Big Time Gaming, Megaclusters is a mechanic based on clustering symbols together to trigger wins rather than the traditional method of matching symbols on a payline.In Megaclusters games, the reels are made up of small clusters of symbols rather than individual symbols. When a cluster of symbols is involved in a winning combination, it is replaced by four smaller clusters, each containing the same symbols as the original cluster.
Power Reels
Power Reels is a game mechanic in some online slot games that enhances gameplay and creates a more immersive and engaging experience for players. It involves using expanded reels with additional symbols or features, allowing for more ways to win and exciting gameplay. One of the key benefits of Power Reels is that it increases the potential for epic wins, as there are more opportunities to land winning combinations.
Infinity Reels
Infinity reels is a highly innovative and immersive feature that offers endless possibilities for wins and exciting gameplay. With this feature, the reels expand indefinitely as the player lands winning combinations. This means that the number of potential winning combinations is virtually unlimited, as the reels can grow and add new symbols with each spin.

How to Choose a New Online Slot
When choosing a new online slot game, you must consider your personal preferences, budget, and expectations. This is because there are so many online slots to choose from, including classic slots, video slots, jackpot slots, and themed slots covering a wide range of genres and themes.
One of the first things to consider when choosing a new online slot game is the RTP, or return to player percentage. This is a measure of the game's payback percentage over the long term: or over at least one million spins. A higher RTP means that the game is more likely to pay out more over the long term, although anything can happen in the short term.
In addition to the RTP, you should also consider the volatility of the slot game, which refers to the swings in the game's outcomes. A high-volatility slot has a greater probability of swallowing up your bankroll. But, if you hit the right combinations of symbols or the jackpot, it could be life-changing. A slot game with high volatility may offer larger payouts less frequently, while a game with low volatility may pay out smaller amounts more frequently.
The maximum payout, or maximum jackpot, is an essential factor to consider when choosing a new online slot game. This refers to the largest amount of money that can be won on a single spin of the reels. For some players, the maximum payout may be the most important factor in deciding which slot game to play.
If you're looking for a chance to win big, choose a game with a high maximum payout. However, it's important to remember that games with higher maximum payouts may also have lower RTPs and higher volatility, meaning they may pay out less frequently overall. There is always a tradeoff between payout potential, bet size, and volatility.
In addition to the RTP, volatility and maximum payout, you should consider all the other factors. These could include minimum and maximum bets, gamble options, wild symbols, scatter symbols, free spins, multipliers, and in-game features. By considering these factors, you can find a game that offers a balance of potential payouts and gameplay that suits your preferences and budget.
New Online Slots vs. Established Online Slots
There are several pros and cons to consider when choosing between new and established online slot games.
New online slot games offer several advantages, including advanced gaming technology, cutting-edge audio-visual effects, in-game features and functions, mobile-optimized content, stunning graphics and animations, and the opportunity to be among the first to play a brand-new game. 
In addition, these games are often developed by the most sophisticated and advanced software providers in the gaming industry, so you can expect a high level of quality and innovation.
However, there are also some potential downsides to consider with new online slot games. There is some element of risk involved in whether you will enjoy playing them, with few reviews to check first. It may also take some time to get used to new rules and pay tables, especially with any new advanced features. It's always a good idea to try the game in demo mode before you play for real if you want to get a feel for it.
On the other hand, established online slot games are industry-leading casino games that players worldwide love and enjoy. These games have brand recognition, instant appeal, and universal popularity and are widely available at many online casinos. Despite their age, they also tend to have trusted game mechanics and high-quality graphics, gameplay, and jackpot potential.
The main disadvantage of established online slot games is that they are limited by the technologies that were available at the time they were developed. As a result, they may have fewer advanced features and functions than newer games, and they may not be as visually stunning or innovative.
When choosing between new and established online slot games, it's essential to consider your personal preferences and priorities. For example, some players may prefer the excitement and novelty of new games, while others may prefer the tried and tested nature of established games.
Pros and Cons of New Online Slots
Advanced gaming technology
Cutting-edge audio-visual effects
In-game features and functions
Mobile-optimized content
Stunning graphics and animations
Opportunity to be among the first to play a brand-new game
Developed by leading software providers
Relatively few reviews to check from sites and other players
Higher risk of not enjoying the slot compared to established favorites
May take more time to understand new rules and pay tables
Pros and Cons of Established Online Slots
Industry-leading casino games
Brand recognition and universal popularity
Widely available at many online casinos
Trusted game mechanics
High-quality graphics, gameplay, and jackpot potential
Limited by technologies available at the time of development
They may not have the advanced features and functions of newer games
They may not be as visually stunning or innovative
The Best Slots Casinos
The best slots casinos tend to rank highly among players across multiple departments: variety of slots games; customer support; bonuses & promotions; user experience; jackpots; safety and security; etc. These online casinos include an impressive variety of operators, including the latest new slots sites.
Should You Play New Slots?
If you're considering whether to play new online slot games, the answer is a resounding yes! These games offer a wide range of advanced features and cutting-edge technology that make them some of the industry's most exciting and engaging games.
From stunning graphics and animations to immersive audio-visual effects, these games offer an unparalleled gaming experience that keeps you entertained for hours.
In addition to the graphics and sound, new online slots also offer a wide range of in-game features and functions, such as wild symbols, scatter symbols, free spins, multipliers, and special reel features like avalanche, tumbling, collapsing, expanding, and exploding reels.
Another advantage of new online slots is that they are often mobile-optimized, meaning you can easily play them on your smartphone or tablet. This makes it convenient to enjoy your favorite games wherever you go, whether at home, on the bus, or out and about.
New online slots are definitely the way to go if you're a fan of cutting-edge gaming technology and exciting in-game features. With their advanced tech and engaging gameplay, these games offer a thrilling and rewarding gaming experience that you won't find anywhere else.
So why wait? Try a new online slot game today and discover these games' excitement and enjoyment!
New Slots FAQs
Do new slot machines pay more?
There is no definitive answer to this question, as it depends on factors specific to each slot machine such as its paytable, return to player percentage (RTP), volatility and bet size. Some new slot machines may have higher RTPs than older ones, while others may have lower payouts. Therefore, it's important to research and compare the RTPs of different slot machines before deciding which ones to play.
How often are new online slots released?
The frequency of new online slot releases can vary widely. Some online casino software providers may release new games every few months, while others may release them more frequently or less frequently. Watch fresh releases from your favorite providers to see what's coming out. The big-name software providers like NetEnt, Playtech, Microgaming, Yggdrasil, and BetSoft, release several new slots games monthly. 
Do the latest slots have better odds?
Some newer slot machines may have better odds than older ones, while others may have worse odds. Therefore, it's essential to research and compare the odds of individual slot machines before deciding which ones to play. In general, however, newer slot machines may have more advanced features and better graphics, making them more engaging and enjoyable to play, even if the odds are not necessarily better.