Ganapati Gaming Casinos
Ganapati might not be the most famous software provider out there, but we are here to put this game studio into the spotlight it deserves today! Ganapati is a group of different offices and game studios all around the world, making sure that their operations are filled with multicultural input and authenticity. They claim to combine traditional European iGaming solution with an authentic Asian twist and this can be seen in the excellent products they deliver.  While staying mostly in the background up until now, this software developer has managed to create some jaw-dropping slot machines. It is not surprising that Ganapati has managed to establish such an awe-inspiring portfolio as it does since they have been doing what they are good at since 2013. 

All games

Online casinos

2

Desktop Platform

Mobile Platform

Overall rating

9/10
Where To Play Ganapati Gaming Games
Not only are their games focus on providing the user with an unrivalled entertainment experience, but they have also received prestigious awards to confirm this. To see what happens when the best of the East meets the best of the West when it comes to an online casino, look no further because Ganapati is here to show you.
Top 3 Slot Games by Ganapati
Making a selection of the top three slot machines created by Ganapati is going to be hard. In order for players to get more familiar with this mysterious software providers, we would like to present you with a careful selection of what we believe are the best slots you can play from Ganapati. These games are not only ranked on design and graphics, but also gameplay and the Return To Player percentage; i.e. how profitable it is to play a slot machine. At the end of the day, us gamblers have one reason to wager for fun and that is to win big! 
Ukiyo-e Slot
The flagship when it comes down to Ganapati's portfolio of stunning video slots. Ukiyo-e (浮世絵) roughly translated to "pictures of the floating world" and is a traditional Japanese art movement which was especially practised from the 17th century to the 19th century. This visually enchanting slot machine features classical Japanese images and backgrounds in this iconic style, perfectly capturing the history and roots of Ganapati.
Not only is this video slot a feast for the eye, but it also allows the player to make a pretty buck. With 5 reels and 3 horizontal rows, Ukiyo-e has a total of 60 paylines allowing for an extremely generous Return to Player percentage of 98.41%. With its upbeat and whimsical soundtrack, this slot machine is bound to take you on a journey through Japanese history you won't forget any time soon.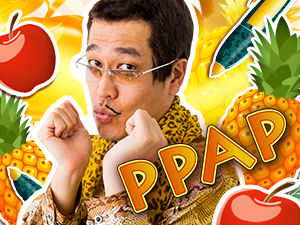 Pikotaro's Pineapple Pen PPAP Slot
If you belong to the Millennial gambling audience, then this colourful character will look very familiar to you. Pikotaro is not only a famous internet meme but has now made his debut on the reels, complete with soundtrack and props. This catchy and vibrant online slot is played on 5 reels and 4 horizon rows and filled to the brim with exciting features like Free Spins and a Pick 'n Mix bonus round.
If the droning background tune isn't enough to reel you in, then perhaps the Return to Player percentage of 98.41% and a maximum win of 1,500 credits this slot machine is anything but a joke. Pikotaro's Pineapple Pen PPAP Slot is the prime example of when good-humoured internet cultured and online gambling meet. 
Wild Sumo Slot
This is Ganapati's first ever progressive jackpot slot, making it unique in their portfolio. True to their roots, this 3 reels and 5-row slot machine modelled after a sumo wrestler's dojo. The progressive feature comes in play through various levels that the player needs to complete, in the form of winning tournaments.
The more tournaments the player manages to win, the higher they will climb in rankings and the higher their reward will be. With 50 paylines and a Return to Player percentage of 98.41% and maximum base win of 2000 credits, this highly volatile slot machine is for the real high rollers out there who can take on a challenge. 
At Which Casinos Can I Play Ganapati Games?
Although Ganapati is not well-known yet in the Western online gambling world, we at CasinoTopsOnline would like to see that change. This online software provider deserves to be put in the spotlight and gain more exposure. Although Ganapati is licenced in Malta under the Malta Gambling Commission, allowing for more Western operators to strike up a deal with this supplier, the game studio seems to be more popular in Asia. Most Asian-faced online casinos will offer Ganapati Games as available slot machines but there is only a handful that does so in Europe and Canada. As of 2018, the following online casinos carry Ganapati games: Videoslots and 1xBet. As you can tell, that is not much to choose from and we hope that we get to see Ganapati games in more and more European and American casinos in the near future. 
Awards and Nominations Won By Ganapati
After having briefly reviewed the portfolio and the best games of Ganapati, it is no miracle that they have been showered in praise and awards. With so many talented people working all over the world for a common goal, Ganapati has managed to blow away the competition and win the Global Gaming Awards not once, but twice in a row! This year in 2018 and back in 2017 they managed to snatch the title and award of Digital Supplier. 
A Final Word On Ganapati
Quirky, unique, versatile and welcomed with open arms in the casino industry; Ganapati is a one-of-a-kind software provider that seamlessly blends Eastern artwork and culture with Western traits. Although their current portfolio is small compared to big providers like Netent and Microgaming, you can say that this software provider relies on the quality of quantity. Ganapati publishes unique and entertainment-focused online games, making sure the player will have an unforgettable experience they won't find elsewhere. In the near future, we are looking forward to seeing more from Ganapati and we hope to see them pop up in more Western casinos because their games are absolutely to die for.