Betting on eSports at an Online Casino
Thanks to fantastic advancements in technology, players all over the world can compete with each other playing specific popular video games that are collectively regarded as eSports. These competitions have become so popular that they have attracted not only a massive group of dedicated and skilled professional players, but also a huge fanbase of devoted spectators.
Some of the biggest esports tournaments attract global TV coverage with prize money totalling millions of dollars, setting them up alongside some of the biggest traditional sports in terms of viewership and worth. It's no wonder, then, that the demand for esports betting markets has grown too. Here is a list of places where you can bet on eSports.
Online Casinos With eSports in 2023
All You Need to Know About Esports
The typical definition of an esport is any video game that can be played on a competitive basis by players individually or as part of a team. Esports themselves come in all shapes and sizes, with some offering battle style team-based gameplay while others are more similar to traditional sports such as football. But how did it all begin?
Brief History of Esports
Video game competitions are anything but new, with the first known tournament having taken place back in 1972 on a game called Spacewar. The earliest large scale video game competition was held in 1980 by Atari on the game of Space Invaders, which attracted more than 10,000 participants. High score based competitions on games such as Pac-Man and Donkey Kong grew in popularity through the 1970s and 80s, with high scores published in publications such as Time, Life, and The Guinness Book of World Records, and arcade game competitions featuring on TV shows.
Moving beyond high scores, games like Street Fighter II introduced and popularized the concept of direct player to player competition, leading to the creation of the Evolution Championship Series (EVO) in 1996. Console developers such as Nintendo also ran their own world tournaments and by the time internet connectivity was becoming more widespread in the late 90s, groups emerged such as the Cyberathletic Professional League, which featured competitions in Counter-Strike, Quake and Warcraft.
The increased availability and quality of internet connectivity along with the exploding popularity of esports in the early 2000s catapulted a number of games competitions onto mainstream TV. Today, internet connectivity is very important, especially for those business operating online, such as the live casinos and e-commerce. Many more competitions were developed, from 10 in 2000 to around 260 in 2010, and the increased TV broadcast attracted more viewers and bigger prize pools. The addition of live streaming helped sky-rocket esports interest even further.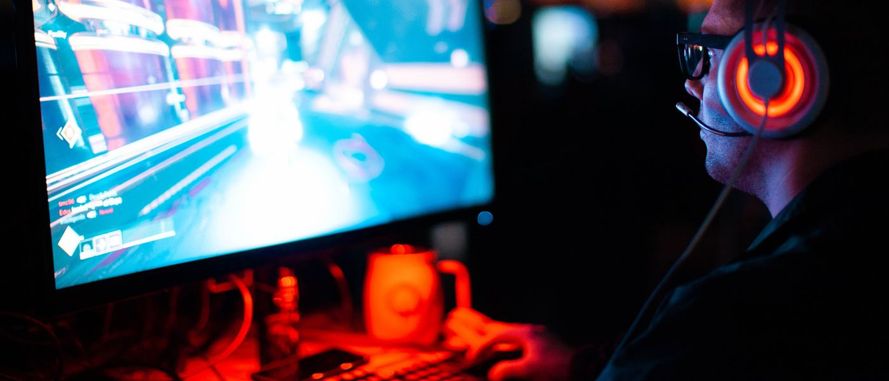 Types of Games in Esports
There are a variety of video games that have become popular esports and they fall into a number of categories that describe their gameplay. Let's take a look at these categories in more detail.
MOBA
Multiplayer online battle arena, or MOBA, games are perhaps the most popular in terms of viewership and total prize pools. These esports include games such as Dota 2 and League of Legends (LoL). Gameplay in these games typically revolves around map-based play between teams of players, with completion of objectives determining the winning team.
Arguably the most popular game in this category, League of Legends is played between 2 teams of five players, with each player working to build up their skills and abilities, and the team together aiming to destroy their opponent's base or 'nexus'.
Dota 2 is a developed version of a community created Warcraft III: Reign of Chaos mod called Defense of the Ancients. The game is similar to LoL in that 2 teams of five fight to destroy the other team's base or 'ancient'.
There are various LoL and Dota 2 leagues around the world with regional and worldwide championships taking place on a regular basis. Something about these games:
Amazing to play online;
Biggest prizes in esports;
The esports betting is all about them.
FPS
In contrast to the top-down style of play seen in MOBA games, first person shooter (FPS) games offer a first person perspective style of gameplay.
Counter-Strike: Global Offensive (CSGO) is one of the most popular games in this category and is a descendant of the original 1999 PC game Counter-Strike. Players are split into teams of Terrorists and Counter-Terrorists, with objectives such as planting/defusing bombs and taking/rescuing hostages determining the outcome of the game over a number of rounds. Regional CSGO leagues cover Europe, Asia, America and Oceania and two major competitions exist: the ESL Pro League and the Major Championships (Majors).
Overwatch is another popular FPS, this one seeing 2 teams of six players working to secure and defend areas on the map, or transporting items to and from various map locations within a limited time. The Overwatch League (OWL) is played in a similar fashion to traditional sports leagues such as baseball or basketball, with permanent city-based teams from 6 different countries including France, China, South Korea, UK, USA and Canada participating in games. Something about these games:
Favorite streamers games;
Plenty of quality titles;
A lot of option and customizations.
Combat
There are also a few one to one combat style games that give players the chance to test their skills against other players in competitive matches.
One of the most well-known and longest established of these combat games is Street Fighter. Originally released back in 1987, Street Fighter was popular enough, but its sequel Street Fighter II is the title that triggered the competitive gameplay we see today. Players face off against each other in a fighting match involving standard and special kicking and punching moves, with the aim being to deplete the health of their opponent to the point of knockout.
Soul Calibur is another popular esports combat game that works in a similar way, with players fighting in match based rounds for glory. With a theme reminiscent of magic and dragons, Soul Calibur's backstory and high intensity fighting makes it a popular hit with a worldwide following and regular tournaments. Something about these games:
The king of the esports;
Many titles available;
Popular till the 80'.
Battle Royale
Battle Royale games typically involve a mass of players at the start, with the goal being to defeat other players and emerge as the single, duo or squad victor.
Popular battle royale games include Fortnite Battle Royale mode, which has seen a huge amount of success since its launch in 2017. In this game, up to 100 players are airdropped onto a map where they must scavenge for weapons and other resources. Players can operate alone or form a duo or squad with the aim of eliminating all other players as encroaching toxic waste forces combative engagement.
Another very similar battle royale game is PlayerUnknown's Battlegrounds (PUBG), in which up to 100 players are parachuted onto a small island where they must source weapons and other items to stay alive and defeat other players. Safe areas are decreased in size over time to encourage player interaction with the last man standing emerging victorious. Something about these games:
The big success of the last year;
A lot of streamers of this product;
Many updates each month.
Sport
There are a number of esports games that closely resemble traditional sports, many to the point that they are considered viable alternatives to existing leagues, while others are novel adaptations of popular sports.
One such esport is FIFA, which was originally launched as a football video game back in 1993 and is now classed as the best-selling sports video game franchise in the world. The game revolves around accruing, maintaining and playing a football team across various matches in leagues representing the traditional major football leagues from around the world.
Rocket League was first released in 2015 and can be described as football with rocket-powered vehicles, where rocket cars are used to move the ball around a pitch and score goals in order to beat the opposing team. Teams of up to 8 players each compete in matches with tournaments taking a round-robin style qualification format leading to playoffs. The world of casinos follow this lead, filling the internet with plenty of contents regarding the sports betting. Something about these games:
Good to play with friends;
Not so many titles on the market;
Big players are FIFA and PES.
RTS
Real time strategy (RTS) games typically involve competitors controlling units and vehicles comprising a team, with the aim of finding resources, building, upgrading, producing, expanding and ultimately defeating the enemy team.
The first game that may spring to mind in this category is Command & Conquer, where the player chooses a faction and must mine an energy ore called Tiberium to power the production of units and buildings in order to gain an advantage over the opposition.
Starcraft II is another popular RTS game that's set in another world and features descendants of Earth, the Terrans, the assimilating Zerg and the Protoss, often caught between the other two. Players choose a faction and work towards conquering the others. Something about these games:
Very popular between young people;
They require some technical skills;
Highly addictive.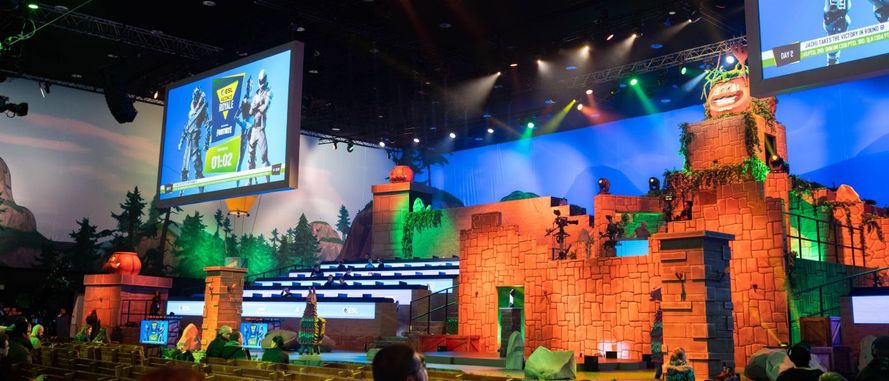 Top 5 Earnings Esports 2023
Over the course of the years the money that can be earned by playing esports on a professional level has become enough for players to make a living. Many professional players work full-time pursuing a career in competing in their favourite video games. Of course, not all games are created equally when it comes to esports and there is a select number of video games that have risen to the top 5 of games most suitable and profitable for Esports. Below you will find an overview of the top 5 Esport games of 2020 and the biggest prize pools to date in these events.
| Esport Game Name | Pro Players | Total Prize Pool | Biggest Tournament |
| --- | --- | --- | --- |
| Dota 2 | 2500+ | $30 Million | The International  |
| CS: GO | 9500+ | $5.5 Million | WESG |
| League of Legends | 5300+ | $2.225 Million | LoL World Championship |
| StarCraft II | 1800+ | $700,000 | WCS Global |
| Heroes of the Storm | 900+ | $1.2 Million | BlizzCon |
Biggest Esports Events
The popularity of esports cannot be overemphasized, with worldwide tournaments such as The International and The Fortnite World Cup attracting prize pools running into the tens of millions of dollars and millions of viewers from around the world. But what kind of figures are we talking about here?
Viewership
Between occasional viewers and esports enthusiasts, 2019 saw a total global esports audience of 454 million viewers, with 2020 estimated to see an increase to 518 million viewers. Compare these figures to the total esports viewership back in 2012 of 134 million and it becomes clear how much of an explosion in popularity esports has seen.
Prize Pools per Competition
Along with popularity comes money and lots of it! The International 2019, for example, broke records with its mammoth prize pool of $34.3 million, with the Dota 2 tournament hitting the top spot in terms of money for five consecutive years.
Closely behind that you've got the Fortnite World Cup Solo and Duo Finals from 2019, which dished out more than $15 million each. League of Legends, Overwatch and PUBG have all hit multi million dollar prize pools in the past too, illustrating the vast earning potential and competitive nature of these hugely popular games.
Top Esports Events of All the Time
There is a selection of annual esport events that recur every year and have been over the past couple of years. This is where the pros battle it out on the big screen in a stadium full of hyped up supporting fans rooting for their favourite team. The stakes are high and the prize pool reach up into the millions of dollars. But it is not only the competing players who go toe to toe during these events. Gamblers themselves can have join in on the thrill by logging in on their online casino accounts and betting.
Many best casinos online and sportsbook websites have started offering betting solutions for these kinds of events. This means that players are able to bet before or during their favourite matches on the team they believe have the best odds of winning. To make life easier for our visitors, we have compiled an over of the most-watched E-sport tournaments up to date. 
| Tournament | Viewers | Game Played | Teams Playing |
| --- | --- | --- | --- |
| League of Legends World Cham 2015 | 36,000,000 | LoL | 16 |
| CFS World Championship 2017 | 37,000,000 | Crossfire | 12 |
| League of Legends World Cham 2018 | 43,000,000 | LoL | 16 |
| Intel Extreme Masters Katowice 2017 | 46,000,000 | CS:GO, LoL, Starcraft II | 12 |
| League of Legends Mid-Season 2018 | 60,000,000 | LoL | 14 |
For beginning gamblers and bettors interested in Esports, we would recommend checking this game and tournament out first. 
Esports vs Traditional Sports
So how do esports compare to their traditional physical sporting counterparts? In terms of viewers, the 454 million strong esports audience seen in 2019 completely overwhelms the same year's 98.2 million Super Bowl viewers and the previous year's 14 million Baseball World Series audience, two hugely popular sports competitions.
Esports finals such as LoL viewer numbers are regularly exceeding those of regular sports finals such as baseball, basketball and hockey leagues, and even fight night style viewing is dominated by Fortnite and Overwatch events and live streams.
Is It Legal to Bet on Esports?
Betting on esports is just as legal as betting on traditional sporting events. As the amount of money involved in these competitions and the popularity of the tournaments has increased over the years, the need to regulate esports has seen a similar increase. Organizations like the Electronic Sports League have been formed to apply some element of transparency to esports to the point where the equivalent of match-fixing seen in traditional sports has been reduced to almost none. This has opened the door to more widespread adoption of various esports as betting opportunities by an increasing number of online sportsbooks and mobile casinos.
Types of Markets for Esports
You can bet on esports in a variety of ways depending on the particular game. Many of these bets are very similar to those you'd find available for traditional sports, such as match betting, spread, outright, over/under and handicap betting.
However, since many of these games are not played on a pitch, other betting markets are available that are adapted to the specifications of the game in question. These special esports specific markets are classed as skin betting. For example, in a CSGO match you may also be able to bet on the individual handicap, over/under and overall map winner outcomes.
You can even bet on matches as they're played out with live esports betting!
Esports Teams Partnered with Traditional Teams
FIFA is a great example of an esport that illustrates the increasingly blurry line between digital and traditional teams, in this case football. With the rights to use the names and even players of existing football leagues from around the world, such as the English premier League, German Bundesliga, French Ligue 1, Spanish La Liga and many others, FIFA 20 has led to many traditional sports professionals taking an interest in the digital landscape, with partnerships and sponsorships on the rise.
It's increasingly more common to see the same sponsors that adorn the shirts of football, golf and other sports players appearing at esports venues. Organizers of traditional sporting events often launch concurrent esport events as a way of drumming up interest and increasing viewership.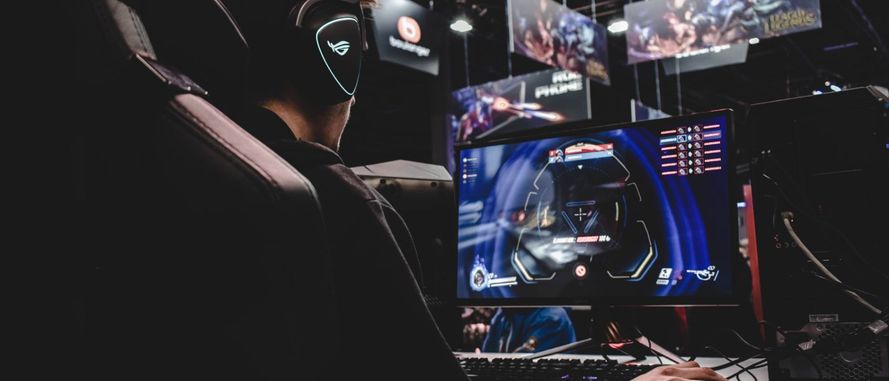 Betting on Esports
Esports betting is in exponential growth right now. Figures for esports betting in 2016 estimated $5.5 billion was wagered worldwide. That same figure is estimated to reach $12.9 billion by the end of 2020. And with more money and greater viewer numbers of more esports tournaments as time goes on, these betting markets will continue to grow.
So what should you look for in a good esports casino?
Good Esports Casinos
A lot of this will come down to personal preference regarding which esport is your favourite or the one you're looking for, but you'll also want to take a look at the variety of skin betting options that are available beyond the typical match betting options if you're interested in getting the most action.
If live esports betting is of interest, check the site's in-play betting options to see if they offer markets that are of interest to you for the esports you're looking to bet on.
Some online casinos in the UK, US and Europe will list their esports betting in a separate tab on their website, while others class them alongside other sports, featuring esports in the sportsbook section of their website.
Be sure to consult knowledgeable sites (like this one!) for an overview of any esports online casino that you're considering and browse through the site itself before joining. This will allow you to check out other important factors such as payment methods, customer support and general T&Cs on the casino site you're interested in.
Esports Casino Bonuses
Some online casinos and sites that support esports betting also offer bonuses that can be used to be on esports. These can range from typical welcome bonuses that allow betting on esports in the T&Cs as part of the rollover requirements, to other bonuses that are designed specifically for esports betting.
Again, take a careful look at all of the factors that are important to you when it comes to choosing a good esports casino by consulting the thorough reviews available right here.
Final Thoughts
Esports are a fascinating and exciting sign of the times with technology supporting some incredible opportunities to witness the talents of professional gamers as a form of entertainment. Far from the uncertainty and taboo of its initial years, the esports industry is now well established and properly regulated, even attracting sponsorship from global multi million dollar companies, just like we're used to seeing with traditional sports. It's this solid foundation, exploding popularity and widespread broadcast that's responsible for the addition of esports as a betting market by an increasing number of sportsbooks and new online casinos.
Whether you're new to esports betting and want to try something a bit different, or you're all over esports and have been betting on the big tourneys and league matches for years, there's plenty to keep all levels enthralled with this constantly evolving industry!
Is it legal to bet on esports?
Yes, betting on eSports is completely legal in most of the countries worldwide.
How can I bet on esports?
Betting on esports is very easy. Simply find an online casino or sportsbook that offers esports betting, navigate to the available games and pick the one you're looking for. You'll then be shown all available betting markets, including traditional match betting and outrights as well as any available skin betting. Betting generally involves clicking the market to add it to your bet slip, enter your stake then hitting the Place Bets button!
Can I bet on esports with real money?
Yes, is it possible to bet on eSports with real money in most of the websites.
Where can I watch esports tournaments?
There are many ways to watch esports tournaments. You can watch live streaming events via Twitch, which is probably the most popular option. YouTube Gaming is another option for watching live streaming esports. The recent deal between Facebook Live and the ESL means you'll also be able to watch major tourneys on the social media platform too. You also have the option of watching the bigger tournaments on the larger TV networks of BBC and ESPN, if they're covering them. You'll also find TV channels that are exclusive to esports broadcasts such as Ginx TV. And of course you also have the option of going to a live tournament in person if you're lucky enough to be local to one!
Where can I bet live on esports matches?
More and more online casinos and sportsbooks are offering esports betting as standard, including the option to bet on live esports events. The list of esports-friendly sites is changing all the time but check back with this site often for the latest.