Hoard of Poseidon Demo
Red Tiger Gaming
Slot Features
More Details
| | |
| --- | --- |
| Bonus Rounds | Yes |
| Free Spins | Yes |
| Jackpot | x3423 |
Dive into an epic underwater adventure with Hoard of Poseidon. If you're a fan of online slots and have a fascination with the mysteries of the deep sea, Greek Mythology and the great and mighty Poseidon, this fantastic online slot game is bound to fire up your imagination. With many great features and easy to get used to the gameplay, this slot should definitely added to your list of must-tries.
This exciting and visually stunning slot game takes players on an underwater adventure like no other, offering not only the chance to win big but also an immersive experience that delves into the realm of the mighty Poseidon. Hoard of Poseidon is a popular video slot game developed and released by Red Tiger Gaming in 2020. During our review of Hoard of Poseidon, we noticed the following characteristics:
High-quality visual effects
No jackpot
Continue reading for more tips and advice on how you can play Hoard of Poseidon slot game.
Should You Play Hoard of Poseidon?
You should play Hoard of Poseidon if you enjoy wild bonuses. As you play, aquatic-based features and symbols will trigger special multipliers and three different types of wilds, adding to the excitement and thrill of the game. Hoard of Poseidon is a treasure trove that the Canadian iGaming community should explore because of its underwater adventures and alluring casino bonuses.
Below, you will find some pros and cons of playing the Hoard of Poseidon slot:
Attractive features
Medium volatility
High-quality visual effects and sound
Excellent on smartphones and tablets
Hoard of Poseidon Gameplay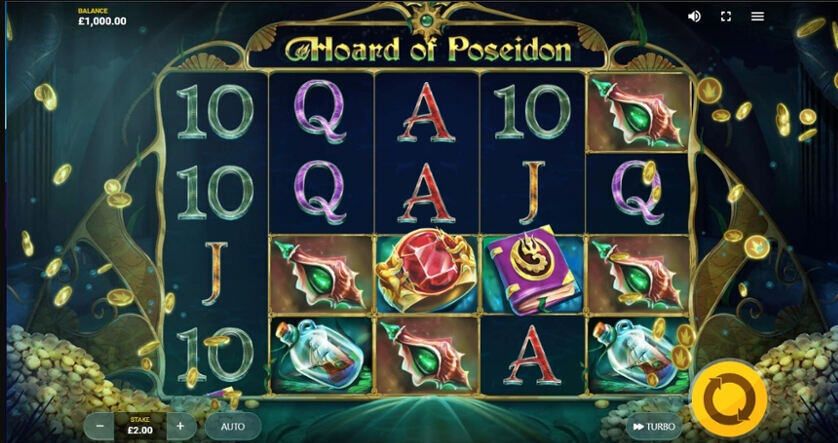 In Hoard of Poseidon, the goal is to land winning symbol combinations on the reels while also activating bonus features. The game's mechanics consist of 5 reels, 4 rows, and 30 paylines, with a potential payout of up to 3,400 times the initial wager. 
10
The "10" symbol pays out 0.3x, 0.5x, and 1x for landing 3, 4, and 5 symbols on the payline, respectively.
J
The "J" symbol pays out 0.3x, 0.6x, and 1.2x for landing 3, 4, and 5 symbols on the payline, respectively.
Q
The "Q" symbol pays out 0.4x, 0.7x, and 1.4x for landing 3, 4, and 5 symbols on the payline, respectively.
K
The "K" symbol pays out 0.5x, 0.8x, and 1.6x for landing 3, 4, and 5 symbols on the payline, respectively.
A
The "A" symbol pays out 0.6x, 0.9x, and 1.8x for landing 3, 4, and 5 symbols on the payline, respectively.
Shell
The "Shell" symbol pays out 0.8x, 1.2x, and 2.4x for landing 3, 4, and 5 symbols on the payline, respectively.
Ship in a Bottle
The "Ship in a Bottle" symbol pays out 1x, 1.5x, and 3x for landing 3, 4, and 5 symbols on the payline, respectively.
Book
The "Book" symbol pays out 1.2x, 2x, and 4x for landing 3, 4, and 5 symbols on the payline, respectively.
Ring
The "Ring" symbol pays out 2x, 4x, and 15x for landing 3, 4, and 5 symbols on the payline, respectively.
Storyline
Discover the mysteries of the deep sea in Hoard of Poseidon, a captivating slot game that immerses you in the world of Greek mythology. Poseidon, the god of the sea, takes centre stage in this 5-by-4-reel slot with 30 unique paylines and beautifully designed symbols that bring the theme to life.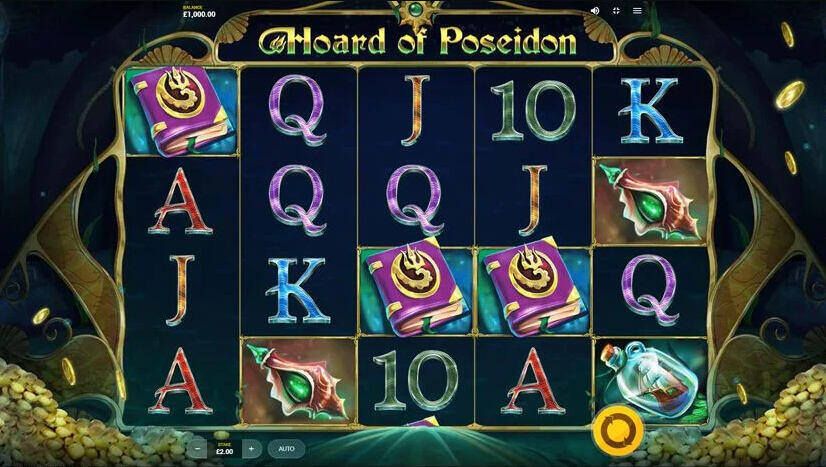 Hoard of Poseidon Design and User Experience
Hoard of Poseidon has stunning graphics and animation quality that take players on an underwater adventure. The symbols are beautifully designed and crafted with attention to detail, giving players a real sense of immersion. The sound and music effects are well-matched with the game's theme, adding to the overall user experience.
The user interface and navigation are user-friendly. The interface makes it easy for players to navigate the game, adjust their bets, and access the game rules and paytable. 
Hoard of Poseidon is built with HTML5 web technology, which makes it compatible with various devices and platforms, including desktops, smartphones, and tablets. The responsiveness of the game on mobile devices allows players to enjoy the game from anywhere at any time.
Overall, the Hoard of Poseidon offers a seamless and enjoyable gaming experience with its stunning design and user-friendly interface. These features make it a must-try game for Ontario online casino players who love underwater adventures and Greek mythology themes.
Hoard of Poseidon Wilds, Bonuses and Free Spins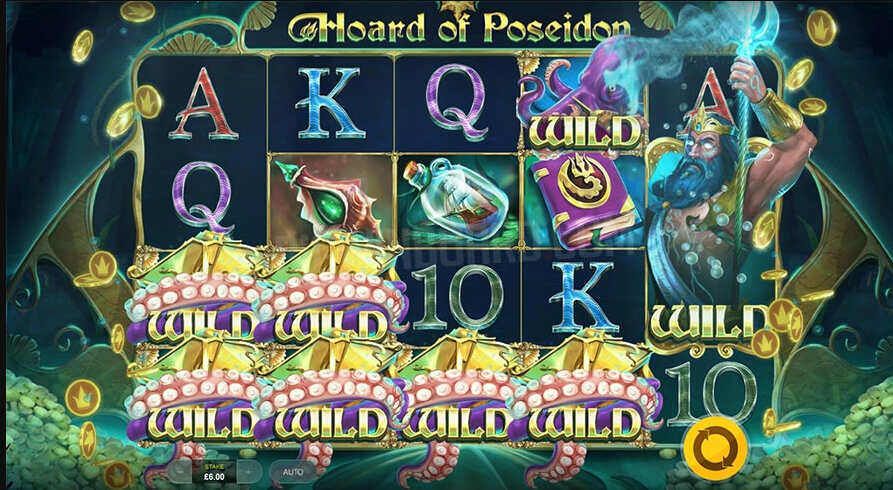 Wild Symbol
There are four different wild symbols in the game. These wild symbols can substitute for all paying symbols since the game doesn't have a scatter symbol. Landing any wild symbol pays 2x for three, 4x for four, and 15x for five on the payline.
Locked Wilds
If the Chest Wild and Kraken Wild symbols land on the same spin, the Kraken will use its tentacles to lock the Chest Wilds in place for the next spin.
Inked Wilds
If the Kraken Wild and the Poseidon Wild symbols land on the same spin, the powerful god summons a team of sea monsters to chase the Kraken off the reels. As the Kraken attempts to escape, it leaves a trail of Ink Wilds in its wake before ultimately disappearing.
Poseidon's Plunder
Land at least three wild symbols on a single spin, and witness the mighty Poseidon summon an array of sea monsters to clone the chest wilds. Once the chest wilds are cloned, the Kraken will lock them in place on the reels for the next spin. After the spin, the locked wilds will be chased away from the reels, leaving behind a trail of ink wilds that can potentially result in significant wins.
Cloned Chest
If you land the Poseidon symbol and Chest Wilds on the same spin, Poseidon will once again unleash sea monsters to aid in creating bigger wins. These creatures will clone a randomly chosen wild symbol into a random position, further enhancing your chances of winning.
Stacking multipliers
A random multiplier may appear on a spin at any point during the game. If you win this multiplier, it will be applied to your next line win.
How to Play Hoard of Poseidon
Hoard of Poseidon is a straightforward game, but here are the basics in case you need them:
Register with a reputable casino.
Load up Hoard of Poseidon. Once you touch the yellow play button, you'll be able to access the pays tab in the bottom left of the screen.
The screen's upper left corner will always show your account balance.
The speaker icon in the upper right allows you to mute the background music. 
Just to the left of the "Spin" button, your current bet will be shown. On the right, you'll see an autoplay button. To wager a specific sum, select it from the drop-down menu next to the stake button.
The betting range for Hoard of Poseidon starts from a minimum of C$0.20 up to a maximum of C$20.00.
What Is Hoard of Poseidon's RTP?
The RTP of Hoard of Poseidon is 95.72%, which is slightly below the industry average of 96.00% for online slots. So, with C$100 wagered, you may expect a theoretical return of C$95.72 in the long run. The game's volatility level is medium, which implies that players can expect a combination of small and big payouts.
How Can I Win at Hoard of Poseidon
At Hoard of Poseidon, winning requires at least three matching symbols or more. Wild symbols, on the other hand, allow winning combinations to be formed with as few as two matching symbols.
Our Top Tips and Tricks to Winning
Since slot games use RNGs (random number generators), it's impossible to predict the outcome of each round. Instead, the best way is to prevent losing as much as possible. The best way to do that is to manage your bankroll.
Our Personal Experience Playing Hoard of Poseidon
We were immersed in a grand journey over the entirety of the game. This includes both visually pleasing visuals and emotionally engaging music which were fantastic even on mobile. The latter, though, became annoying after some time, but luckily we had the option to mute the game. We managed to get some winning combinations in both the free and real money versions of this game, and the game features added an extra zhuzh to the gameplay that kept us on our toes. All in all, we really recommend giving the Hoard of Poseidon game a shot, it's well worth it.
How We Tested Hoard of Poseidon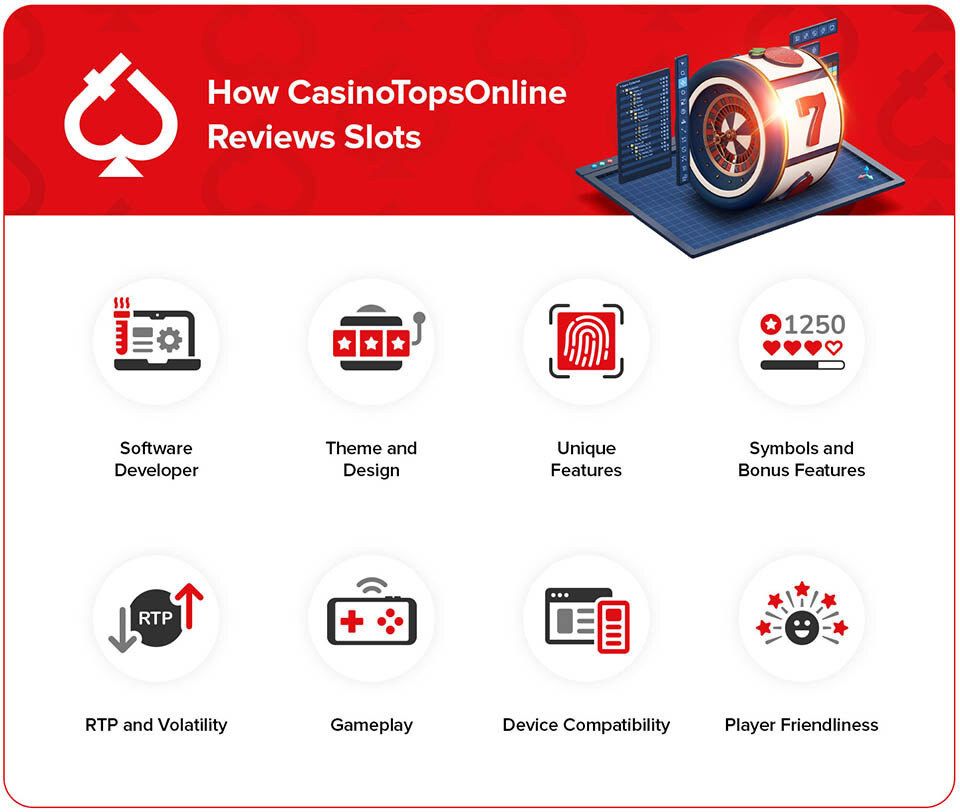 Our experts played the Hoard of Poseidon demo version at a trustworthy online casino. We played through the game several times to get a feel for the bonuses and overall structure of the game. After that, we tried our luck at the real money version and got an almost similar outcome as in the practice mode. When testing the game, keeping in mind that this comes from a very established provider, the theme and design of the game felt correct when compared to other games from Red Tiger. We also tested out the game's unique features and in-game symbols which resulted in some fun and exciting bonus rounds. The winnings were decent-sized and somewhat recurrent, making its medium volatility quite realistic. The gameplay isn't as different from the usual slot format, and we also ensured device compatibility on Android and iOS devices. All in all, these factors contribute to how easy and friendly the game is to new players, and Hoard of Poseidon definitely ticks all the right boxes.
Hoard of Poseidon vs Similar Slot Games
| Slot Title | RTP | Theme | Paylines | Provider | Volatility |
| --- | --- | --- | --- | --- | --- |
| Hoard of Poseidon | 95.72% | Greek Mythology | 30 | Red Tiger | Medium |
| Champions of Olympus | 96.07% | Greek Mythology | Cluster Pays | Gold Coin Studios | High |
| Storm to Riches | 96.09% | Norse Mythology | 20 - 45 | Northernlights Gaming | Mid-High |
Other Hoard of Poseidon Games
After conducting research, it appears that Red Tiger Gaming has only released one version of the game. However, you can check out other slots created by Red Tiger Gaming.
Our Final Thoughts
Overall, Hoard of Poseidon is an exciting and visually stunning video slot game that offers players plenty of chances to win big. The game comes with an underwater theme, well-designed symbols, and bonus features such as the Kraken and Poseidon wilds, adding excitement to the gameplay. While we appreciate the multipliers and wilds, the lack of a progressive jackpot is the downside. 
We highly recommend it to Canadian online players who enjoy underwater-themed slots.
Hoard of Poseidon Frequently Asked Questions
Below are some commonly asked questions by Canadian players:
Is Hoard of Poseidon legal to play?
Yes, you can play Hoard of Poseidon if gambling is legal and regulated in your country.
How can I improve my chances of winning at Hoard of Poseidon?
To increase your chances of winning at Hoard of Poseidon, you can try playing for free to familiarize yourself with the mechanics. You can also use the max bet feature, aim for the bonus features, study the paytable, and always manage your risk. These simple tips can help you develop a better strategy and improve your overall gaming experience.
Can I play Hoard of Poseidon for free?
Yes, this game is available to play at some online casinos in Canada without registration or spending any real money. Playing for free helps the players get familiar with the game before going in with real cash.
Which is the best casino to play Hoard of Poseidon in Canada
In Canada, there are various reputable online casinos that offer Hoard of Poseidon such as JustCasino.