Slot Features
More Details
| | |
| --- | --- |
| Software | Betsoft |
| Reels | 5 |
| Paylines | 25 |
| Bet Range | 0.01 - 5 |
| RTP | 95.92 |
| | |
| --- | --- |
| Bonus Rounds | Yes |
| Free Spins | Yes |
| Jackpot | 5000x |
If you're a fan of online casino games that bring excitement, action, and the chance to win big, then look no further than Gladiator. Step into a virtual Colosseum and embark on an epic journey that combines the thrill of gambling with the grandeur of ancient Rome and Roman mythology. In this article, we'll delve into the ins and outs of this popular slot game, exploring its features, gameplay, and why it continues to bring fun game time for players worldwide.
Produced by Playtech in 2012, Gladiator is one of the most exciting and rewarding online video slot games. Some key features to consider for Gladiator slot game are: 
Offers a free spins bonus
Low RTP
Continue to our article below for more in-depth information about Gladiator Slot.
Should You Play Gladiator?
Give the Gladiator slot a try for its free spins feature. Also, in this game, you get to experience other features and gameplay, allowing you to channel your inner gladiator while spinning for rewards.
Here are the pros and cons of Gladiator.
Gladiator Gameplay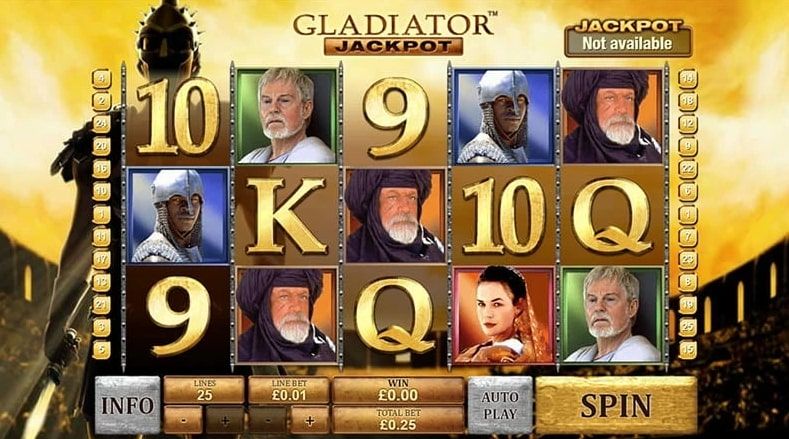 Playing Gladiator slot is as easy as it gets, with only three rows, five reels, twenty-five paylines, and two fun extra features. To begin playing, select the desired number of paylines, alter the total amount wagered per line, and then press the Spin button. These are the symbols you will come across when spinning the reels on Gladiator:
9
The "9" symbol pays out 8x, 20x, and 75x for landing 3, 4, and 5 symbols on the payline, respectively.
10
The "10" symbol pays out 8x, 20x, and 75x for landing 3, 4, and 5 symbols on the payline, respectively.
J
The "J" symbol pays out 10x, 40x, and 120x for landing 3, 4, and 5 symbols on the payline, respectively.
Q
The "Q" symbol pays out 10x, 40x, and 120x for landing 3, 4, and 5 symbols on the payline, respectively.
K
The "K" symbol pays out 15x, 50x, and 200x for landing 3, 4, and 5 symbols on the payline, respectively.
A
The "A" symbol pays out 15x, 50x, and 200x for landing 3, 4, and 5 symbols on the payline, respectively.
Juba
The "Juba" symbol pays out 20x, 60x, and 250x for landing 3, 4, and 5 symbols on the payline, respectively.
Proximo
The "Giraffe" symbol pays out 20x, 60x, and 250x for landing 3, 4, and 5 symbols on the payline, respectively.
Gracchus
The "Proximo" symbol pays out 25x, 75x, and 350x for landing 3, 4, and 5 symbols on the payline, respectively.
Lucilla
The "Lucilla" symbol pays out 7x, 50x, 250x, and 1000x for landing 2, 3, 4, and 5 symbols on the payline, respectively.
Commodus
The "Commodus" symbol pays out 8x, 75x, 500x, and 5000x for landing 2, 3, 4, and 5 symbols on the payline, respectively.
Storyline
Welcome to this ancient Roman plot in which the protagonists are gladiators out for vengeance and the jackpot. Based on the popular 2000 film starring Joaquin Phoenix and Russell Crowe, the Gladiator slot game blends the film's dramatic action with big prizes. 
In the Academy Award-winning film, General Maximus is betrayed by the Roman Army he once proudly led. With his family slaughtered, he is now a captive gladiator in the Coliseum, fighting for the amusement of the emperor and the common people.
Maximums' reputation rises with each victory, and ultimately the emperor arranges for them to battle. You may earn rewards and bonuses online by acting out scenes from the movie.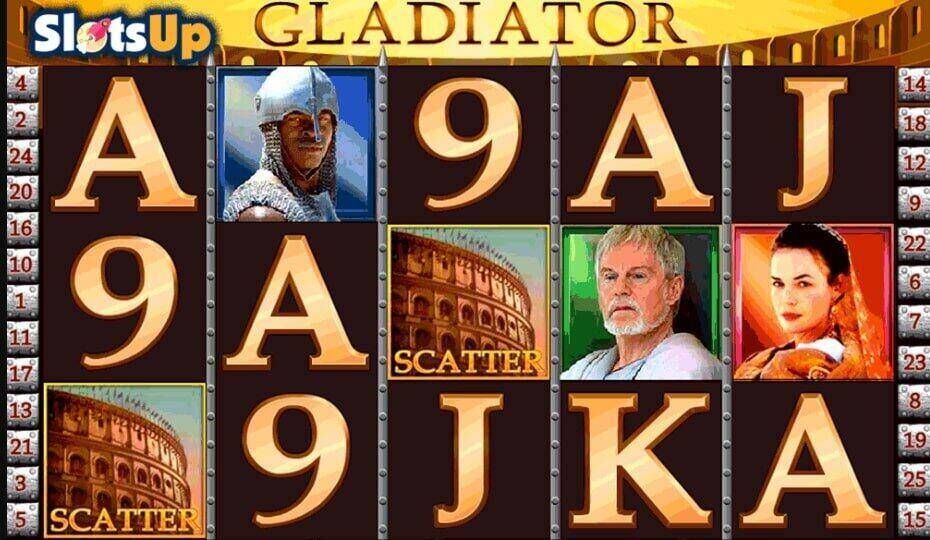 Gladiator Design and User Experience
Playtech, one of the leading providers of games for online casinos, released this fascinating slot machine. The slot's visuals are spot-on and vibrant since it's based on a well-known Hollywood film. The reels take place against a dramatic backdrop, including a gladiator and a combat dome.
Mobile compatibility with Gladiator was added in 2012. The game can be played on both stand-alone mobile applications and mobile-friendly online casinos. The Gladiator game's graphics work nicely on the small screens of the iPhone, iPad, and Android smartphones.
Gladiator Wilds, Bonuses and Free Spins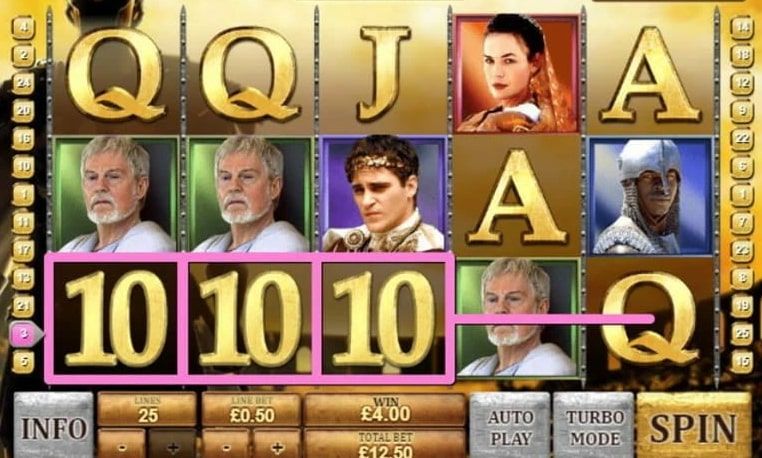 Wild Symbol
A gladiator's helmet represents the wild symbol and substitutes for any other symbol except the scatter symbol.
Scatter Symbol
The Coliseum represents the scatter symbol. Landing five, four, three, or two scatters anywhere on the reels pays out 100x, 20x, 4x, or 1x your wager per line, respectively.
Coliseum Bonus
When a player obtains three or more scatter symbols, the Coliseum Bonus free spins bonus is activated. The winner gets to choose a reward from among those concealed behind the stone tiles. There are a variety of bonuses available, such as additional scatters, wilds, and multipliers.
Gladiator Bonus
The Gladiator Bonus is activated when the wild symbol simultaneously appears on reels 2, 3, and 4. Once the round is triggered, the player is led to a screen in a "Pick Me" bonus where nine helmets, some bronze, some silver, and some gold, are presented. 
Each helmet is priced between one and five times what you wager. When you sum up the value of each helmet, you obtain the value of your overall win.
How to Play Gladiator
In this section, we guide you on how to play the Gladiator slot game.
You should start by selecting a trustworthy online casino available in Canada.
Use the search bar or scroll through the game categories until you find Gladiator.
If you click the "INFO" button, you can see the paytable and other relevant information.
Players can choose their bet with the minus and plus buttons.
The game may be initiated by clicking the "SPIN" button.
You may place bets with coin sizes ranging from C$0.01 to C$1. Players with budgets as low as C$0.01 per spin and as high as C$25 per spin can find something to enjoy in Gladiator.
What Is Gladiator's RTP?
The Gladiator video slot's theoretical return to player (RTP) is 94.1%, and the maximum base payout is 5,000 times your line bet. With a C$100 wager, players may expect a theoretical payout of C$94.1 in the long run. Gladiator has a medium variance and a rather consistent frequency of victories.
How Can I Win at Gladiator
You only need to land three identical symbols on the reels, starting from the left to the right. The wild can help substitute for some symbols and complete winnings combos.
Our Top Tips and Tricks to Winning
Our advice to players is to manage their bankroll efficiently. This is because there is no other trick to winning a slot game that uses an RNG (random number generator).
Our Personal Experience Playing Gladiator
We really enjoyed our time testing out Gladiator. The game was overall really fun to play on and ran smoothly on different devices that we were testing out. The bonus rounds were really interesting and genuinely added so much value to our overall gameplay, with an extra kick of excitement, which definitely kept us on edge. All in all, we found the game super easy to get used to and the theme was really fun and refreshing!
How We Tested Gladiator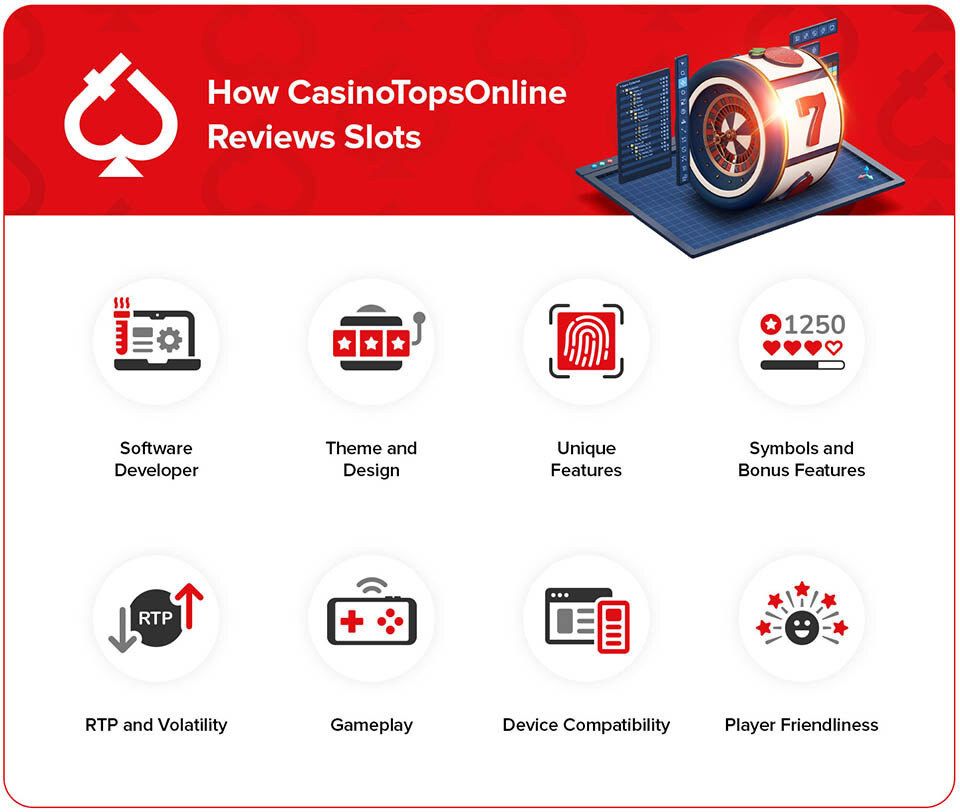 When we test our games there are many factors we take into consideration, however, the end result is to always ensure that the game is player-friendly. We tested Gladiator on a PC, as well as mobile devices including iOS to compare comparability. The demo and real money versions were also tested during our review, and we got a similar result overall which allows us to confirm that the RTP and Volatility for this game are intact. The theme and design for the game were tested and we confirmed how much it adds to the overall experience. The game comes with some unique features, so we took some time until we could test out all the symbols and bonus rounds, which are really there to give players more.
Gladiator vs Similar Slot Games
This slot is of the highest quality, and we are certain you will want to try out these other games.
| Slot Title | RTP | Theme | Paylines | Provider | Volatility |
| --- | --- | --- | --- | --- | --- |
| Gladiator | 94.1% | Gladiator | 25 | Playtech | Medium |
| Wild Gladiator | 96.17% | Gladiator | 25 | Pragmatic Play | Low |
| Gladiator Reel | 92.81% | Gladiator | 30 | Skywind | High |
Other Gladiator Games
Playtech created another variation to the original Gladiator slot. This is just the same Gladiator game with a jackpot feature added.
Gladiator Jackpot
The Gladiator Jackpot is the only variation on Playtech's original Gladiator slot machine. The difference between this and the original game is the inclusion of a progressive jackpot. Playtech's Gladiator Bonus progressive jackpot is awarded if a player obtains nine gold helmets.
Keep in mind that the jackpot can only be won by activating the Gladiator Jackpot option in the regular game. If it occurs during the bonus spins, you will not be able to win it. 
The largest Gladiator Jackpot payout to date was a stunning C$2,015,367, which was won some years ago. There have been other winners, some of whom have taken home C$600,000.
Our Final Thoughts
It's been almost a decade since the debut of the epic Gladiator movie, and fans are still enthusiastic about it. Participate in the Gladiator online video slot and experience a small fraction of this action-packed blockbuster. The Playtech software-based game will get your heart racing with scatters, wilds, and other extra features.
Although Gladiator Slots has no progressive jackpot, the maximum payout is still a respectable 5,000 times the line wager. Playable on both desktop and mobile devices, this video slot features ancient Roman soldiers duking it out in the Coliseum. You may win rewards in the free spin Coliseum bonus and even more in the Gladiator bonus games, so be ready for some incredible rewards and features! 
We strongly recommend it to Canadian players who enjoy gladiator-themed slots.
Gladiator Frequently Asked Questions
In this section, we'll be answering some frequently asked questions we receive regarding the Gladiator slot.
Is Gladiator legal to play?
Yes! Gladiator was developed by one of the top game providers in the industry, Playtech. Playing Gladiator is only risky if you're using a fraudulent casino or a casino that doesn't take adequate measures to protect its players' personal information. If you want to play at a casino online, we highly recommend only visiting sites that are verified as safe and secure.
How can I improve my chances of winning at Gladiator?
Landing five Commodus symbols or triggering the bonus features are the best ways to maximize your winning potential. Unfortunately, your chances of winning at a slot machine are totally dependent on chance.
To increase your chances of winning during regular gameplay, you should activate as many paylines as you can afford. If you don't cover the payline the symbol is on, you risk losing out on significant prizes.
Gladiator slots offer a few bonus games that might increase your chances of winning. It's hard to know exactly when they'll show up, but if you can hang around long enough, you'll definitely benefit.
Can I play Gladiator for free?
Yes, you can. You can play Gladiator for free when you try the demo version. You don't need to deposit any real money to play but keep in mind that any winnings made in demo mode can't be withdrawn.
Which is the best casino to play Gladiator in Canada?
The best casinos to play Gladiator in Canada are PlayOJO, Spin Casino, Jackpot City, Platin Casino, and Novibet Casino. They all provide an excellent gaming environment, generous bonuses, and easy cashouts. We advise only using the top sites when seeking a place to play the Gladiator slot online.