MyStake Chicken Game Demo
Upgaming
Next Game
Slot Features
More Details
| | |
| --- | --- |
| Software | Upgaming |
| Reels | 4 |
| Paylines | 25 |
| Bet Range | 0.2-1000 |
| RTP | 99 |
| | |
| --- | --- |
| Bonus Rounds | No |
| Free Spins | No |
| Jackpot | 30X |
Since its release, the Chicken Game has been a favourite amongst Canadian players. This unusual and fun game creates engaging gameplay and guarantees excellent fun!
The fascinating and exhilarating Chicken Mystake game has captivated players with its basic yet gorgeous design. So why should you play the chicken game? Find out what makes this game stands out, our experts have gathered all the information you need to know! Some key information about the chicken game:
Unique gameplay
Not available in most online casinos
You can test your luck playing at myStake Casino, our #1 casino of the month for the chicken game!
Should You Play Chicken Game?
You should give Chicken Games a spin if you enjoy games with multipliers. While the game isn't as popular as other casino games, it's one of the most satisfying and lucrative.
In the next sections, we'll be looking at the pros and cons of Chicken Game.
Unique gameplay which differs from any other online casino game
Simple interface making it great fun for any Canadian player
This game is not available at every online casino
Chicken Game Gameplay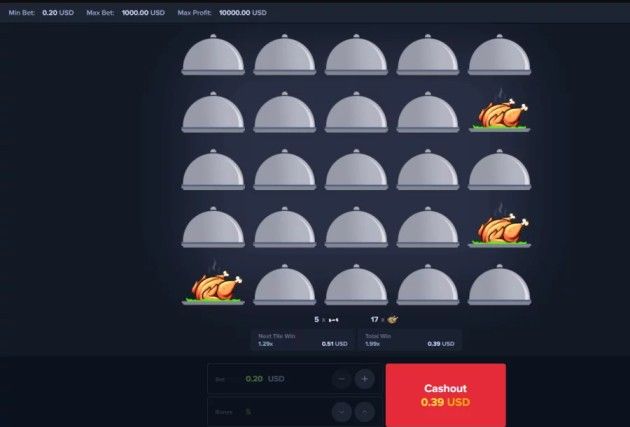 It's a game where you have to uncover dishes to see what's on them, and the prizes range from tasty roasted chicken to a dismal bone. You instantly lose if you find a bone, but your multiplier rises if you find roasted chicken.
Chicken Game was created by Upgaming with the intention of giving gamers a nice and memorable gaming experience. Unlike regular slots, the only symbols in this game are the chicken and the bone.
Storyline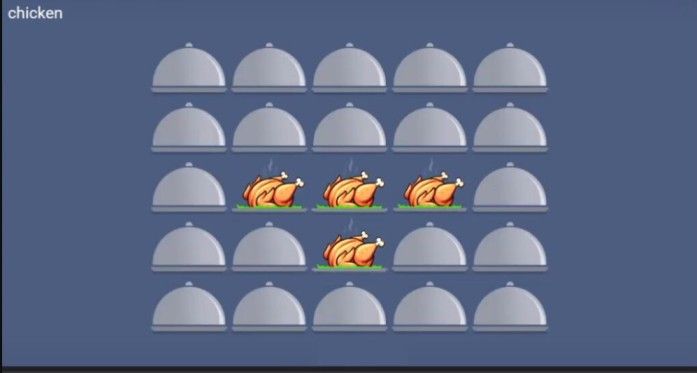 MyStake Casino is the only place you can play Chicken Game. This fun little game may be found in the "Mini Games" section. Chicken is a game of chance in which you try to uncover 25 different icons that can either be chickens or bones. 
Chicken Game offers players the chance to earn big payouts from a very small bet. Putting your focus and attention to detail to the test is another great benefit of this game.
Chicken Game Design and User Experience
Chicken Game employs a 5 by 5 grid with 25 metal-domed platters. Each cover conceals a roasted chicken or a meatless bone. The rules summary may be found in the upper right corner of the screen.
It features high-quality visuals, setting it apart from the majority of other minigames on the market. The visual design of the Chicken game interface on Mystake will completely win you over.
The game's graphics are well-designed and appealing, and they have the added benefit of being crystal clear. The number of bones in Chicken Game may be adjusted by the player to increase or decrease the difficulty of the game. If you pick more bones, you'll have a tougher time winning, but it boosts the potential gain as well.
It is a fun game, and it's not only for the computer. Mystake Casino released the mobile version of its most popular minigame.
Chicken Game is available on all mobile devices. It can be played for real money, as it runs smoothly and provides a good gaming experience.
Chicken Game Wilds, Bonuses and Free Spins
There are many different types of bonus features for the chicken game, let's have a look at what makes this game extra fun:
Multipliers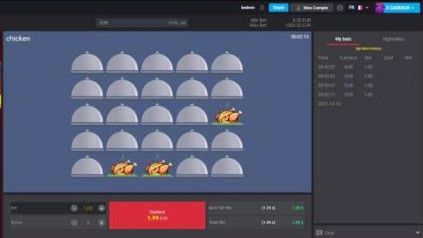 With a single click, you can see what's hiding behind each dish. If a chicken appears, you will receive a monetary award. The number of chickens found has an exponential effect on the amount won.
Your payout will increase in proportion to the number of chickens you find. Also, if you hit the "Jackpot" and discover all the hidden chickens without stumbling on any bones, you'll be rewarded handsomely.
However, it's important to remember that the value of one's wins is influenced by the player's initial bone count. The algorithm will randomly hide anywhere from one to twenty-four bones under the covers, a quantity that you may choose before the game begins. You may increase your winnings when you find a plate with chicken by the number of bones you find in the game.
The win multiplier is displayed where it reads Next Tile Win, directly beneath the current count of bones and chickens. If your next selection is a chicken, the stated amount is the multiplier that will be applied to your bet. The multipliers range from 1.03x when using only one bone to 24.75x when using only one chicken in a game.
Cashout
This game's appeal lies in the fact that, at any time, you can "chicken out" and cash in your winnings without feeling obligated to keep playing. You may collect your winnings by clicking the red button that replaces the green Place Bet button. On the interface, you'll see the phrase Cashout and a number on it; the number indicates your total wins to that point.
If you're satisfied with the amount you've been awarded, click the button. The game will end, and you can start a new one if you like.
Provably Fair
Chicken is a minigame in which all bets and actions are verified on the blockchain. A hash (a lengthy string of letters and numbers) is used to represent the game's layout when placing bets. You may compare this to the hash of the final score to make sure nothing changed between when you placed your wager and when the game ended.
These hashes may be verified by anyone at any moment, increasing faith in the game's integrity.
How to Play Chicken Game
Learn all there is to know about the Chicken Game right here.
Visit the MyStake.com Casino
Register for a new account
Start by depositing some funds
After signing in, head to the menu and select Mini Games. 
Choose Chicken from the list of available mini-games.
Pick a wager amount, and you're ready to play.
You can see the roasted chicken as you open the plates, and you may Cash Out when you're done.
Chicken Game has a bet size that ranges from C$0.20 to C$1000.
What Is Chicken Game's RTP?
When it comes to online gambling, Chicken Game is one of the most lucrative minigames. With a theoretical return to player (RTP) of 99%, it's an excellent choice for players who care about long-term winnings. So, with C$100 wagered, you may expect a theoretical return of C$99 in the long run.
Chicken Game is a low-volatility game, which means your winnings will be made up of frequent small wins.
How Can I Win at Chicken Game
When you join the Chicken Game, a grid will be laid out in front of you with 25 dishes concealed under their respective covers. Each dish cover conceals either a bone or a chicken sketch, determining whether or not you may go further in the game. 
You may choose to end the game and keep your winnings after a "chicken" draw. The game will be immediately stopped, and your stake will be nullified if you raise a dish cover, revealing a bone.
Our Top Tips and Tricks to Winning
You may be wondering whether there is a certain way to always be on the winning end of things. Whatever the case may be, Mystake Chicken is a game of chance in which your success depends on the luck of the bone placement.
There are several tips on how to increase your chance of winning. On the other hand, there is no guarantee of anything; after all, gambling is a game of chance. 
If you win big, you need to know when to quit. Withdraw some money, but leave enough to play with later.
Our Personal Experience Playing Chicken Game
This little game was so much fun, we couldn't get enough of it! Chicken is a fun twist on the classic mining game, and the name reflects the game's principle perfectly. 
Chicken doesn't distract with flashy visuals, animations, or sound effects. Instead, it lets the game's straightforward rules shine and emphasizes your next move.
You're not limited to a single difficulty setting. The game's intensity may be fine-tuned to your liking, with win multipliers adapting as necessary.
How We Tested Chicken Game
We tested the game on the MyStake website on both a PC and a mobile device. Both platforms ran smoothly without any hiccups thanks to our fast internet connection. We only tried the real money version, as there wasn't a demo version at the casino.
Chicken Game vs Similar Slot Games
| Slot Title | RTP | Theme | Paylines | Provider | Volatility |
| --- | --- | --- | --- | --- | --- |
| Chicken Game | 99% | Food | - | Upgaming | Low |
| Jetx | - | Aviation | - | SmartSoft Gaming | - |
| Aviator | - | Aviation | - | Spribe | - |
Other Chicken Games
Unfortunately, there are no other variations of the Chicken Game by Upgaming.
Happy Playing the Chicken Game
The Chicken game, played for real money, is a fascinating casino game with a lot of fun and engaging elements. It's not only easy to pick up and start playing, but it also offers decent odds of winning.
Anyone curious about the Chicken minigame may check out their own and other players' real-time stats. The live chat feature also allows you to communicate with other users in real-time. In conclusion, Chicken Mystake is a wonderful game that you should play in an online casino.
We strongly recommend it for Canadian players who enjoy fast-paced games.
Chicken Game Frequently Asked Questions
We get a lot of questions from Canadian players about Chicken Game, so we thought we'd answer some of the more common ones here.
Is Chicken Game legal to play?
Yes, it is. The popular minigame Chicken Game is supplied by Upgaming, and can be played at MyStake Casino.
How can I improve my chances of winning at Chicken Game?
You should try to limit how high you bet if you wish to increase your odds of winning the Chicken Game.
Can I play Chicken Game for free?
Unfortunate, there is currently no free demo version of Chicken Game to play.
Which is the best casino to play Chicken in Canada?
To play Chicken Game, Canadians should visit MyStake Casino.