Hi! I'm Robin Storm - Content Team Lead & Author
I began working at CasinoTopsOnline in February 2018 as a Swedish Site & Content Manager. Even though I'm currently living in Spain, I consider myself a global citizen.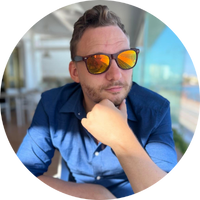 About Me
I've always seen writing as a crucial way of communicating and a powerful tool for sharing ideas, knowledge, and stories. It enables me to express my thoughts, feelings, and experiences to others in a meaningful and impactful manner.
When I joined CasinoTopsOnline, I already had some understanding of online gambling from my previous work. This role allowed me to follow my passion for giving my honest opinions about different aspects of the online casino world. I started focusing on testing and rating casino slot games. My goal is to assist Canadian players in learning about the wide range of games offered at their preferred online casino. I also write guides to help players make the most of their gaming time and simply enjoy themselves.
Get in Touch
Whether you're looking for sales, marketing, or for general enquiries, you can find all the information you need on our site on our dedicated contact page. One of our expert team members will get back to you within 24 hours.
If you want to get in touch directly with me, you can contact me via email. I'm also available on my LinkedIn where I share all the relevant updates within the gaming industry. 
More About Me
In my role as the Content Team Lead at CasinoTopsOnline, my main goal is to make sure that the content our readers see about online slots is both relevant and detailed. I want to keep them up-to-date with what's happening in the market. When I first discovered CasinoTopsOnline, I was immediately interested because I wanted to contribute to a site that always stays up-to-date and offers its readers completely honest opinions and accurate information. That's something I strongly believe in.
My job allows me to have a deep understanding of the online gambling industry. This means I get all the latest details about the best slot games and any upcoming ones that will soon be available at your favorite online casino. The best part of being with CasinoTopsOnline is the sheer joy of writing about what I find most fascinating in online gaming. I get to do this alongside an amazing team that's always ready to provide the best content for the site's readers.
Although I really enjoy writing and expanding my knowledge of online casino games, my personal happiness comes from traveling. Exploring different parts of the world and trying various cuisines from diverse cultures brings me immense joy. And if you're wondering about my favorite place ever, it's Japan! I'm completely captivated by their beautiful culture, and I could eat sushi all day long!
My Top Picks
You can probably understand that there are thousands of games to choose from, making it tough to pick just one favorite! Currently, Mega Moolah is definitely at the top of my list because it has everything I'm looking for. It boasts a great theme and soundtrack that make playing enjoyable, and on top of that, it offers a high RTP (Return to Player). If I had to choose a second favorite, it would be MyStake's Chicken game. It brought a unique and interesting new angle to online gambling for players worldwide, and we're really hooked on it.
My Journey at CasinoTopsOnline
Oct 2022 - Present  ▶ Content Team Lead 
(Full-time - Spain)
Sep 2021 - Oct 2022  ▶ Senior Site Manager 
(Full-time - Malta)
Sep 2020 - Sep 2021  ▶ Swedish Site & Content Manager
(Full-time - Malta)
Disclaimer
Have you received any contact or strange email from us? Please read carefully the disclaimer below.
We have been made are that some individuals not affiliated with CasinoTopsOnline have been contacting businesses and asking for payments in exchange for listings on our websites. Please be aware that we do not accept payments in cryptocurrencies. If you receive a request from these individuals, do not transfer any funds to them and immediately contact us at accounts-cto@gig.com.For any inquiries about being listed on our website, please only communicate with our sales team.