Hi! I'm Giuseppe Faraone - Senior Content Team Lead & Author
Based all the way in Valencia and originally from Milan, I first joined CasinoTopsOnline in March 2018.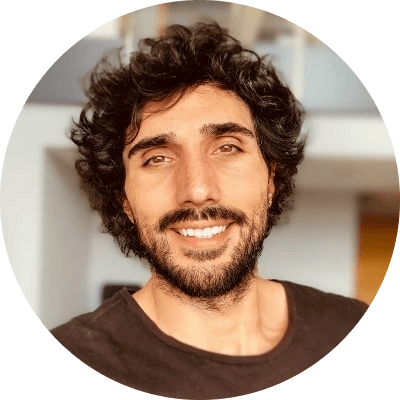 About Me
I came to CasinoTopsOnline as an established copywriter and already had worked for many years in iGaming and gained a lot of industry knowledge. In my career, I made it my mission to stay on top of all the new changes happening in the gaming legislature and kept an eye out for the best and most trustworthy operators in the market.
My role at CasinoTopsOnline has developed through the years, and my current position focuses on testing out and rating the latest and best casinos on the market, as well as many other aspects that affect the gaming industry. When testing out casinos, I dig deep underneath the surface to research and publish honest and detailed reviews. In my reviews I deliver all the latest updates and add some key tips players should consider when joining an online casino, so make sure to look out for them.
How to Reach Me
Whether you're looking for sales, marketing, or for general enquiries, you can find all the information you need on our site on our dedicated contact page. One of our expert team members will get back to you within 24 hours.
If you want to get in touch directly with me, you can contact me via email. I'm also available on my LinkedIn or Medium where I share all the relevant updates within the gaming industry. 
More About Me
As a Senior Content Team Lead, my role is to ensure that CasinoTopsOnline is always on top and updated with the latest and most important casino news. Our aim is to ensure that our content helps players, no matter what their experience, make informed decisions and enhance their overall gaming experience. The part I enjoy the most in my role is reviewing online casinos! When a new casino catches my attention, I sign myself up and start testing out various different elements of that casino, including their payment providers, game providers, and their licensing to ensure their trustworthiness before publishing their reviews on our site. Nowadays, I'm a well rounded casino expert, and I can definitely tell which is the best of the best!
When I set my out-of-office on, the beautiful city of Valencia keeps me occupied with its vibrant nightlife and beautiful sandy beaches. Writing has also always been a passion of mine, and in October I published my first book "The Untold Story of Online Gambling" which is available on Amazon!
My Top Picks
Canada is definitely not short of online casinos, with the market growing more and more. There are a good number of outstanding online casinos available for Canadian players, but my top pick has to be VulkanVegas Casino. To start off with, this casino always has a fantastic welcome offer going on for new joiners, and for its existing players there are usually a handful of promotions. On top of this they offer great customer care, and their number of games is endless, most of which are powered by the industry's leading developers. All in all, VulkanVegas is definitely worth a shot if you're looking to start your journey at an online casino.
My Journey at CasinoTopsOnline
Jun 2021 - Present  ▶ Senior Content Team Lead 
(Full-time - Spain)
Mar 2020 - Jun 2021  ▶ Content Team Lead 
(Full-time - Spain)
Mar 2019 - Mar 2021  ▶ Senior Site Manager 
(Full-time - Malta)
Mar 2018 - Mar 2019  ▶ Site Manager 
(Full-time - Malta)
Disclaimer
Have you received any contact or strange email from us? Please read carefully the disclaimer below.
We have been made are that some individuals not affiliated with CasinoTopsOnline have been contacting businesses and asking for payments in exchange for listings on our websites. Please be aware that we do not accept payments in cryptocurrencies. If you receive a request from these individuals, do not transfer any funds to them and immediately contact us at accounts-cto@gig.com.For any inquiries about being listed on our website, please only communicate with our sales team.