Hi! I'm Mike Lorente - Senior Site Manager & Author
I originally joined CasinoTopsOnline in September 2020 as a freelancer and then as a full-time Site Manager in September 2021. I'm currently based in Valencia, Spain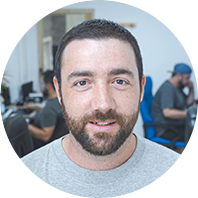 About Me
Online gaming has always been a real passion of mine, and today I'm lucky enough to be writing articles about this industry's best bonuses. I originally reviewed online casinos, and in time I shifted my focus towards providing the latest information and the do's and don'ts of online casino bonuses.
When I first joined CasinoTopsOnline, I already had some knowledge about the industry, but working for this site has definitely helped me broaden my knowledge base. Same as the site, my goal is to provide honest opinions and in-depth information about the latest and best online casino bonuses. 
How to Reach Me
Whether you're looking for sales, marketing, or for general enquiries, you can find all the information you need on our site on our dedicated contact page. One of our expert team members will get back to you within 24 hours.
If you want to get in touch directly with me, you can contact me via email. I'm also available on my LinkedIn where I share all the relevant updates within the gaming industry. 
More About Mike
My role as a Senior Site Manager at CasinoTopsOnline is both exciting and impactful. My expertise in the online casino industry allows me to research and share the latest information about casino promotions with our readers. My commitment is to educate players on responsible gambling practices and helping them make informed decisions.
Being able to provide real-time information and insights to Canadian players is a fulfilling aspect of my role and my aim is to always use my knowledge to enhance the overall experience for visitors to the site. 
When I'm not writing about a new welcome offer that has just been announced, I enjoy spending quality time playing on game consoles, watching anime and have a passion for digital art. 
Mike's Favourites
There are lots of different kinds of offers and special bonuses that online casinos provide, which I think are really nice incentives. If I had to choose a favourite kind of bonus, for me it would be the casino welcome offer for several reasons. This reward is a wonderful way to help new players feel welcomed and excited to begin their casino journey, and a good reward can build a strong and positive relationship between the player and their favourite casinos. It's also intriguing to see what various casinos have for new users, and the different types of welcome offers make the game interesting and competitive. In the end, this ensures that players from all around, no matter their experience, get the best offer possible.
My Journey at CasinoTopsOnline
Oct 2022 - Present  ▶ Senior Site Manager 
(Full-time - Spain)
Sep 2021 - Oct 2022  ▶ Site Manager 
(Full-time - Spain)
Sep 2020 - Sep 2021  ▶ Site Manager 
(Freelance - Spain)
Disclaimer
Have you received any contact or strange email from us? Please read carefully the disclaimer below.
We have been made are that some individuals not affiliated with CasinoTopsOnline have been contacting businesses and asking for payments in exchange for listings on our websites. Please be aware that we do not accept payments in cryptocurrencies. If you receive a request from these individuals, do not transfer any funds to them and immediately contact us at accounts-cto@gig.com.For any inquiries about being listed on our website, please only communicate with our sales team.