Amaya Casinos and Slots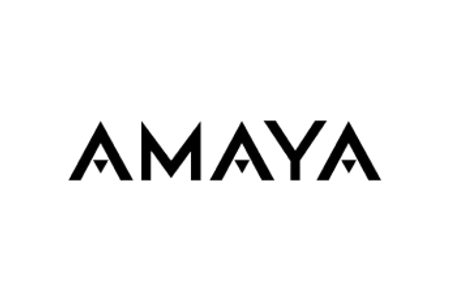 All Games: 312

Casinos: 45

Desktop

Mobile
In the gaming world, those software developers stand out because they have been around for many years. Amaya is one such company, and it has gone through multiple changes during the course of its activity. Starting its life under the name of Amaya, but today going by the name of The Stars Group Inc, this developer has certainly grown to become a huge competitor in the industry.
Online Casinos With Amaya Games
Story Behind Amaya
Basing itself out of Montreal, Canada, Amaya Gaming has served as an internet betting software designer for several years. It went through quite a period of excellent growth through the 2010s and has acquired numerous licences worldwide to operate its services in various countries. In June of 2014, the company agreed that it would buy the parent company of PokerStars and Full Tilt Poker, known as The Stars Group. That deal went through for $4.9 billion, making Amaya/The Stars Group the world's largest publicly listed online gambling brand.
In 2016, the CEO David Baazov took an indefinite leave of absence from his role before resigning in August that year due to fraud charges by Canadian regulators. Proceedings in the case continued until 2018. This did not affect the status of Amaya, though, which continued operating under the name of The Stars Group, and in April of 2018, it acquired Sky Betting & Gaming in the UK. 
A partnership with Fox News was announced a year later. Then, in 2020, Flutter Entertainment took over The Stars Group for $6 billion, placing it firmly under that umbrella alongside other brands.

Present and Future of Amaya
Now no longer operating under the name of Amaya, The Stars Group remains a part of Flutter Entertainment. This sees it providing its services alongside other well-known companies like Paddy Power, Betfair and FanDuel. It hasn't been creating new slots under the Amaya branding since 2017, though, as it happens. And while a few games have come out under The Stars Group logo, these are few and far between. 
It now operates from its base in Ontario, Canada, with a larger focus being placed on poker gaming than anything else. And it looks like this will remain the case for the future.
Attractive graphics in its slots
Entertaining game themes
Games provided in 24 languages
No longer creating slot games
Amaya Online Casinos Overview
Even though this company is not operating under the same name anymore, its games remain available online. And as such, they can be found in several online casinos catering to locations worldwide. So, whether you intend to play at a European online casino, a Canadian casino or anything else, the chances are that you can access Amaya's games at it. Of course, it makes things a little more intriguing when you consider that The Stars Group is now the company's name. It's almost like finding records that were recorded on a defunct label – it's a bit more thrilling.
Without a doubt, the slot games that come from Amaya will make any casino lobby much more intriguing to experience. And the company is responsible for a large enough number of games to cater to these lobbies. In this respect, the number of games at an Amaya casino will bolster the collection well enough. The slots also come with different themes and inbuilt features, ensuring that a lobby is diversified more than one without Amaya titles.
Amaya Casino Bonuses
Amaya casinos often come with bonus offers that you can benefit from as a player. And we go searching for the latest and greatest bonus rewards for you to claim when you register for an account and deposit. Those bonuses will be listed at the top of this page, giving you an insight into which ones work in an ideal way for you. Those rewards come in various forms, including welcome bonuses, free spins, cashback on net losses, VIP perks and much more. Take a look at this guide on how to claim welcome bonuses at online casinos:
Sign up for an account at your preferred Amaya casino site
Go to the cashier page and select a depositing method
Enter an amount to deposit and any required bonus code
Complete your first deposit, and the funds will be added to your account
Latest Casinos With Amaya Games
New casinos are constantly launching online, and some of these will incorporate Amaya's games into their lobbies. So, you can find out about these casinos right here, which we have tested and verified as 100% safe and fair.
Our Thoughts on Amaya Casinos
If you choose to go ahead with signing up for an account at an Amaya casino site, then you will be in for quite an enjoyable experience. The games, as noted, are unique in their own right, coming from a developer that doesn't operate under the Amaya name anymore. Yet the casinos themselves provide an inviting setup in general, incorporating exciting special offers for you to claim and benefit from once you create an account. It is, therefore, our opinion that joining an Amaya casino could definitely serve up an enjoyable time for anyone.
Amaya Online Slots Overview
Within this developer's collection of online slots, there are around 100 different titles that you can play. These have all been designed with different themes built into them, including popular additions like dragons, horror, Ireland, pirates, etc. Something quite curious about the vast majority of releases from the developer is that the RTP rate tends to range between 94 and 95% in many instances. That's lower than the general online video slot average of about 96%. 
Even though this is the case, the slots in the portfolio from Amaya are all of the good quality and present entertaining games to play.
It is also prominent to note that the games cater to a wide audience of volatility levels. Therefore, a set of games will be useful for those with lower bankrolls to play, and others will be better for those who like high variance titles. Additionally, the games all come with intriguing special features built into them, keeping them entertaining from start to finish. Combine that with inviting betting ranges and compelling enough soundtracks, and Amaya's slots will always be enjoyable.
Features of Amaya Slots
Speaking of the specialities that the Amaya slots include in their setups, you will find some of them familiar enough. Therefore, you can be on the lookout for wild symbols and free spins occurring within various titles. Yet there are also some unique inbuilt features, such as the Connect to Win perk. Games such as Dragon Sword include a bonus game round triggered by bonus symbols, and these really help the base theme come to life much more. 
Other perks found within Amaya slots include expanding wilds, progressive jackpots and even a focus on the DC world with games about Superman and Wonder Woman, for example.
Latest Amaya Slots
The last Amaya slots to be released came out in 2017, and while a few have come from The Stars Group since then, the last one was launched in the middle of 2021. Anything new coming from the brand will be displayed here for you to see, though.
| Amaya Slot | Variance | RTP |
| --- | --- | --- |
| Action Heroes | High | 96% |
| Batman | High | 95.41% |
| Bullseye Bucks | Medium | 96% |
| Call of Duty | Low | 95% |
| Draco's Fire | High | 95% |
| Emerald Isle | Low | 94.5% |
| Goooal | High | 95% |
| Hole in One | Medium | 92.35% |
| Mad Monkey | High | 95% |
| Pot o Gold 2 | Low | 95% |
| Shogun Showdown | High | 95% |
| Taxi | High | 95% |
| Viva Venezia | High | 96% |
| Wonder Woman | Medium | 95% |
| Zodiac Wilds | Medium | 95% |
Our Thoughts on Amaya Slots
Can it be said that the slot games from Amaya are some of the best online slots ever made? Probably not. They can sometimes look a little dated against the releases coming from other developers. Yet this doesn't make them any less entertaining when spinning their reels and having an enjoyable session. The inbuilt features of the games will always add to their general appeal as well, so it could be said that they do serve a place in the scene. Especially considering that Amaya no longer operates under such a name anymore.
Trustworthiness of Amaya
Because Amaya has been around for a long time, albeit under different names, it stands to reason that it can be considered as a trustworthy brand to experience. The games it creates are all crafted under proper regulations and guidelines, making them legitimate in the first instance. And it is also key to highlight that Amaya's releases have all been tested thoroughly by independent auditing companies. In doing this, they can be considered safe and fair games, featuring proper RNG technology for completely random outcomes on every spin.
Amaya itself has also operated under proper licensing, and this remains the case under its Stars Group name. Therefore, it has a set of rules and regulations to adhere to, which it proceeds with doing now that it exists under the umbrella of Flutter Entertainment. The company also promotes responsible gambling, aiming to ensure that the gambling scene is as safe as possible.
License of Amaya
Amaya is licensed and regulated in 17 different jurisdictions, including locations like the United Kingdom, Alderney and Gibraltar. Today, being under the umbrella of Flutter Entertainment, it benefits from its massive parent company's licences. Yet when it comes to Amaya itself (or rather The Star Group), it bases itself out of the following address: 200 Bay Street, South Tower, Suite 3205, Toronto, Ontario, Canada, M5J 2J3.
Important Partnership of Amaya
Perhaps the most important partnership that occurred with Amaya was the one that turned it into The Stars Group. And then later on, in 2020, when the Flutter Entertainment brand bought out the group, this helped it excel even further. Yet it also meant that Amaya was no longer a name in operation.
Problems With Amaya Games
If you've ever been in the position of playing an online slot game and a technical issue affects the outcome of a spin, you'll know how frustrating it can be. If this occurs when you're playing an Amaya slot, then you need to contact the customer support team at the best online casino you're accessing. It should never be your route to try and speak with Amaya, The Stars Group, or Flutter Entertainment directly. 
Casino support agents are trained to deal with technical problems, and if they can't come up with a satisfying response, they will escalate the complaint higher up.
Do we Recommend Amaya Casinos and Slots?
We do recommend playing at Amaya casinos, yes. The sites will usually incorporate a wide range of games, coming from other developers alongside the Amaya ones. And you will often be able to utilise casino bonuses on the available games as well, regardless of the developer they come from. The slot games from the company are over 100 in total, so you will have a wide range to choose from, too.
Amaya FAQs
Are Amaya slots free to play?
All of the games from this online developer can be accessed in free play demo mode, yes. This allows you to practice spinning their reels without risking your own money.
How to find the Best Amaya casino bonuses?
We will list the latest and greatest bonus offers relating to Amaya casinos at the top of this page. There, you will be able to see what they include and decide upon whether to claim them or not.
Are there any tricks for Amaya slots?
No, you cannot use tricks to manipulate the outcome of a spin on an Amaya slot release. This is because they all utilise RNGs to decide upon a random and fair outcome. Just utilise a responsible gambling betting process when playing the games.