Mosh your way to extra rewards at Metal Casino
Published by CasinoTopsOnline on June 3, 2019 in Promotions
The gambling industry is booming at the moment with so many online casinos to choose from.
If you're looking for something unique and alternative then you'll want to get your rock on at Metal Casino.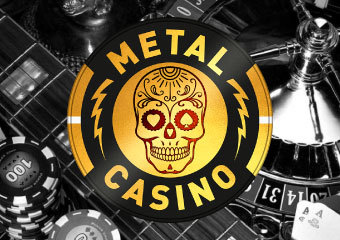 150% up to €200 + 3 Epic Wheel Spins + 666 MetCoins
This online casino combines alternative rock and metal music with your favourite casino games.
What's more is that at Metal Casino every night is a party with extra rewards waiting to be claimed.

Join the Late Night Mosh Pit

At Metal Casino you get to live out the dream of moshing the night away while cashing in on big rewards.

There are daily bonus rewards to look forward to and then there is the Late Night Mosh Pit promotion.
Each night between 22:00 and 00:00 you can gain an additional 100 MetCoins when you complete a Tour Stop.
Win the crowd over within these 2 hours and make it to the next level by progressing o another Tour Stop on the World Tour. If you manage to level up within this time period you will be awarded an additional 100 MetCoins to spend in the Merch Room.
The best part is that you can score 100 additional MetCoins every single day at Metal Casino.
Keep in mind that this offer is only valid for one level up per day between 22:00 and 00:00 CET. The MetCoins are added to your account once you've completed one Tour Stop.

What are MetCoins?
Most online casinos have their own loyalty points or currencies which allow you to purchase goods in the casino. MetCoins are the Metal Casino currency which can be used to purchase exciting rewards in the Merch Room. These rewards can be anything from bonuses to limited edition Merch that can't be found anywhere else.
Your MetCoins can be obtained by playing your favourite games every day at the casino. The more you deposit and play the more rewards you'll get.

The World Tour
At Metal Casino everything is done differently and instead of a boring VIP level up you get to go on a world tour.
You'll see that with the world tour there are different Tour Stages. As a new player at this online casino, you will start at Tour Stage 1 which is the Club Scene. Imagine you just started a band and you're trying to hit the big leagues. You start playing at small clubs until you get seen by a big industry player.
With each level you get to visit a different city starting with Scandinavia and ending your Tour Stage 1 in Amsterdam. There are 50 levels and each unlock bigger and better rewards to claim at Metal Casino.

Mosh your way to midnight rewards
Get the party started by playing at Metal Casino every night to increase your MetCoins.
If you're new to the casino you can start by creating your free casino account. Once your account has been activated you can look forward to a superb welcome bonus promotion.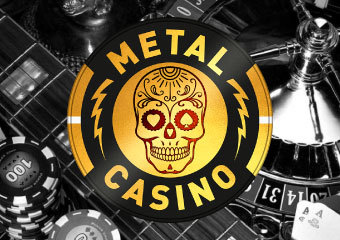 150% up to €200 + 3 Epic Wheel Spins + 666 MetCoins
Accepts players from CA

Accepts players from GB
And then each night you can join the Late Night Mosh Pit for more MetCoins to spend at Metal Casino.

Most Popular