Online blackjack guide & best casinos
Online blackjack is one of those games that is associated with casinos quite frequently. In fact, other than poker, blackjack is perhaps the most-known casino card game. And while it's common to play this for real money, there's also a possibility to involve yourself in free online blackjack, too. In this instance, you'll play the game with demo funds, allowing you to get a better idea of how it all operates. This plays out in exactly the same way as the blackjack with real money, except with play money instead of free money.
Best online casinos for real money Blackjack
How to play Blackjack online
So, how do you play blackjack online? Well, essentially, blackjack requires you to beat the dealer with your cards. You need to try and get the total value of them as close to 21 without exceeding this amount. That's the standard goal when it comes to playing blackjack. Of course, there are various other factors that come into play when accessing online blackjack, too. However, the rules are easy to follow and you can learn how to play it quickly.
Place Your Bet
The first process that you need to undertake when playing blackjack is to place your bet. To do this, you'll need to choose a chip value from the bottom of the screen and then use one or more of them in one of the circles on the table. Different tables will come with different betting limits that you'll need to adhere to, with some catering to those with lower bankrolls and others to high rollers. You can build up your bet amount with several different value chips, too.
Receive Your Cards
After you're happy with the bet amount that you've placed, you can hit the Deal button. This will see two cards dealt out to you face up and two to the dealer – one face-up and the other face-down. From there, you can decide upon the next course of action, depending upon what the total value of the two cards you have been dealt is.
Decide If You Want to Double
In most online blackjack games, you'll also have the possibility of using the Double Down function. Where this is concerned, if you think you have a good card hand, you can double the bet that you have placed on it in a bid to bolster your potential win. If you do decide to proceed with this, then you'll only receive a single extra card on top of your initial two. So, you need to be in a good position with this, as if you are dealt a particularly low extra card, you could end up on a lower total card amount than expected.
Consider If You Want to Hit
If you consider your first two cards to be low enough, then you may want to consider hitting for a third card (and potentially a fourth after that). Remember, you need to get as close to 21 as possible, so if your first two dealt cards are a 3 and a 4, then you don't stand to lose anything from hitting. The maximum card you can be dealt has a value of 10, so you would never exceed 21 with this. Of course, you need to properly analyse your cards to understand if it would be beneficial to you to hit.
Click 'stand'
At any point after receiving your initial two cards, you can click on the 'Stand' option. This will see you keep the value of the cards that you currently possess, and the turn will then pass over to the dealer. Of course, if you go above 21 with your cards and bust, then you won't be able to use this function. Essentially, you need to stand with your cards whenever you're happy with the total that you have.
Learn the Dealer's Hand
After hitting and/or standing, play passes over to the dealer's hand. The dealer will then proceed with the same routine, hitting if he believes that his hand requires more cards to increase his chances. At each point, the dealer's hand will be compared with your hand. Keep in mind that the dealer can also bust, and there are certain rules surrounding when the dealer can/must hit and stand.
Lazy to read? Check out the Blackjack video-rules
No time to read our Blackjack guide? No problem, we made a video to teach you the basic rules of online blackjack. 
Other Online Blackjack Rules
In standard blackjack games, between one and eight decks of 52 cards are used and an ace card is equivalent to either 1 or 11 points. Face cards equate to 10. At the same time, a blackjack is the highest hand formed of two cards – an ace and a king/queen/jack, which would equate to 21. The second highest hand is that which equates to 21 from three cards.
In the case that the dealer holds a blackjack hand, you will automatically lose everything, unless you have placed an insurance side bet. However, should you manage to display a blackjack first, the winnings will go to you. Should both you and the dealer have the same value hand, then the outcome is a push, meaning you receive your bet back.
When it comes to the dealer's hand, provided that he holds 16 or less in value, he will always draw another card. A winning bet by you on your hand will result in you receiving a pay-out of 1:1. The prime exception to this is if you hold a blackjack, which rewards you with a 3:2 pay-out instead.
How to Win at Free Online Blackjack
While it would be quite obvious to say that your hand simply needs to beat the dealer's hand in blackjack, this is just the base goal. You'll also need to introduce some sort of strategy to give yourself the best possible chance of winning more often. This is not to say that you will win more often but increasing your odds of doing so serves to enhance your gaming experience.
So, how do you win? You incorporate the proper kind of strategy into your gameplay to give yourself the best chance. Free online blackjack essentially provides you with a way of getting to grips with such as well, because you're not actually risking your own money. So, you can play round after round after round with the demo funds and really bring your strategy up to its highest peak. Then, you can utilise it in real money gameplay and hopefully find your own level of success through it.
How to Count Cards in Blackjack
One of the ways that some people opt to proceed with playing blackjack is to count cards. This is a basic part of some players' strategy, although it can actually take some time to master it properly. Counting cards may sound like a simple task, although different types of blackjack incorporate different decks of cards, so the process must also be changed so as to suit the game you're participating in.
Steps to Count the Cards
First of all, you need to assign a value to each and every card in the deck. The most common card counting system utilises a hi-lo set of values. So, this sees you attribute +1 to cards 2-6, 0 to cards 7-9 and -1 to cards 10-A. With every card dealt out in a game, you will either add 1, subtract 1 or do nothing, based on the values you have assigned to the cards. You then need to update your running count with the new information gained in each round that you play. Keep in mind that this needs to be done for every card dealt, including the dealer's, not just your own.
This is something that should be done all the time until the dealer shuffles the cards again. Of course, single deck blackjack provides much more of a potential to win using card counting than other forms. If the running count increases, the advantage shifts in your favour, whereas the opposite is true if the running count goes negative.
Now, when multiple decks are used, things get a little bit tougher. Casinos brought this into effect to try and thwart card counters. You can still do it though, simply by transforming the running count into what is known as a true count, or rather a count per deck. The equation you need to bring into effect is that the true count equals the running count divided by the decks remaining. So, let's say that out running count is 10 and there are five decks remaining. This means the true count is 2. This leaves the player to bet according to their advantage.
All you need to do then is to alter your bets as the true count rises and falls. When you know that the remaining cards are falling in favour of the casino, you need to reduce the strength of the wager that you're placing. Yet, when the cards are falling in your favour, you simply increase that bet instead.

How to Deal When You Play Blackjack Online
One of the first processes that occurs within any blackjack game, whether that's online or offline, is the dealing of the cards. So, after you have placed your bets, the dealing of the cards will occur. To set this in motion, you just need to click on the relevant Deal button. This will then see your two cards dealt, followed by those of the dealer. Of course, as noted earlier, both of your cards are dealt face-up, while the dealer has one face-down and the other face-up in most cases. When playing double exposure blackjack, both the dealer's cards are dealt face-up.
About Free Online Blackjack
You don't have to look far to find casinos operating around the world with free online blackjack. The game is one of those that has become quite synonymous with casinos both online and offline throughout the years. This could be due to the fact that it's quite simple to learn how to play, or just because it's been active within such establishments for so long.
Accessing it in free play mode allows you to readily test the game out without risking your own money first. So, you can pretty much get to grips with the game, try out some strategies and really heighten your own gameplay this way.
Online Blackjack Strategy Chart
Playing blackjack isn't just about having cards dealt and hoping for the best. And if you're not quite ready to start counting cards yet, there is another route to turn to. Online blackjack strategy charts can give you instant information on what sort of option to choose when it comes to the cards you've been dealt. There are alternate ones of these charts, depending upon the rules surrounding when the dealer can hit or stand.
Strategy for Soft Hands
Soft hands are usually determined by the appearance of an ace within. Because this card can count as 1 or 11, it is generally impossible to go bust on a single hit. Essentially, it's like having a second chance to reach 21, but not go beyond it. So, if you're originally counting the ace as 11 alongside 5 for example, and you hit for a third card that comes out as an 8, those totals would make you go bust as they equate to 24. However, because the ace can also count as a 1, it would see you have a total hand value of 14 instead, and you can hit again if you so wish.
A few strategies can be used when it comes to playing with soft hands. Essentially, it's always better to stand on all hands that are higher than 18 and always hit on any soft hand that is worth 17 or less. Here are some additional things to take heed of with soft hands:
On a soft 17, double down when the dealer's face-up card is 3, 4, 5 or 6 and hit when the dealer has anything else showing.
On a soft 15 or 16, double down when the dealer's face-up card is 4, 5 or 6 and hit when the dealer has anything else showing.
On a soft 13 or 14, double down when the dealer's face-up card is 5 or 6 and hit when the dealer has anything else showing.
When Should I Stand with a Soft Hand?
Any time that you possess a soft 18 or above hand, you should generally always stand. The strategy behind this isn't particularly obvious, but it usually relates to the mathematical edge over the long-term and the basic blackjack strategy suggests that the dealer will be likely to get a 12, 17 and 18. The 12 would likely go bust, the 17 would be beaten and the 18 would result in a push outcome.
Soft 19, 20 and 21 is quite simple to understand why you should go for a stand option – because they're pretty close to the maximum of 21. Therefore, they exist as very powerful hands overall.
Strategy for Hard Hand
A hard hand is usually determined in such a way because there isn't any slack for hitting and drawing high numbers without going bust. Generally speaking, the big difference between the soft and hard hands is that a hard hand doesn't normally feature an ace card. Therefore, you have a higher risk of exceeding the 21 value.
The strategy for hard hands is quite a simple one. Players should always hit when they possess a hard 8 or less and should always stand when there is a hard 17 or higher in play. This is due to the risk of busting on a 10. As a casino table game, blackjack allows you to utilise some of the easiest to understand and remember strategies depending upon your hand.
When Should You Stand or Hit with a Hard Hand?
Hard hands will usually end up being what are deemed as stiff hands. These operate as hands with totals of 12, 13, 14, 15 or 16. It's commonly believed that these are the worst hands that you can have in blackjack, as they present you with the highest probability of going bust. The only way that it wouldn't be so much of a problem is if the dealer also has a stiff face-up card. So, when should you stand or hit with a hard hand?
You should always hit when you have a hard 8 or lower hand, and because the highest card you can hit with would equate to 11, you can't go bust.
When playing a hard 9, you should only hit if the dealer is showing anything other than a 3, 4, 5 or 6 as his face-up card.
When playing a hard 10, you should only hit if the dealer is showing anything other than between 2 and 9 as his face-up card.
When playing a hard 11, you should only hit if the dealer is showing anything other than between 2 and 10 as his face-up card.
When playing a hard 12, you should only hit if the dealer is showing anything other than 4, 5 or 6 as his face-up card.
When playing a hard 13 to 16, you should only hit if the dealer is showing anything other than 2, 3, 4, 5 or 6 as his face-up card.
When playing a hard 17 to 21, you should stand every time.
When Should You Double with a Hard Hand?
There are also a few great hard hands when you can use the double down function to your advantage, too. A hard 9, 10 or 11 are great for this option, because hitting a 10 card at that point would give you quite the powerful hand in the end. This way, you have a good chance of winning and doubling your reward as well.
Strategy for Pairs
When it comes to pairs, these are exactly as they're described – a pair of cards that are the same value and rank. A few major strategies can be used for certain pairs, such as always splitting a pair of aces, as this greatly improves your chances of getting 21 on at least one of them. This is done regardless of the dealer's face-up card.
Furthermore, it's always a good rule of thumb to never split a pair of 5s or 10s. The pair of 5s is quite a trap to fall into, because if you were to split them, the basic strategy assumes you would obtain two 15s because of all the 10s within the card deck. Of course, 15 is a terrible hand to possess, because if you hit afterwards, there's a large chance for you to go bust.
You should also always stand on a pair of 10s, as this totals 20 altogether. Why would you want to decrease your chances of winning by splitting them up? It's a powerful hand that is highly likely to beat the dealer's hand.
When Should You Double Pairs?
The general strategy surrounding pairs is that you should always split pairs of aces, but never split pairs of 5s and 10s. But what about doubling down? Is this a route to take with pairs? Well actually, it can be. But only in the instance of possessing a pair of 5s.
Rather than split, hit or stand with a pair of 5s, you should double down on them instead. However, this should only be done if the dealer's face-up card is anywhere between 2 and 9. This allows you to use their total of 10 and play with that. Due to the fact that the basic strategy suggests you'll receive a 10 on the next draw, your total would then be 20 altogether. Therefore, you've got a powerful hand to put up against the dealer's cards.
When Should You Hit Pairs?
So, what about hitting on pairs? Is this something that you should ever do? Well, it's recommended in the following circumstances:
Hit a pair of 2s or 3s when the dealer has an 8, 9, 10 or ace card showing as his face-up card.
Hit a pair of 4s when the dealer has anything except a 5 or 6 showing as his face-up card.
Hit a pair of 5s when the dealer has a 10 or an ace showing as his face-up card.
Hit a pair of 6s when the dealer has anything except a 2, 3, 4, 5 or 6 showing as his face-up card.
Hit a pair of 7s when the dealer has anything except a 2, 3, 4, 5, 6 or 7 showing as his face-up card.
Rules and Strategy for Dealers and Blackjack Players
The main thing to remember when participating in blackjack, is that you need to know which hands are hard and which are soft. You can then understand which course of action to take with regard to hitting, splitting, standing and doubling. The only real rules that you as a player need to remember is that each table has betting limits that you need to adhere to, and you cannot go over 21. All other gameplay is pretty much accepted.
When it comes to the blackjack dealer though, rules surrounding hitting and standing are brought into effect. Once the second card is turned over, if the total is 17 or more, then the dealer's hand always stands as it is. If the total is 16 or under though, they must always take a card. The dealer must continue taking cards until the total equates to 17 or more, at which point, the stand rule comes into effect once again.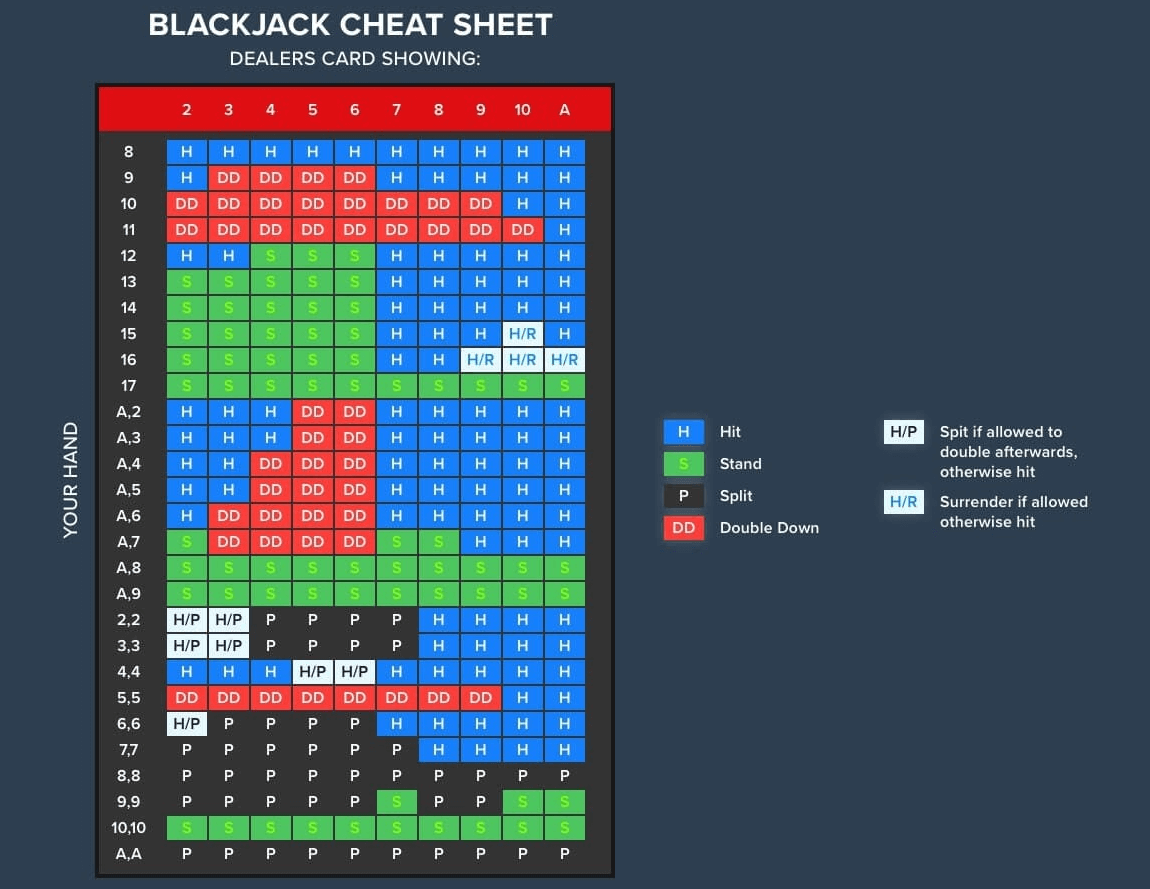 Online Blackjack in the US
Online blackjack is not something that is specifically available only to European casinos and the like. As it happens, players in the United States of America can also accessed various types of blackjack, too. This will depend upon the state you're in, though. If you're in one of the few states that provide legal online casino gaming, then you'll be able to access a state-authorised online casino. Blackjack should be readily provided at such.
Anyone based within a state without legalised online casino gaming will need to turn to offshore platforms instead. These are not illegal – they're just based in other countries, rather than in the US. This doesn't stop you from joining them though, and they have some wonderful bonuses and so on to provide an exciting round of gameplay.
Play Blackjack Online with Real Money
If you've had a good round of free play blackjack, then you may feel ready to take your gaming session into the real money sector. Of course, you'll need to have made a deposit into your casino account in order to do this. Yet, if you're registered at an online casino, you'll likely be able to deposit there and proceed with using your funds on your chosen blackjack game.
This brings an exciting new experience to playing blackjack, as you can potentially win some real money, rather than simply receive demo funds. There are many casinos providing such a service for blackjack gamers, so you simply need to take your pick.
The History of Blackjack
The original precursor to blackjack was the English version of twenty-one, which was called Vingt-Un. While there is little known of its origin, that game probably came from Spain, with the first written reference of it occurring in a book authored by Miguel de Cervantes. He was a gambler in himself, and today's blackjack game evolved from that. It wasn't until the 1700s that blackjack was originally recorded in in France before reaching Britain. Then, it finally made its way across to the United States in the early 1800s.
The name of blackjack was given to the game during the Klondike Gold Rush between 1896 and 1899. It came originally from the free casino bonus that was offered for anyone obtaining a hand of the ace of spades and a black jack – the jack of clubs or the jack of spades. This is what led to the hand being termed a 'blackjack'. However, the game was officially changed to its current title as it also refers to the mineral zincblende, and this was often associated with gold or silver deposits. Therefore, French card historian Thierry Depaulis believes that the mineral name was transferred by prospectors to the top bonus in the game.
It grew in popularity throughout the centuries until it reached the peak that it still experiences today. With the birth of online casinos in the late 90s/early 00s, a variety of blackjack games have also come to light, and all of them can be accessed in free play mode, too.
Online Blackjack Terminology
When sitting at the blackjack table, it's important to be familiar with all the blackjack terminology, especially since online blackjack is such a fast paced game. The following is some of the most commonly udrf blackjack jargon that you'll be exposed to when playing this timeless classic casino game:
Doubling Down
A blackjack player has the option to 'double down' by placing an additional bet depending on the hand that's drawn. This betting strategy can be used to the players' advantage in certain situations. More on this later.
Face Cards
These are essentially picture cards, each of which are worth 10 points each. Face cards are very powerful and 12 of these can be found in each deck.
Hole Card
This is the first card which the dealer deals to himself and it's the one which is kept face down till the end of the hand.
Insurance (Bet)
An insurance bet is available to be placed when the dealer is dealt an 'Ace' and it's the card which is face up. This is bet is to safeguard the player in the event that the dealer has drawn a blackjack. If the insurance bet is taken and it turns out that the dealer does have a blackjack, the player will win double the insurance bet.
Push
A 'Push' occurs when both the player and the dealer have the same number of points. In this case, the initial bet is returned back to the player and is treated as a draw. 
Soft Hand
If you've played online blackjack before, you might have heard the term. A 'soft hand' occurs when an 'Ace' is one of the cards that is dealt in the hand. For example, if a player is dealt 'A + 6', the total value of the hand can be a '7' or a soft '16'. The only reason it's called a 'soft 16' is because the 'Ace' gives the player the flexibility to choose the total value of the hand.
Split
When a pair is dealt, the player has the option to 'Split' the hand, which essentially means that the pair can be split in two, creating the luxury of having two hands. It's not always wise to split pairs, but we'll delve into the best cards to split in more detail in the blackjack strategies later on in this guide.
Standing Hand
When a '17' is drawn, it is considered to be a standing hand since the dealer needs to keep hitting until he reaches '17'.
Surrender
The player has the option to 'surrender' in online blackjack. When the player folds, depending on house rules, the player will get a portion of the initial bet back. The following inforgraphic will illustrate the best and the worst starting hands in online blackjack, indicating when to hit, stand, double down and split. 

Tournament of real money Blackjack
Many online casinos host Live blackjack tournaments and while the rules of the game remain unchanged, the aim of the game changes. In blackjack, you'll be playing against a dealer and the aim of the game is to naturally build your bankroll. In online blackjack tournaments, you'll be playing against the dealer and against the players simultaneously. 
In a blackjack tournament, all players start with an equal amount of chips and players will progress to the next round if they have a bigger chip stack than that of their opponents. If you have less chips than you started with but more than your opponents, than you'll progress to the next round. 
When playing tournament blackjack online, your losses will be limited to the to your entrance fee, however, the potential take-home prize could be a six figure sum. There following are the type of blackjack tournaments to play at an online casino:
 
Elimination Tournaments
Elimination tournaments are the most common type of blackjack tournaments where players will be competing against each other. The table winner will be advance to the next stage, although some online casinos allow players to make re-buys. Make sure to read the tournament rules before opting in to play in a live blackjack tournament. 
 
Sit n' Go's
Just like in online poker, Sit n' Go tournaments start when the blackjack table is full and is usually played with six seats. The only difference between Sit n' Go's and elimination tournaments is that Sit n' Go's end when a player has more chips than all the other players at the table, while elimination tournaments is a multi-stage tournament. 
Mini Tournaments
Mini tournaments are hosted on a daily basis at best online casinos and have a relatively low entrance fee compared to their prize pool, which often reach a couple of thousands. Mini tournaments offer great value without having the need to invest big amounts and the best thing is that your losses will be limited to the tournament entrance fee. 
Accumulation Tournaments
This is a dog-eat-dog tournament where players will be competing against each other and the main aim is to take as many chips over the course of the tournament. The leading players will be displayed on a leaderboard, just like at a poker tournament, so other players can adjust their strategies accordingly to climb the ladder. 
In live blackjack tournaments, all players will start with the same number of chips and after a series of hands, the player with the most remaining chips will advance to the next stage of the tournament. Live blackjack tournaments are  a great way to get more bang for your buck, especially if you're a newbie to the game and want to limit your investment.
What You Need To Learn When Playing Live Blackjack Tournaments:
Always make sure you know the state of your chip stack in comparison to the stack of competitors;
Assessing the situation and knowing when to bet high to maintain your advantage over the table;
Using 'positioning' to your advantage. Unlike in online poker where acting last is advantageous, in live blackjack, acting first gives you more the upper hand as you get first dibs on the deck;
You will need to learn when to bet the same as your opponents, increase your bet and when the best situation is when betting lower amounts.
Blackjack is one of those games which takes a minute to learn but a lifetime to master when considering all the strategies, game variants and multi-deck options available to play. If you're new to playing blackjack online, try the game for free to get used to the rules, the pace of the game and to discover what type of blackjack player you are. Even though the house has a slight edge over the player, there still is potential to make a good amount of money, if you you fully understand the strategy and stay cool at the blackjack table.
Unfortunately, there's no way to play live blackjack for free, so you'll have to settle for practising against a machine, but we don't suggest that any players play for real money before mastering the game as the game is fast and full of action, which means that players can make a pretty penny fast and lose it even faster. 
What is the best online blackjack site?
Some of the best blackjack sites are 888 casino, Rizk casino and Guts casino.
Can you win money playing blackjack online?
Yes, most of the online casinos are accepting stakes to play at online blackjack.
Can you play online blackjack?
Yes, many online casinos are offering online blackjack to play through mobile or laptop.
How to win playing online blackjack?
The best way to win playing online blackjack is to utilise good bets and be sure to incorporate a good strategy. This way, you increase your chances against the dealer's hand.
How to count cards in blackjack?
Simply assign a value to each card as dictated earlier and be sure to count a running total as the game progresses. Then, adjust your wagers depending upon if the cards left in the deck are leaning in your favour or the casino's favour.
How to deal when you play blackjack?
Simply hit the 'Deal' button once all bets have been placed and you will receive your first two cards, as will the dealer.
This page was written in 2016, and is now maintained by Danny Bradford. Should you have any questions or see any discrepancies on this page, feel free to reach out to him. The casino list at the beginning of the page is revised each month, to ensure we only offer the best casino sites with blackjack to our readers. Let's have a look at some handpicked references you may find interesting.
REFERENCES
Other categories - How to play: